How does Connect+
integrated corporate database help?

Smart Search
Connect+ keeps all your customer information intact and also helps you in searching any piece of information in a few clicks. The Smart Search feature of Connect+ comes with a smart indexing search that makes your search simple and easy. In a few clicks, you can look for any b2b corporate data including any company or executive specific that helps in making prospecting painless.

Organization Chart
As the name suggests the organization chart provided by Connect+ helps you in understanding the hierarchy of any organization by accessing the visual Org. Chart of any particular company. Through this chart, you understand the designations of any company's employees & narrow down your search results based on it. The primary use of this chart is to display the clear information of all the employees & their reporting managers.

Radius Search
The Radius search feature of Connect+ is yet again one useful feature that simplifies your search when you are looking for relevant prospects' information in any vicinity and helps you connect with them instantly. It helps you to locate the right prospects that can be interested in knowing your products and services. Hence Radius search feature becomes your partner-in-prospecting.

Social Intelligence
The Social intelligence feature of Connect+ makes your job easy in building relationships with your target audience by analyzing their social insights before you interact. These social insights help you in creating a perfect sales pitch based on target audience interests and pain points that enhance personalized communication and make prospecting painless and effective.
Get a sales-ready b2b corporate data
Try Connect+ trustworthy integrated corporate data
Importance of corporate data of Connect+
in connecting you with the ideal customers?
Integrated database (corporate data)
Connect+ integrated data helps you in creating your ideal customer profile. By leveraging this b2b corporate data you can build connections with the right target audience by accessing their business email addresses and phone numbers. This data includes information from various companies and industries, so based on your requirements you can fetch the information and start building connections with your targeted companies and key decision-makers.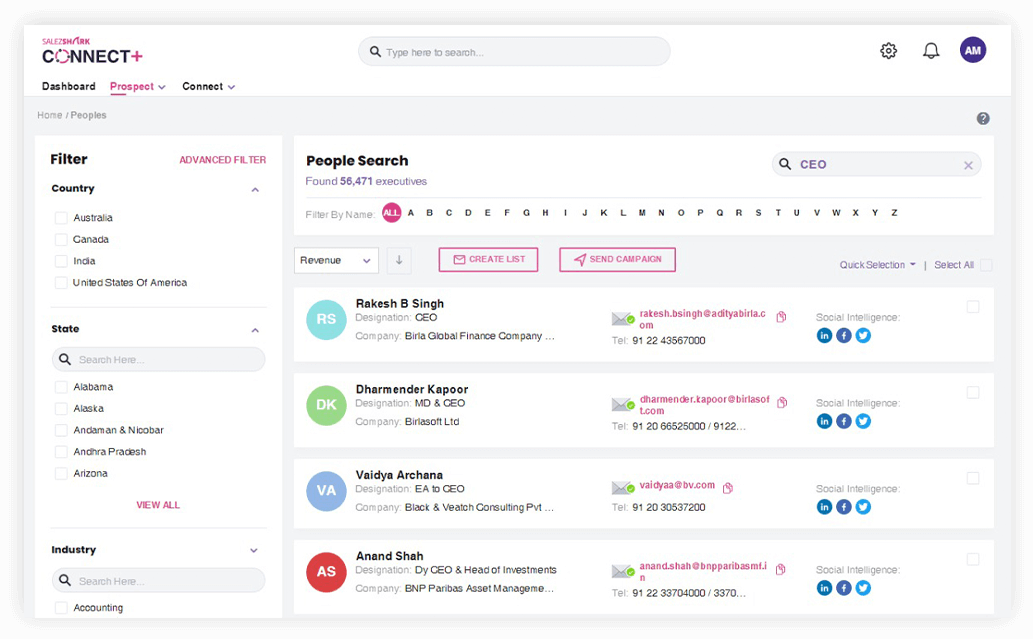 Create campaigns quickly
Once you have created your ideal customer profile by accessing the Connect+ integrated corporate directory, you can start working on the creation of an email marketing campaign. Connect+ makes this process simpler and faster by offering you the template builder or pre-designed templates that help you to create email marketing campaigns in a few clicks that result in engaging your customers effectively.
Leverage marketing analytics
SalezShark Connect+ not only helps in creating an ideal customer profile and email campaign creation but also helps you in analyzing the performance of your marketing campaigns. You can leverage Connect+ marketing analytics that helps you to understand your email marketing campaigns' performance in terms of open rates, click rates, and subscribe rates.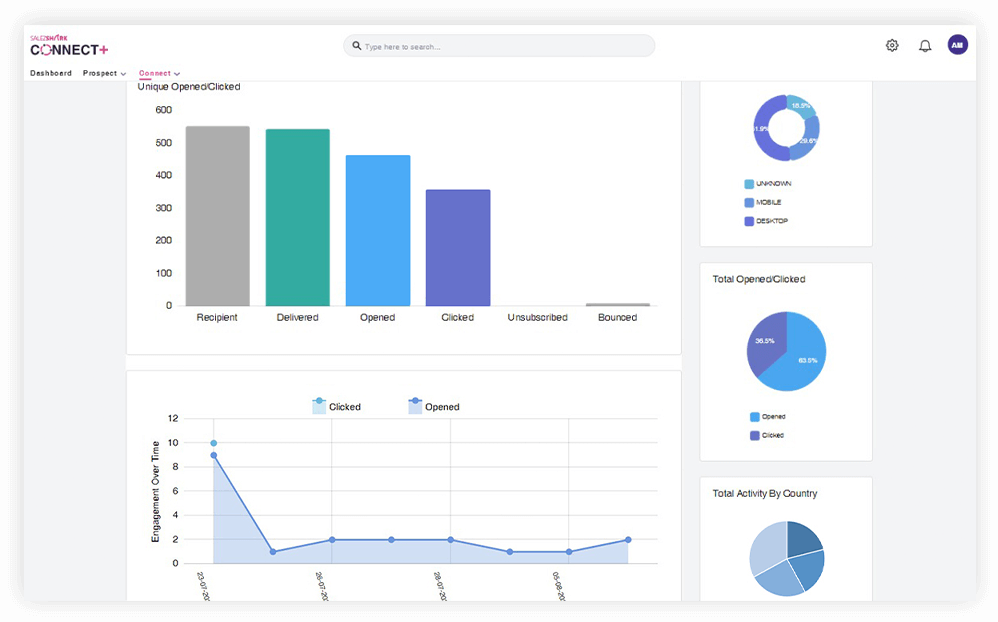 Scale as per requirement
We all know one size doesn't fit all. SalezShark Connect+ knows that every business and industry is different and based on business & industry-specific requirements Connect+ can be easily customized. Irrespective of the size of your company, Connect+ can be easily customized for small, medium, and large enterprises and offers a highly intuitive platform to your multiple marketing teams where they can work together and keep all information in one place.
Impact of using inaccurate data in your business
Damaging brand value
Building a strong bond with the lead is an essential part of prospecting. But if the sales and marketing team is using inaccurate data then they are connecting and struggling to build a relationship with those leads who are not at all interested in buying or those leads are not looking for something that the sales and marketing team is offering to them. Thus, by using inaccurate and irrelevant data sales and marketing teams are contacting the wrong leads which also spoils the initial relationship of sales and marketing professionals with leads. Besides this, it also damages the value of your brand.
Dip in lead generation & productivity
Working on inaccurate data only causes a dip in lead generation and productivity. Once the inaccurate and irrelevant data gets into the system, the sales and marketing executives start building relationships with the contacts to get sales and marketing qualified leads. But as the data is inaccurate so most of the contact emails and phone numbers are of no use which wastes the time and effort of the sales and marketing executives. This causes a dip in lead generation and productivity eventually.
Mismanaged reporting
Inaccurate and irrelevant b2b data leads to mismanaged reporting too. We all are humans bound to make errors and while feeding information manually into the system it happens. Often during the interaction with the leads sales and marketing agents feed incorrect numbers and email addresses into the system; also the exact no. of sales done is not fed properly. Based on this the report that gets generated is most of the time inaccurate which de-motivates the morale of sales and marketing agents as the number of sales they were expecting is not shown in the report. This leads to confusion and frustration and the overall productivity gets decreased too.
Are you willing to know more?
Get SalezShark Connect+, customized as per your business needs.