How does Connect+ data for b2b help businesses?

Integrated B2B data
Connect+ data for b2b helps you in smart lead generation by offering its integrated b2b sales database. Create a smart list of email addresses from the integrated b2b contact database of SalezShark Connect+ entailing the most relevant contacts of various companies and executives. Hence be assured that your promotional emails are going to the right inboxes enhancing the effectiveness of the email marketing process.

Email Marketing
Reinvent your entire customer experience by not only automating your email marketing process but creating compelling emails that resonate with the needs & expectations of your target audience. You don't need to be a tech wizard, create thousands of personalized marketing campaigns with just drag-and-drop functionality.

Contact Management
Contact management gives you a clear picture of each contact entailing their vital information like name, email, location, industry, age, gender, etc. It offers you details of contacts describing how your contacts have interacted with your brand in the past, issues they have faced, etc. which enables you to draft and run personalized email marketing campaigns.

Campaign 360° (Email Analytics)
In a few clicks gauge your marketing campaign performance by getting real-time updates. Analyze your email marketing campaign performance by tracking & downloading its list of active receivers & leveraging its data-driven metrics helping you to know the open rate, click rate, drop rate, & bounce rate of emails.
Amplify your marketing efforts
Book a free trial of SalezShark Connect+ data for b2b now
Make your data search quick with Connect+
Smart Search
When it comes to searching data quickly then SalezShark is the best b2b data provider that helps businesses through its Connect+ marketing automation suite. It proves to be a great help as it offers a "Smart Search" option. This feature of Connect+ offers you a smart indexing search that simplifies your search for a b2b sales database entailing any specific company or executive information in a few clicks and making prospecting painless.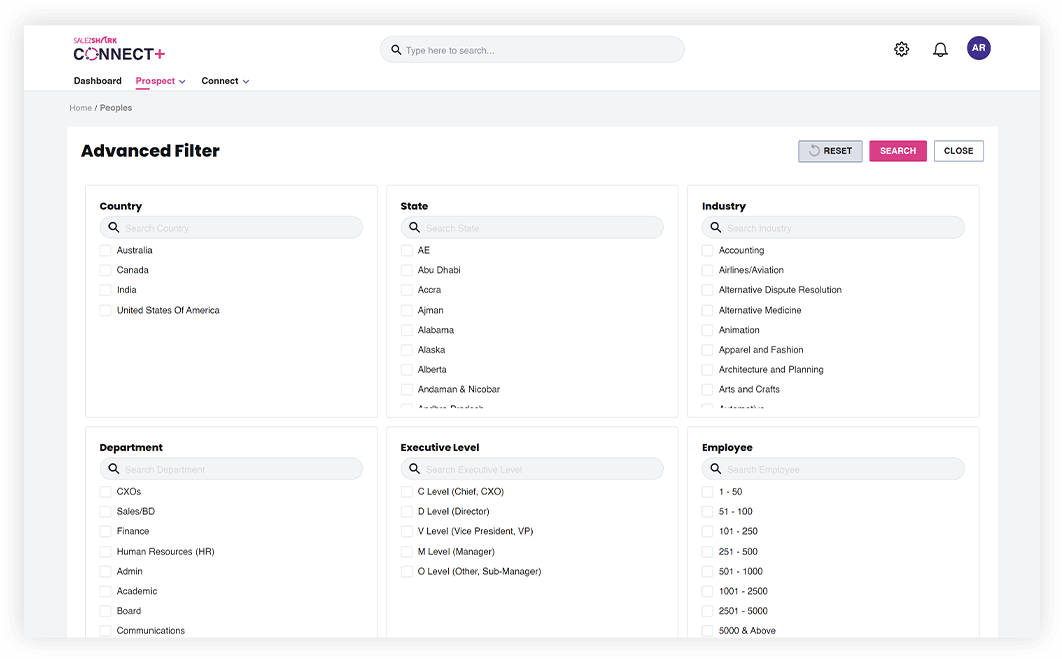 Org Chart
The organization chart is one more useful feature of Connect+ that displays the information of employees to make you understand the hierarchy of any organization & narrow down your search results based on it. It increases the visibility of any organization and displays clear information about all the team members & their reporting managers.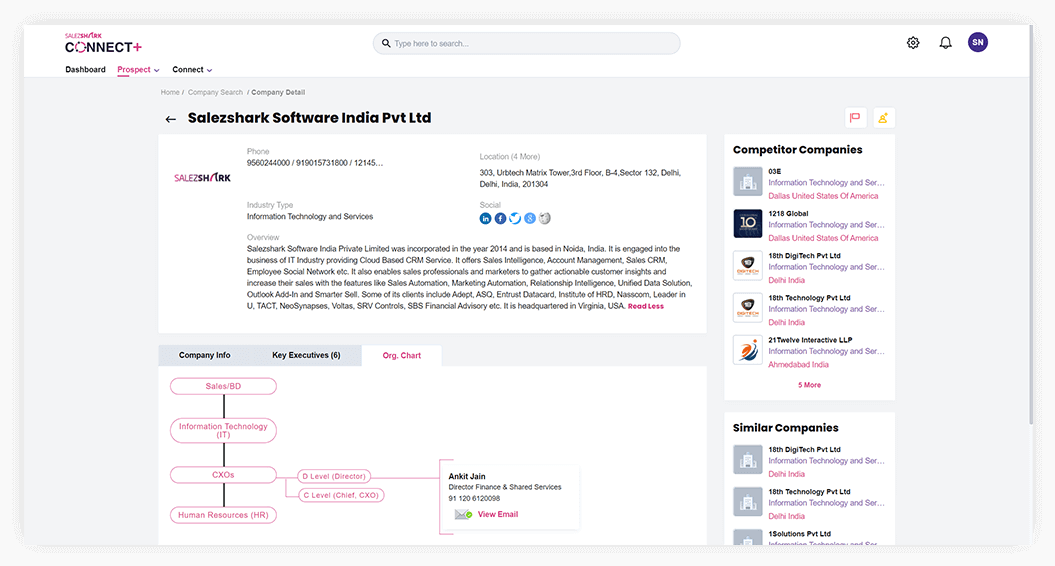 Radius Search
Connect+ being the leading b2b data provider also offers a Radius Search option that helps you to find relevant prospects in any vicinity and simplifies the stages of your sales. It helps you to locate the right target audience and becomes your partner-in-prospecting while finding business buyers.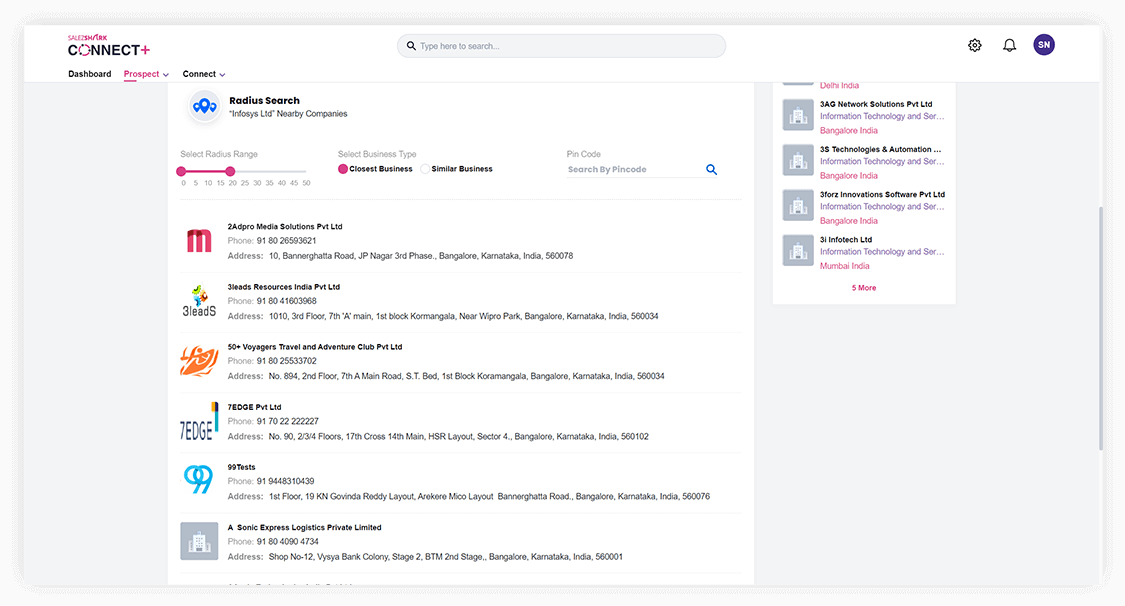 Social Intelligence
Last but not least, the Social intelligence feature helps you in building relationships with promising buyers by understanding their social insights before you interact. It helps you in driving personalized communication with buyers that make prospecting painless and effective.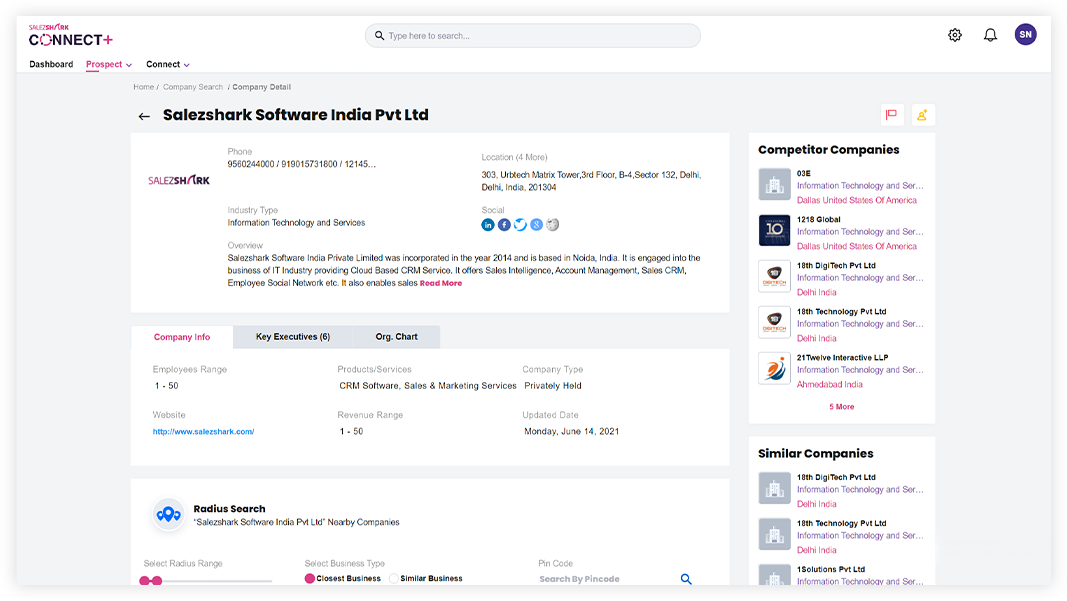 Benefits of incorporating
Connect+ integrated B2B data
By using the Connect+ integrated data you can easily create a strong and result-oriented sales and marketing Pipeline. The data provided by Connect+ offers you the contact information of key decision-makers of various firms that enable sales and marketing professionals to strengthen the sales and marketing pipeline. It also offers various other benefits let's look into a few.
Expand reach & sales
Connect+ integrated data helps you to expand your reach to the most promising leads and that results in the expansion of sales. It enables the sales and marketing agents to capture rights leads from a larger pool of buyers' databases where they can shoot marketing emails that compel buyers to take interest in products and services.
Elevate business revenue
Connect+ integrated data makes the job of your sales and marketing executives easy to make the right decisions and achieve desired sales quickly. That eventually improves business revenue. If your sales and marketing professionals are seeking location-specific data, then, in that case, you can ask a b2b database provider to offer you location-specific data only. This helps in targeting those people who are most likely to buy and genuinely looking for products related to your business. Hence the sales and marketing professionals can achieve desired sales and generate higher revenue with the help of Connect+ integrated data.
Saves money
Connect+ integrated data enables the sales and marketing professionals to make the right decisions at the right time which saves a lot of money. If the data is not accurate then it will only result in ineffective decisions, strategies, and tactics resulting in the wastage of time and money.
Time-saver
Connect+ integrated data plays an essential role in saving a lot of time for the sales and marketing executives. Once your sales and marketing agents start using accurate, relevant, and organized data offered by Connect+ it helps them to spend less time researching buyers' basic demographics and buying preferences and enables them to focus more on driving core sales and marketing campaigns.
Don't Wait for More!
Get SalezShark Connect+ b2b data now