How does Connect+ Integrated Database Management System help?
Target right audience
Most of the sales & marketing professionals from the nation's leading brands rely on the Connect+ sales database to fuel their success. If you wish to target company CEOs, CTOs, or senior managers in India, then our business directory is the ideal choice for your business. The executive-level filter enables your sales and marketing team to narrow the search accordingly, allowing you to add hundreds or even thousands of senior executives and managers to your B2B email list in a few clicks.

Get industry-specific data
Connect+ offers different types of databases as per your requirement. Our verified b2b database includes various b2b contacts from multiple industries like manufacturing, FMCG, Electronics, Pharmaceutical, Automobile, Chemical, Textiles, and so on. Our database also covers industries like IT, ITES, Education, Services, Telecom, Media, Govt., Banking, Financial Services and Insurance Companies (BFSI), Advertising and Media, Exporters, Hospitals, Hospitality, Builders, Importers, Retailers, Construction, Schools and Colleges.

Get the accurate & updated data
Connect+ being one of the leading B2B database providers in India provides you with the best quality business email list that you will find nowhere else. It helps you in executing email, telemarketing, direct marketing, and other online campaigns using these databases. Our team of experts keeps B2B records up-to-date by refreshing them after every 90 days of the cycle. Our sales database provides a piece of complete information that one can easily customize based on business requirements. Hence, it helps you in refining the prospect's search by exposing your business to millions of contacts from different industries.

Build direct relationship with key decision-makers
Connect+ integrated database helps you to build direct relationships with the key decision-makers of various businesses. By using such data your sales and marketing executives save a lot of their productive hours which was previously getting wasted in searching for the right contact information. But now with Connect+ your executives can make the most out of our b2b database and can start building direct relationships with key decision-makers of other businesses instantly.
How is Connect+ Integrated Database Company is different?
Integrated database smart Search
Connect+ simplifies your data search by offering you a Smart Search option. Its user-friendly smart indexing search helps you in finding the company or executive information in a few clicks and makes prospecting painless.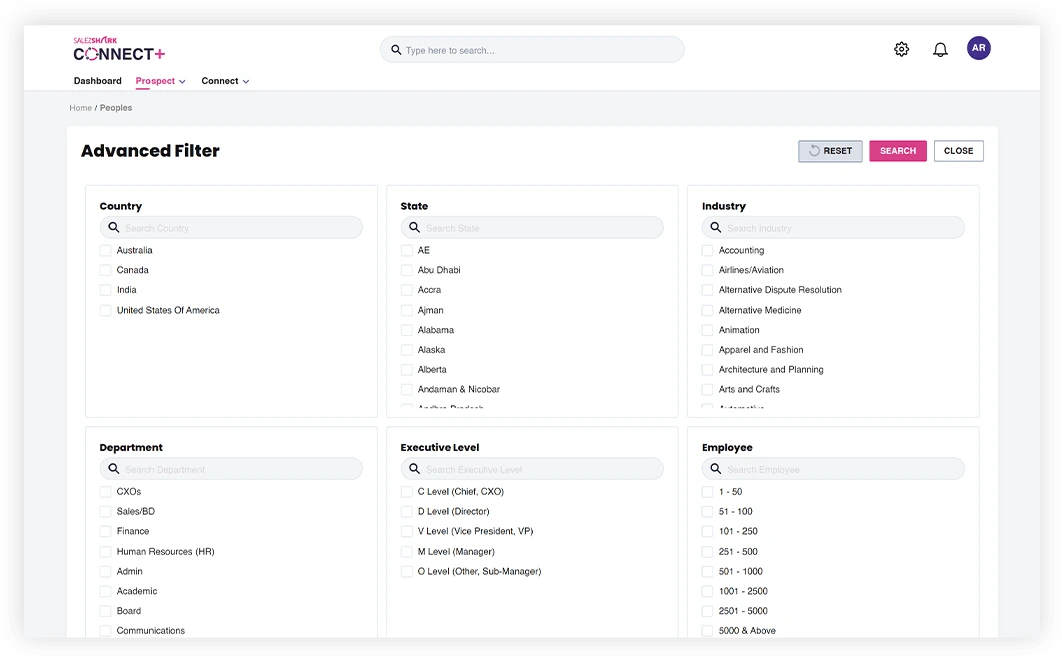 Org Chart
Org Chart provides you the information of employees to analyze the hierarchy of any organization & narrow down your search results based on it. It enhances the visibility of any company and gives a clear picture of team members & their respective reporting managers.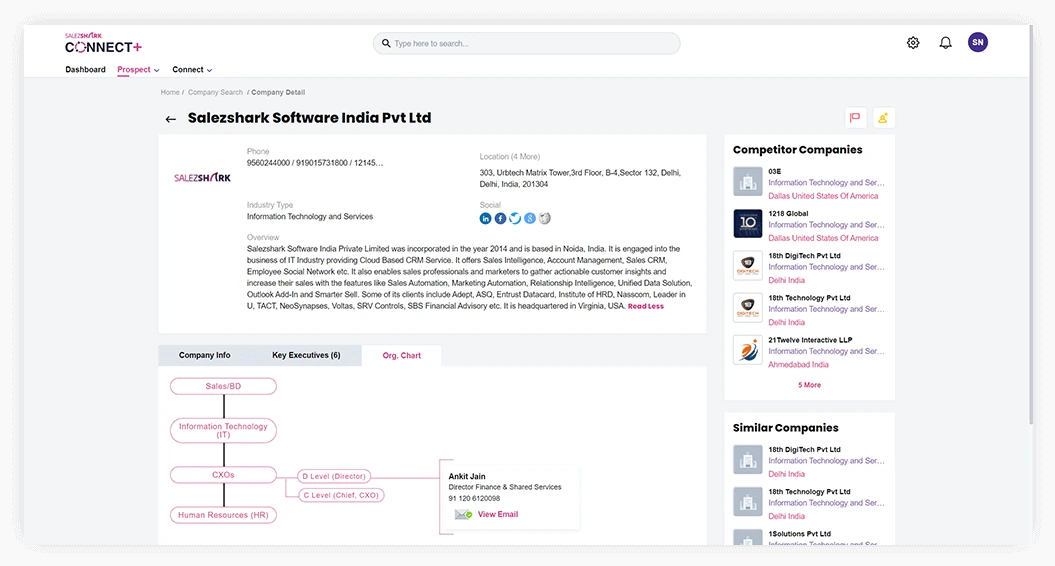 Radius Search
Radius Search helps you to know your prospects' vicinity that simplifies the stages of your sales. It helps you in identifying the right set of target audiences and becomes your partner-in-prospecting while searching for business buyers.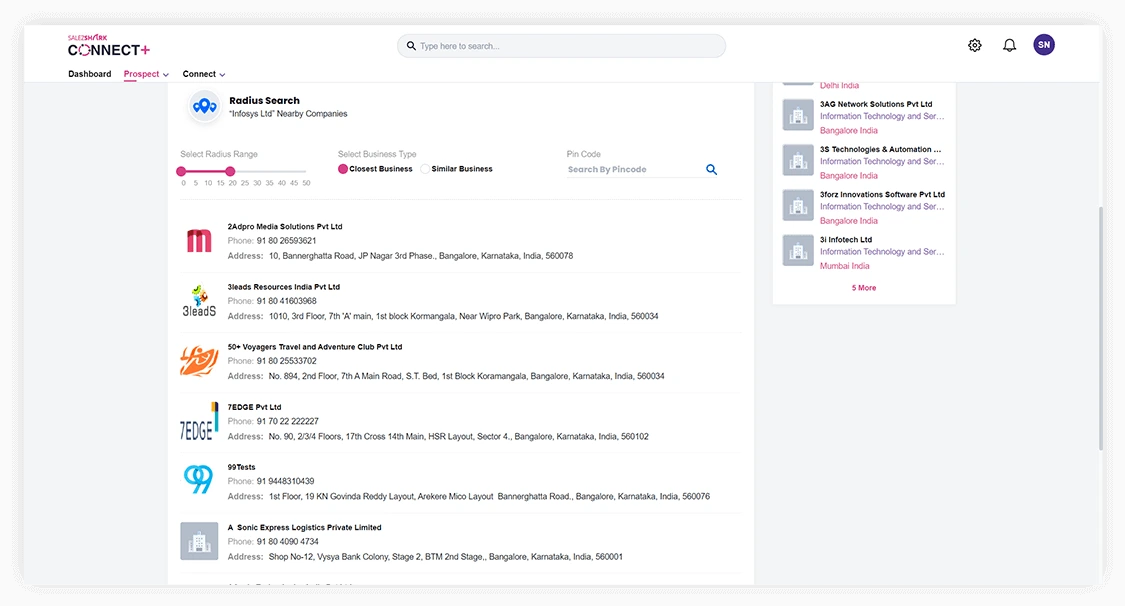 Social Intelligence
This feature helps you in building relationships with prospects by analyzing the social insights of your prospects before you interact. It helps you in establishing personalized communication with prospects that makes prospecting easy and effective.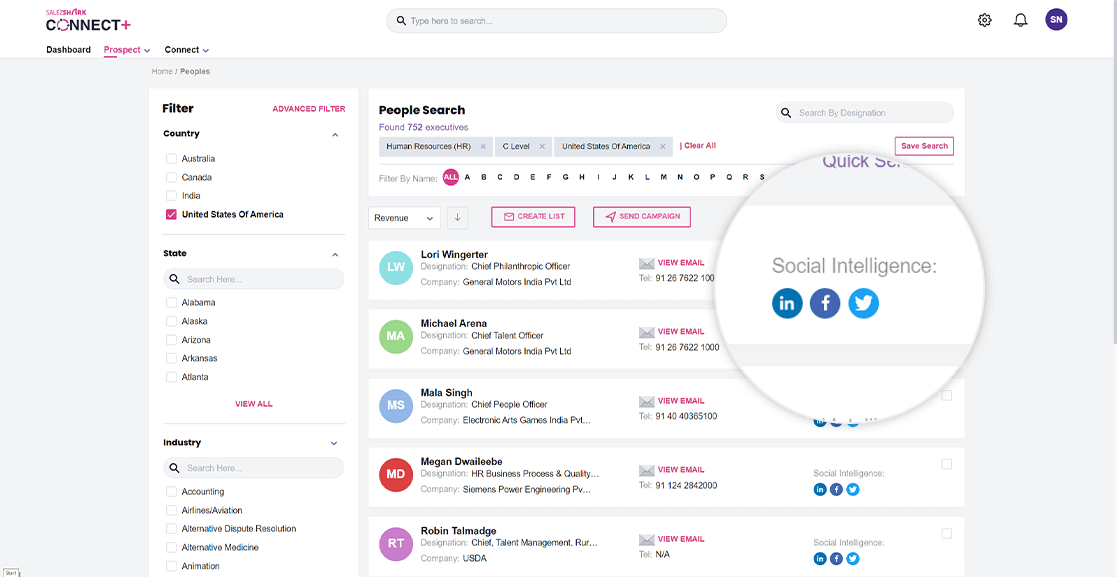 Benefits of Connect+ Database Integration
Target right organizations
Connect+ in-built database helps you to target relevant companies. The list of company directories enables your sales team to target only those companies that matter to your business and need your product or service.
Boost your audience reach & sales
Connect+ in-built database ensures the enhancement of reach and sales. It exposes the sales and marketing team to a bigger pool of potential leads where they can send effective marketing emails, and as the more people receiving it increases the chances to generate more potential sales.
Build a base of satisfied clients
Connect+ in-built database offers a clear understanding of clients' basic demographics, buying preferences, and what they wish to buy in the future. With accurate, relevant, and organized data, the sales and marketing executives know how to approach the right prospect at the right time with the right product and service. This results in a boost in ROI, and even the customers feel satisfied as they were approached at a time when they were genuinely interested in purchasing that particular service and product.
Decision making
Connect+ in-built database helps the key decision-makers of business in planning future strategies. It allows them to plan better sales and marketing campaigns that eventually generate qualified prospects. Accurate data thus simplifies the major decisions of not only executives but also the upper management can make decisions quickly.
Budget-Friendly
Connect+ in-built database with its marketing automation suite is very affordable and fits the budget of all the sizes of companies. The average cost that any business spends on man-force to create a contact database is way higher than purchasing the data and marketing automation suite.