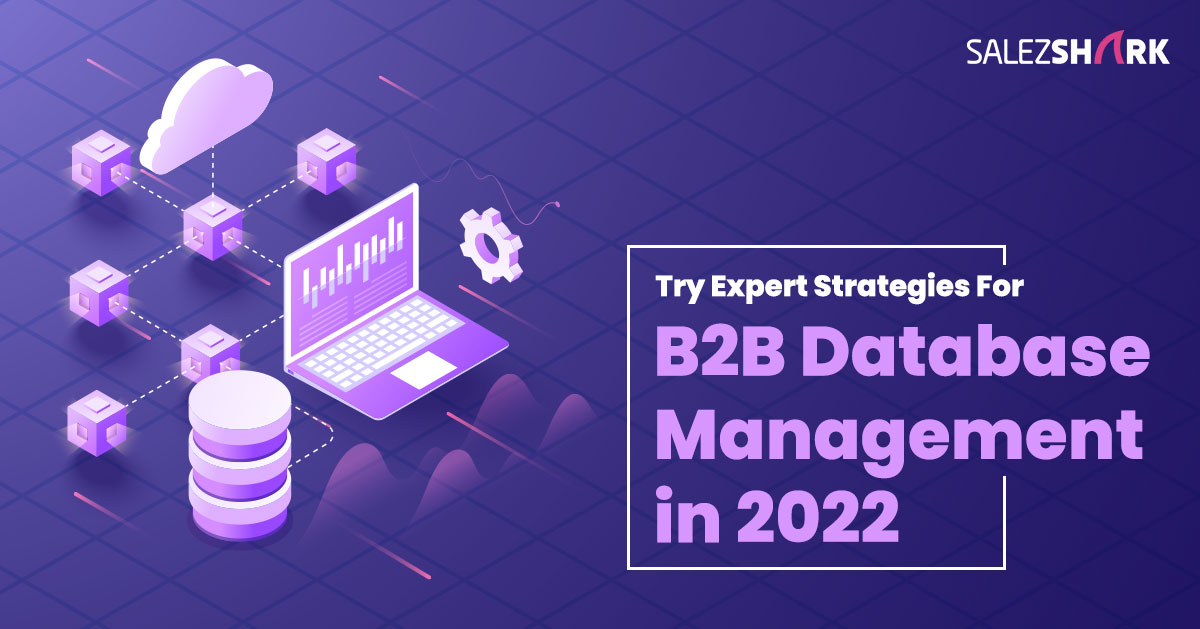 Running B2B businesses is inadequate to survive in this competitive world. To meet the level of your customers' expectations, you must understand this evasive art more beyond this. It mainly prefers inbound marketing over other conventional outbound marketing strategies. Don't restrict yourself like an average entrepreneur if you want to better understand your customers' requirements. Consequently, it will fill your system with dozens of leads in your B2B database.
Your leads are daily-bread to accomplish success for which you either try to generate fresh leads every day or convert your existing leads into potential customers. Once you acquire all those valuable customers, your level of happiness rises which further boosts your morale. B2B database management is the best solution to manage your leads safely and wisely even in tough situations.
Always try to clean your B2B marketing database, maintaining its quality with accurate contact information. You need to segment the information to increase the chances of connecting with your target audience quickly.
2022 strategies for B2B database management without making mistakes?
Stay Organized
Data architecture and file organization is always essential task, especially on the enterprise level. Your sales and marketing department needs to sort out every data coming from different sources to make it useful.
Around 49% of B2B marketers make file organization number one priority. You can use the SalezShark Connecgt+ B2B database embedded with the new trending technology of artificial intelligence to bring more quality data than you've ever seen before. Get a B2B contact database now from our reliable database provider in India.
Keep your B2B database clean
Always ensure that all the fields of your database are filled out and all information is up-to-date. Today, the marketing landscape has a very high demand from a B2B contact database. And it's critical to integrate data across various sales and marketing platforms to get rid of data redundancy to create a seamless experience for clients. Therefore, it's vital to leverage automation to carry out sales and marketing activities for faster customers responses.
Do you review your collected, shared and analyzed data periodically? Keeping a clean stack of data help B2B marketers handle a cluster of data without getting distracted from their goals. Whatever data you have been gathering in your B2B database must have the ability to assess the right path for achieving your business goals and grabbing multiple opportunities for your team.
Review your KPI and verify the assigned roles
To keep your data organized, try to create dashboard views for easy analysis of ongoing market trends and team performance. While creating your dashboard, always remember your KPI data and metrics to measure performance on your objectives. 
Assign the data roles and corresponding data responsibilities within your business hierarchy. You can authorize a few members to edit the database, giving only read-only views to other roles. Ultimately, only a few team members can access the raw data versions, making it secure and reliable. It will also keep your B2B database consistent, updated, and accurate.
Recognize what's necessary
The SalezShark marketing automation tools always generate more actionable data for useful marketing insights. 
To bring potential leads from the B2B database, B2B company in India makes a list of essential data points helpful for lead nurturing and driving high sales. It will help your teams to be on the same page without any confusion. It also makes it easier for small and medium enterprises in India to spread data across various marketing channels.
Use the segmented information correctly 
Segment your leads based on job title, a past purchase, location, etc relevant to your company's product. List segmentation helps to save time, money, and other essential resources. Your sales and marketing departments find it easy to make the most out of the information to make it valuable and actionable for further process.
Once you are done with database cleansing and careful customer segmentation, create isolated email marketing campaigns that suit your buyers' interests. It will push you closer towards the last stage of lead management, moving your leads through different phases of the sales cycle.
Establish secure data protocol
Decide much before what data format will be most useful for your B2B database. Using the correct formatting will ensure that your free company data is now uniform and can be used successfully across different channels and networks.
A B2B marketing database when integrated with other automation tools acts like the Swiss Army Knife for your entire organization. A list of SME companies follows these steps offered by the SalezShark Connect+ B2B database management team to make the most of it.
Wrap Up
Are you ready to bring more quality leads to get added to your B2B database? SalezShark Connect will not help you in database management but also provide you with the best Engage CRM software to automate your sales and marketing process for faster lead conversion. This is how SalezShark will help your business boost your revenue 5x in 2022.