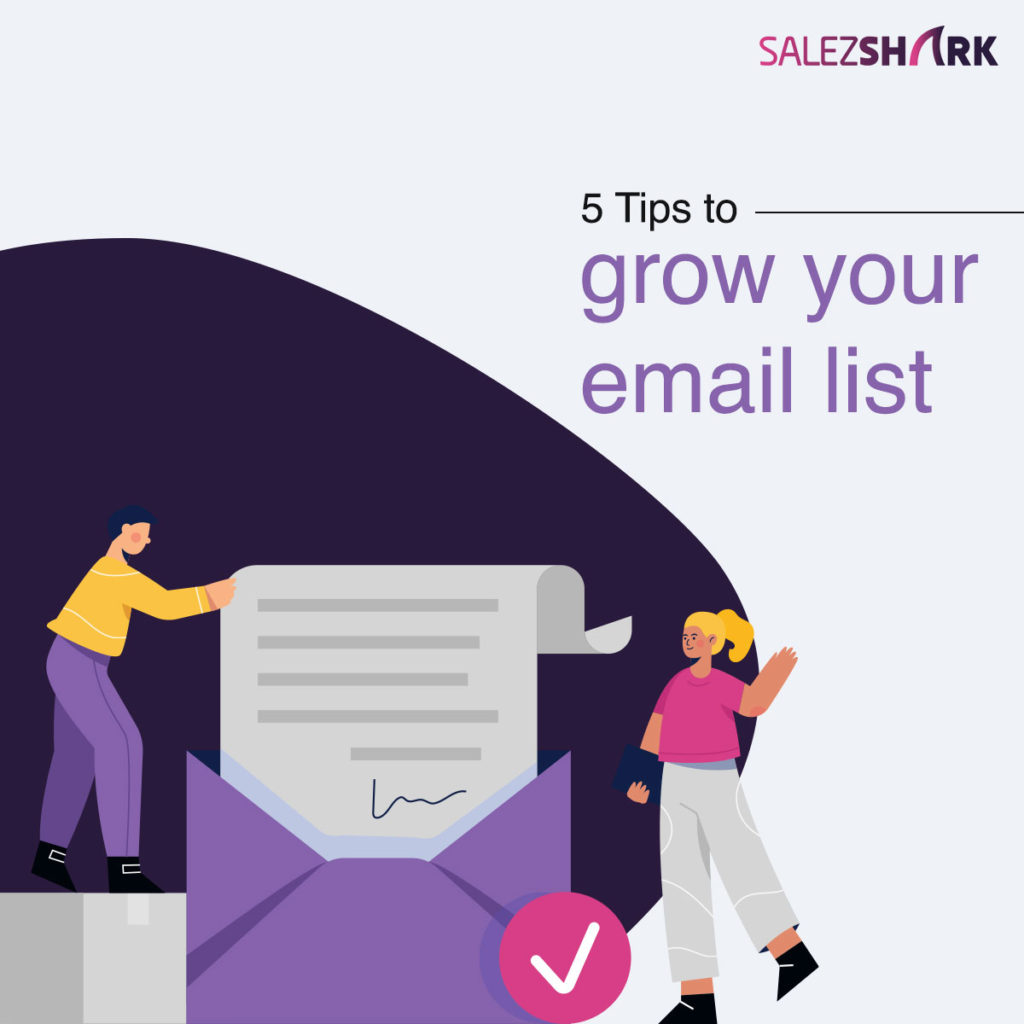 Email marketing is one of the most effective marketing practices offering the highest potential ROI (return on investment) across marketing channels. This means email marketing can fetch a high ROI if you can reach a significant audience. Even after creating solid content for emails, many marketing professionals face issues in reaching a wider audience. So in such a scenario what should you do to grow your email list? To achieve this objective we are here with five useful tips to help you grow your email list quickly.
Optimize your CTA & opt-in form
The very first step to make your email list grow faster is by ensuring your email signup form is not hidden or monochromatic? You should keep your opt-in form near to the primary content and one CTA (Call-to-action) button just below the primary content, another CTA button at the bottom of every blog post. Always ensure your sign-up form pops off the webpage by keeping its color contrasting against your primary brand colors.
Use pop-ups 
Besides, keeping a bright CTA (Call-to-action) button in your web pages that appears right before your eyes; you can also add pop-ups that make the sign-up forms impossible to miss. You can do A/B testing and can experiment with what content, colors, and creatives work best for gaining more email subscriptions.
Link everywhere
Another tip to grow an email list faster is to link your newsletter sign-up page to every landing page on your site. Adding a link of your newsletter sign-up page to every landing page ensures that every visitor who has just finished reading your landing page or watching a product demo video will be prompted to sign-up for even more content. Hence, it helps you to fetch only those readers who are really interested in knowing about your company.
Create multiple subscription types
As we know content is the king that means good content is the key to greater engagement, shares, and buzz. But at the same time one size doesn't fit all; what's good to one person may be just an average to another. So, while you continue to grow your email list, make sure you are delivering them the most relevant content that is based on their interests. Every buyer is looking for something different, so in such a situation try to create multiple subscription types and frame more targeted content to each email list to enhance the chance of visitors turning into subscribers.
Get SalezShark Connect+
Last but not least, to grow your email list faster you can also opt-in for SalezShark Connect+. Powerful email marketing software clubbed with an integrated b2b database that helps you to build a smart list of email addresses in a few clicks. It offers an integrated database of b2b contacts of various organizations including the most relevant contacts that help in the creation of an email list quickly. Apart from this, it automatically manages the bounce & unsubscribe list & also offers smart insights on list performance.