You have probably invested a significant amount of money in hiring, educating, and outfitting your sales representatives. But without a sales tracker, you can be leaving the expansion and success of your business to chance.
Sales track software is an essential tool for gathering information that will make your team stronger.
We'll explain how software for sales tracking may assist you in accurately forecasting your sales, what features a good sales tracker needs, and how to choose the best sales track software for your business in this blog.
What is Sales Track Software?
Sales track software is a tool that helps you keeps track of and analyze all the moving aspects of your sales process, giving you visibility into the process. Visibility, in turn, aids in improved decision-making by sales teams and can streamline your sales strategy.
In addition to storing emails, phone logs, client notes, and more, sales track software has the following major advantages:
Lead tracking and lead capture

Planning out your sales pipeline

Maintaining and preserving your contact details

Keeping track of all internal and client communications

Gaining insights and reporting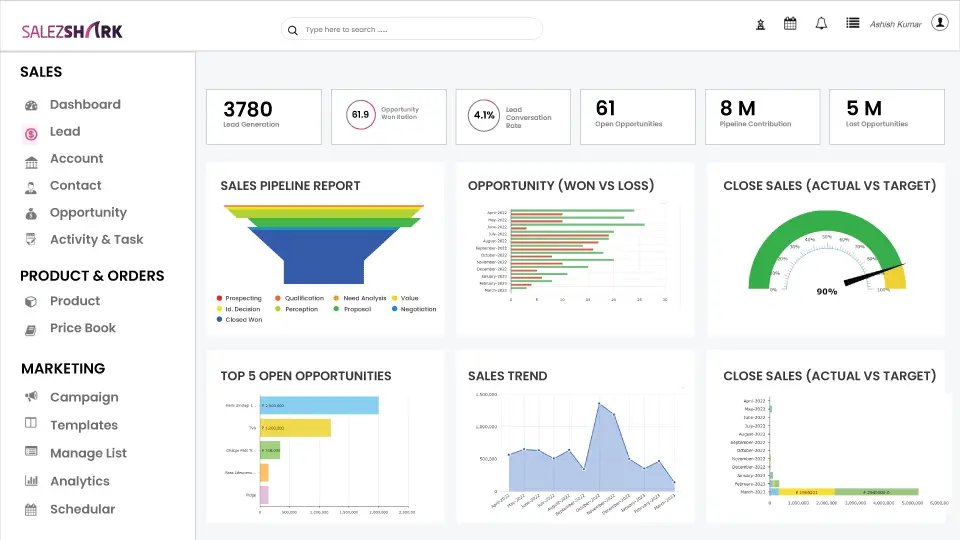 Why Sales Tracking Software is Crucial and what does it do?
The act of gathering and examining various elements of your sales process is known as sales tracking. It offers helpful customer insights, aids in the analysis of sales success, and indicates areas where your sales process may be improved.
You can use software for sales tracking to manage the sales tracking process properly.
All of your sales tracking data is centralized via sales tracking software. It gives you insightful information about your sales performance, which aids in the making of wise decisions.
You can simply tell which products are selling the most and which aren't by using a sales tracker, for instance. You can use this information to decide which product lines to promote and which to avoid with confidence.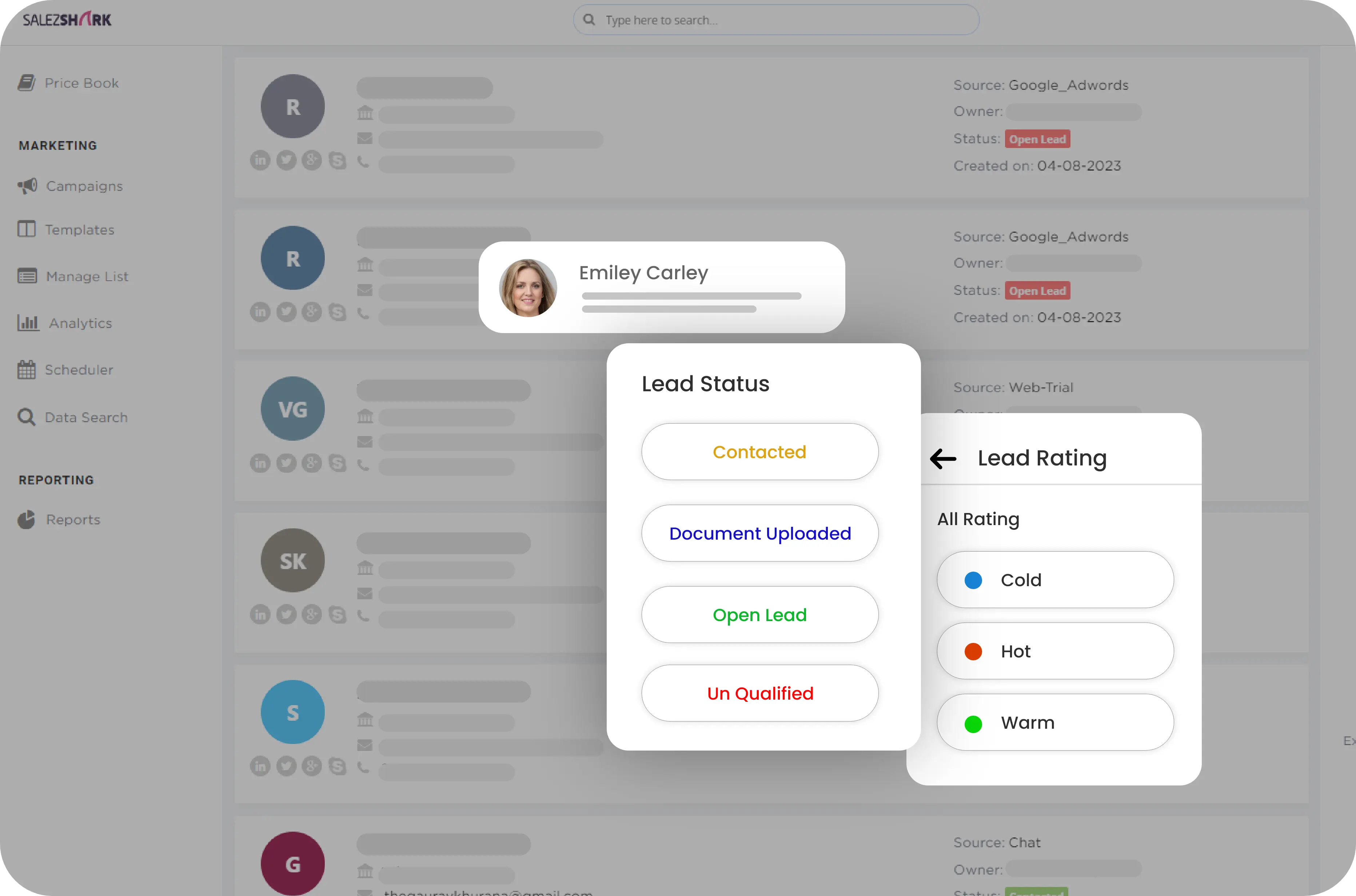 Key Components of Sales Tracking Software
There are a number of important elements to take into account when selecting sales tracking software for your small business. In addition to assisting you in streamlining your sales process, these features will make sure that the program meets all of your specific wants and expectations.
Integrations
The smooth integration of sales track software with your current systems is one of the most crucial characteristics to look for. This means that the CRM software must be able to effortlessly interact with tools that you use to manage your sales pipeline, such as Engage CRM and email marketing software. You can verify that your sales data is accurate and current and prevent any potential problems by having all of your systems communicate with one another.
Lead Control
Effective lead management is another important aspect to take into account. From the time leads enter your pipeline until the time they become clients, a solid sales tracking program should give you the tools to handle your leads successfully. Features like lead scoring, lead nurturing, and automated follow-ups are included in this. You can guarantee that no lead slips between the cracks and that you can maximize your sales prospects by having these capabilities.
Reporting and Analytics
Software for sales tracking must also have real-time analytics and reporting capabilities. In order to make wise decisions and see any areas for improvement, you must be able to monitor and assess your sales data in real-time. Look for CRM software that offers you thorough reports and dashboards so you can learn important information about the performance and trends of your sales.
Customization
Customizability is a crucial feature to take into account. Every company has a distinctive sales process and workflow, so it's essential that the sales tracking software you use can be tailored to fit your particular requirements. This includes the capacity to design unique fields, processes, and automation rules. You can make sure that your CRM software adapts to your business rather than the other way around by making it customizable.
Access through mobile
Mobility is another important factor to take into account in the fast-paced corporate climate of today. The ability to view and update data while on the go is a feature that mobile access to sales tracking software should have. This implies that even when they are not in the office, your sales reps may access customer information, update their sales activities, and monitor their progress. This degree of adaptability can significantly increase efficiency and output.
Consider a number of essential aspects when selecting sales tracker software for your business. These include mobile accessibility, efficient lead management tools, real-time analytics and reporting, customization, and seamless connection with your current systems. You can select the ideal CRM software to support your sales by carefully evaluating these aspects.

Sales Tracking Software Advantages:

Making Decisions Based on Data
The secret to success in today's business world is data-driven decision making. By giving you insightful information, sales tracking software plays a crucial part in this process. This program gives you the ability to take well-informed decisions that promote growth by capturing crucial sales data and presenting it in a transparent and usable style. Software for sales tracking gives you the information you need to advance your organization, whether it's finding high-performing sales methods, comprehending client behavior, or spotting trends and patterns.
Customer Relationship Management Improvements
Every successful company places good customer relationship management at its core. By giving you a comprehensive picture of your clients' interactions with your company, sales tracking software helps you cultivate and develop your relationships with them. You can keep track of consumer interactions, preferences, and wants from the first point of contact through the final sale and beyond, allowing you to modify your strategy and offer individualized experiences. You may create enduring customer loyalty and encourage repeat business by utilizing the customer relationship management features of this program.
Simplify Your Sales Process
Your sales process needs to be streamlined if you want to be effective and generate the most money. To assist you in achieving this, a variety of tools and capabilities are available in sales tracking software. To give your sales team more time to concentrate on what they do best—sell—automate monotonous operations like data entry and report production. This CRM software also gives you visibility into your sales pipeline, which you can use to spot bottlenecks, reorganize workflows, and enhance your sales process for higher conversion rates.
Conclusion: Use SalezShark Sales Tracking Software to Grow Your Business
In conclusion, sales monitoring CRM is a crucial tool for small firms looking to succeed in a cutthroat industry. This program gives you the power to grow your small business to new heights by supplying insights, optimizing operations, and enabling data-driven decision making. Consider SalezShark CRM and its integrated sales tracking software, which offers a full range of features tailored especially for small or large firms, whether it's your first CRM or you're switching.
You can streamline your sales process, cultivate customer relationships, and achieve long-term success with the correct sales tracking software in place. Speak with a member of our staff or take advantage of a 14-day free trial to get started right away.