Sales and marketing strategies are increasingly relying on CRM software solutions. The ability to follow up on sales emails is one of the crucial areas where it might significantly differ. You may raise your response rates, enhance your connections with clients, and increase transaction closure with the appropriate CRM automation tools and methods.
Here are some of the best ways to use CRM automation to follow up on a sales email.
4 Tips for Better Automated Follow-Up Emails
Automate Your Follow-Up Emails with Drag & Drop Builder
Automating your follow-up emails is one of the best methods of using CRM solutions for small businesses to respond to a sales email. Using SalezShark CRM software, you can create a series of timely, targeted follow-up emails to be sent out automatically in response to particular triggers, like when a prospect opens or clicks on your email.
Due to the fact that you won't need to send follow-up emails or remember to do so manually, this might save you a lot of time and work. You can also create a sequence of emails intended to guide prospects through the sales funnel, ensuring that your follow-up emails are consistent and successful.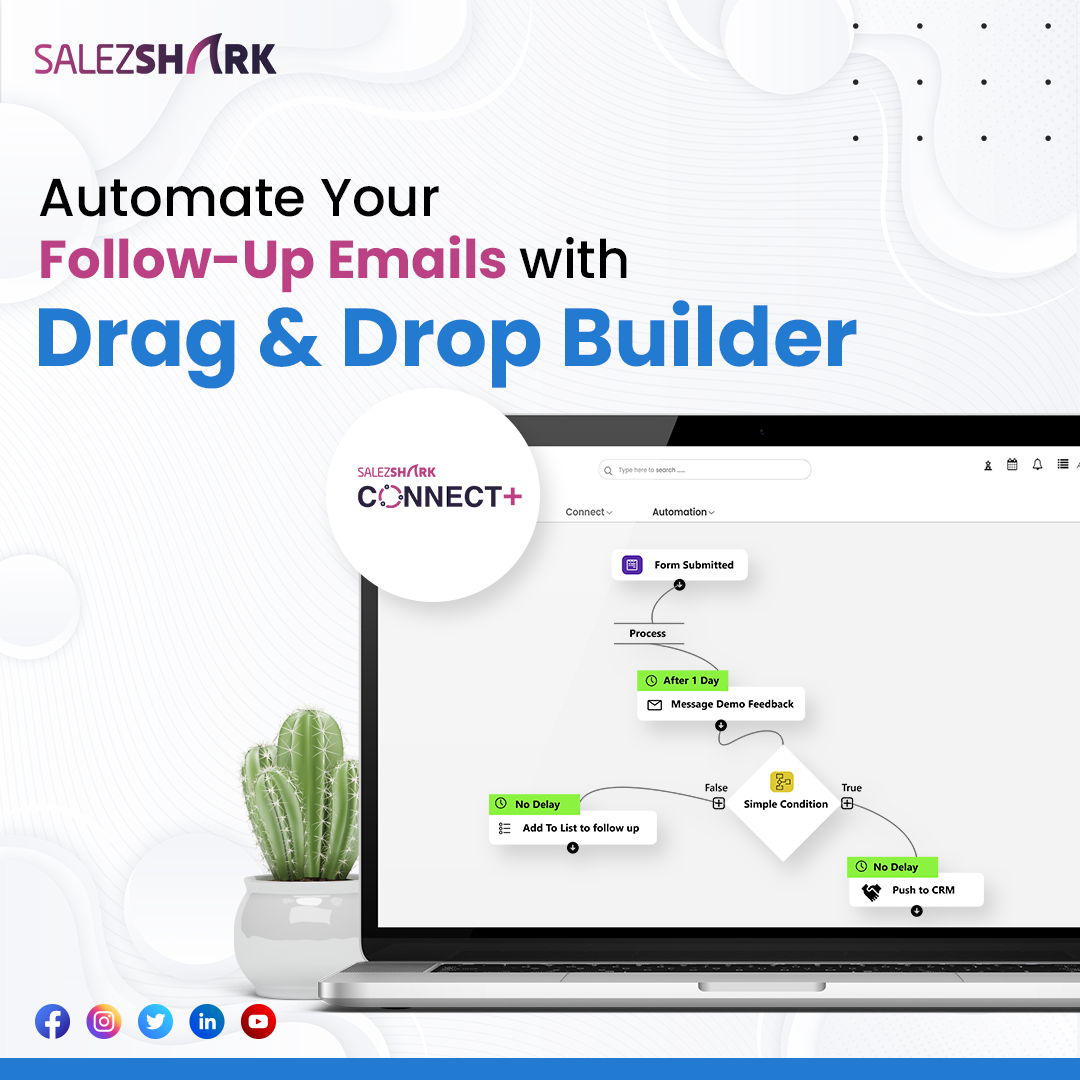 Use Personalization to Improve Engagement
Enhancing engagement with your follow-up emails requires personalization. With the best CRM software in India, you can utilize information and insights to tailor your emails depending on the receiver's preferences, activities, and past interactions.
You may, for instance, mention a prospect's name in the subject line or opening paragraph of your email, mention their most recent activity on your website or social media pages, or modify your content to address their interests or problems.
Set up Tasks and Reminders
You can keep organized and on top of your follow-up duties with the aid of the best CRM software in India. You can schedule reminders for when to follow up with a prospect or when to send a particular message using the task and reminder options.
You can avoid missing important follow-up opportunities by staying on track with SalezShark CRM software. To ensure that everyone in your team is on the same page and working toward the same objectives, you can assign follow-up tasks to other team members using the task and reminder tools.
Track and Analyze Your Follow-Up Performance
Finally, CRMs for startups can assist in monitoring and evaluating the success of your follow-ups. You can watch your open and click-through rates, see which messages perform best, and pinpoint areas where your follow-up tactics need to be strengthened with the help of analytics and reporting services.
With the help of SalezShark CRM software, you may make data-driven choices on optimizing your follow-up emails and boosting your sales outcomes by reviewing your performance statistics.
Conclusion
The ideal method for following up on a sales email is CRM software solutions. You can raise response rates, develop deeper connections with customers, and close more sales by automating your follow-up emails, leveraging personalization to increase interaction, completing tasks and reminders, and tracking and analyzing your follow-up performance.
The SalezShark platform was created to assist you in managing your marketing strategies and company expansion. Visit Now!
Reference Links
https://www.salezshark.com/marketing-automation
https://www.salezshark.com/crm/sales-activity-tracker
https://www.salezshark.com/contact-management
https://www.salezshark.com/crm/crm-for-startups