Improve sales tracking with
SalezShark sales activity tracker
Each sales rep plans various strides to draw in with customer engagement and convert them into a client—the to and fro messages, calls, messages, gatherings, and so on Also, there's additional. With Sales Activities, track each sort of movement you take to convey an arrangement forward. Connection exercises to contacts, sync arrangements to your schedule, foresee meeting results and monitor your presentation. Begin following sales exercises and recognize the ones that expansion changes with amazing reports. Get every one of the bits of knowledge that you need to smooth out your cycle and begin shutting bargains quicker than at any other time.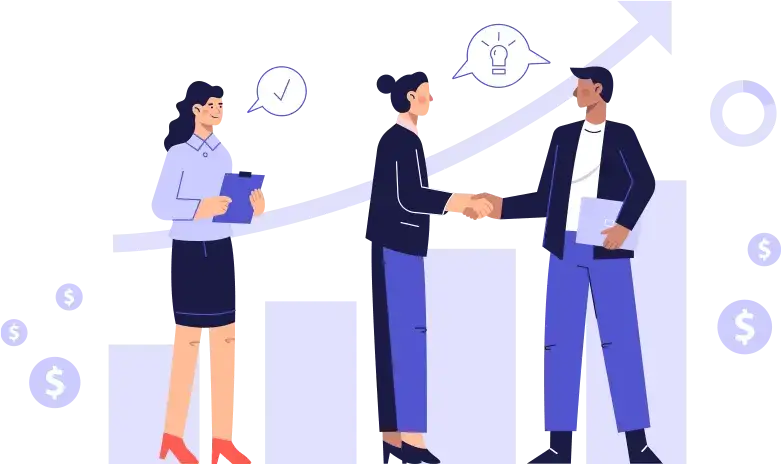 Track your sales activities now
Try SalezShark CRM for 14-days.
Track leads & its source with SalezShark sales activity tracker
Track your leads' buying behaviour, preferences, and trends but also tracks the web pages visited by your leads, the forms filled, the time duration spent on blogs, etc. All of the leads activities get tracked by SalezShark CRM and presented in a comprehensive report that enables you to know leads well and offer products and services at the right time.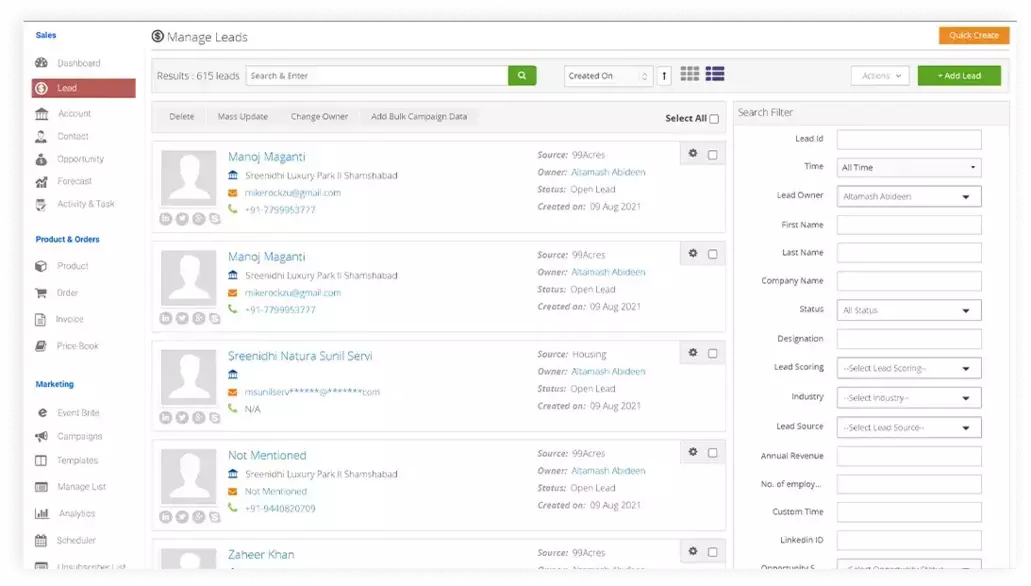 Work smarter with campaign scheduling
By using SalezShark CRM your sales team can schedule marketing campaigns in advance to send the right marketing messages at the right time. You can plan and populate a virtual marketing calendar and schedule multiple email marketing campaigns in advance for any particular date or event or based on the geographical location of the email list to fetch more open & click rates of emails.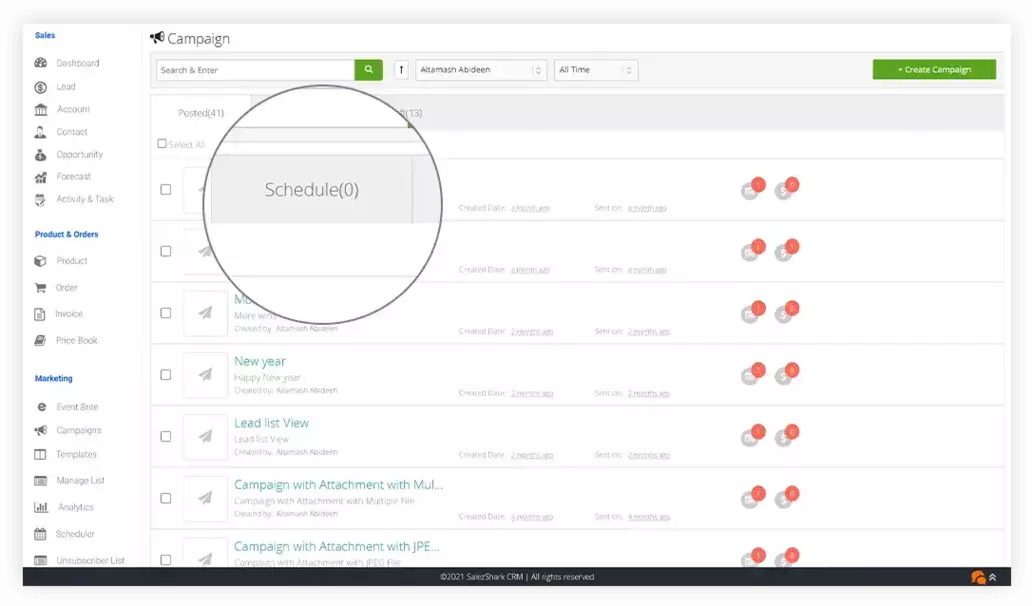 Identify key sales activities and replicate for success
By tracking sales activities through SalezShark you can also create customized reports to track day-to-day sales activities of your sales team and learn about their performances in detail. Managers & admins can map out every deal stage of the sales process and measure sales activities for a holistic perspective. Using SalezShark CRM is a time-savvy way to connect action-based data from teams' sales activities.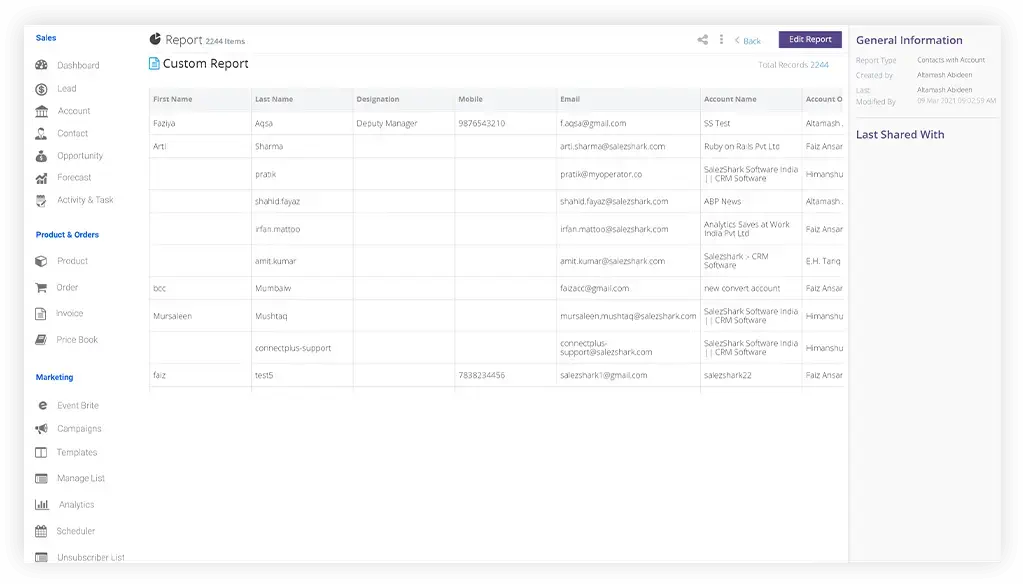 Measure activities on the go
With the SalezShark mobile app, track sales activities of your sales team on-the-go. Set notification alerts for meetings, email campaigns, or reminders for any important tasks or appointments. You can also make calls, add notes, and track them to the record.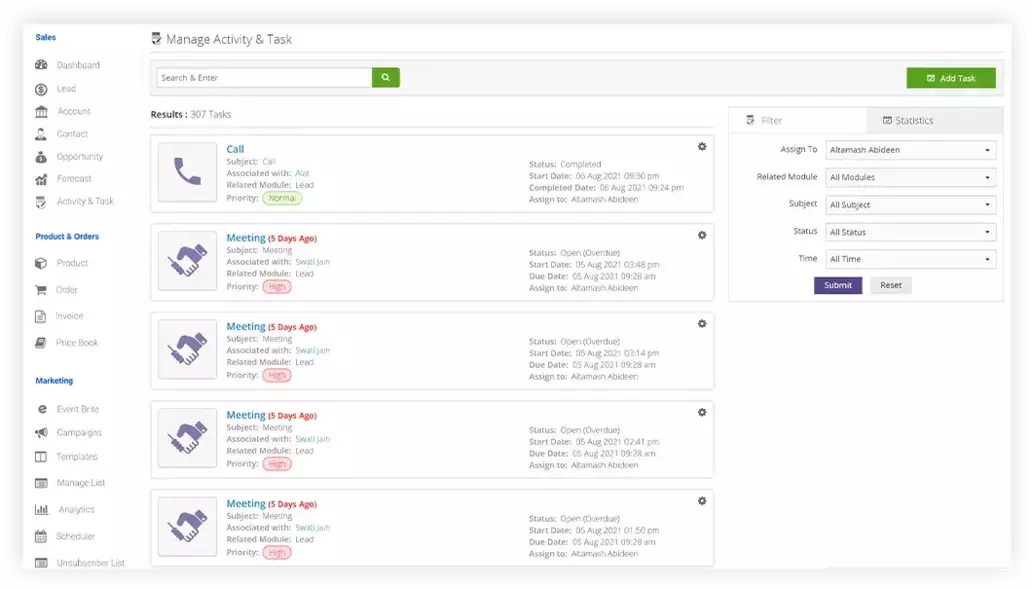 Actionable Leaderboard
Boost productivity and accountability of your sales team by presenting an actionable leaderboard among your sales professionals. A leaderboard helps to increase transparency and sales activities so that managers can check the real-time performance and drive better results against a time-bound target.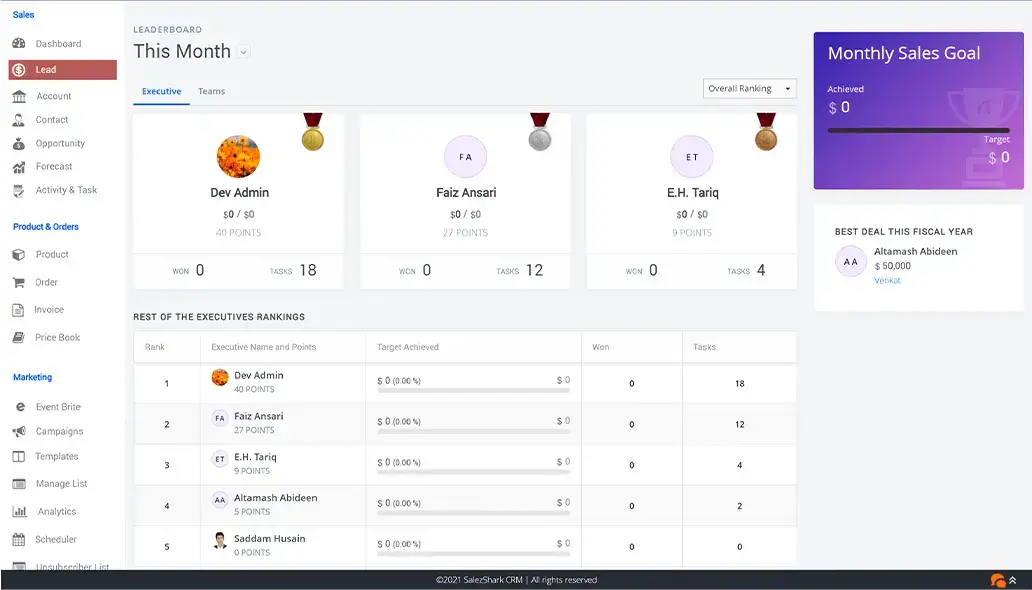 Sales Speedometer
SalezShark sales dashboard provides you a glimpse of evident metrics and business targets in a single glance to know your sales speed well. This real-time data visual makes you aware of your actual sales vs. the target sales, with an estimated value from the closed sales as well. This metric will also inform you about the status of your sales target depending upon your requirement.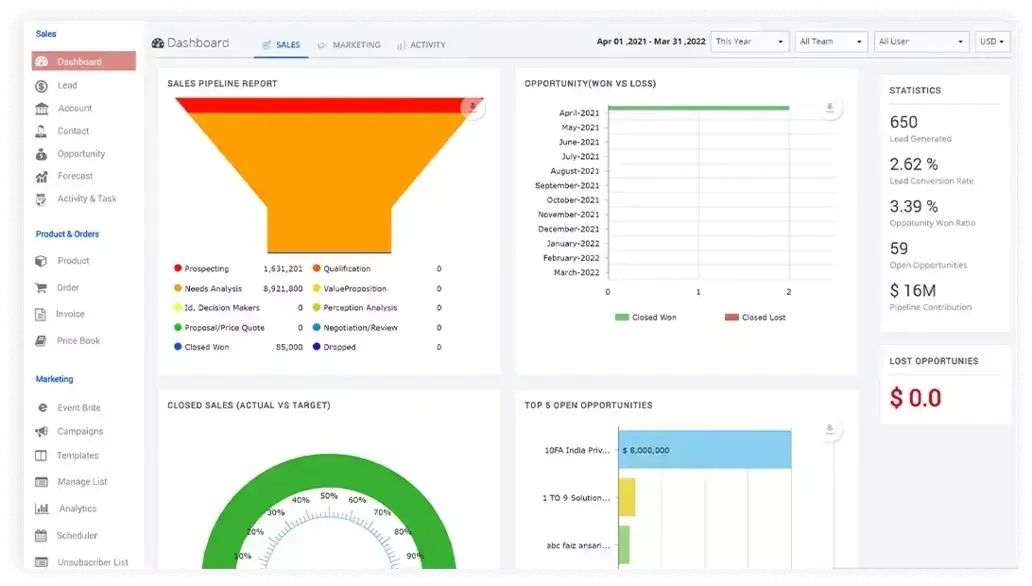 Boost sales by easily tacking
sales activitiy of your sales team
Create action items, to-do tasks, get instant notifications, track sales performance of your team and more with sales activity tracker in SalezShark CRM.

Track sales performance
Analyze the performance of sales campaigns in a few clicks. It offers you various sales metrics and data-driven insights that ease the job of tracking the performance of sales campaigns.

Automate daily workflows
Manually driving day-to-day sales activities such as following up on leads, sending sales-related emails, raising invoices, etc. that consume a lot of productive hours.

Forecast sales accurately
When it comes to access the real-time data, the sales forecast report provides an overview of your past and future sales performance in terms of committed amount, best-case amount and pipeline of qualified leads to work for next month.

Manage sales calls via CRM
Dial calls directly from your CRM, and log customer communication that can help your sales team with easy sales.

Set up workflows
Use workflows to automatically create tasks for your sales team when a new lead signs up, assigned to any teammate, add a follow-up activity alert, and more with SalezShark CRM.
Plan activities in advance
Check scheduled and overdue tasks in the sales pipeline view. Set up activity notifications on desktop and mobile, and get reminders sent to your inbox.
How does SalezShark sales tracker help?
SalezShark sales tracker offers you a unified platform to manage all your leads and existing clients into one central space. It offers you a shared database of contacts that helps you and your sales team members to work together on leads and achieve individual and common sales goals effectively. It not only simplifies lead tracking but also you can optimize leads by nurturing them effectively via sending follow-up emails, scheduling appointments, product demos, and calls. Let us look into a few advantages of deploying the SalezShark sales tracker software.
Monitoring
SalezShark gives you access to real-time activity feeds that enable you to evaluate not only your sales performance but also your sales team members' performance. Any sales activity performed by any sales executive gets automatically recorded into the SalezShark that enables you to monitor the sales activities on a real-time basis.
Decision-making
SalezShark helps you in making the right sales decisions at the right time. It offers smart data-driven insights in the form of auto-generated reports that gives a pictorial view of various sales campaigns' performance that enable you to devise future sales strategies effectively involving forecasting sales accurately.
Integrations
Dialling numerous calls and sending multiple emails manually to leads on a daily basis is not an easy task. Moreover, keeping a track of all dialed calls and sent emails is also a tedious task if done manually. However, with the help of SalezShark, all of these activities can be managed from the system itself and all the activities can also be automated. Any email or call made by you gets automatically recorded into the software, which improves sales tracking entailing emails' response times, outcomes, and following up with leads.
Accessibility
SalezShark can be easily accessed through any mobile device. It helps especially at the times when you are traveling or you are involved in any kind of fieldwork. In such a situation you can make the best use of it by feeding any sales data anytime from anywhere that enhances your productivity and saves time. Also, it helps you to track your sales campaign performances remotely.