What's in it for you in the Connect+
B2B contact database?

Integrated business contact database (SME contact database)
Struggling to generate quality leads? Let Connect+ do the heavy lifting! Our integrated database quickly builds lists of relevant email addresses and gets your messages into just the right inboxes, guaranteeing success for all your email campaigns.

Email Marketing
Achieve effortless email marketing with Connect+! Take advantage of pre-built templates and easily schedule campaigns for events & dates. Improve efficiency by automating your process, all while nurturing relationships with customers and prospects.

Contact Management
Don't let quality contacts go to waste! Get organized with Connect+'s Contact Management feature and transform your data into action: accurate contact info, insights on customers' past interactions, personalized email campaigns - it's all there waiting for you.

Campaign 360° (Email Analytics)
Want to know if your emails are making the grade? Get an all-around view of success with Campaign 360° from SalezShark's Connect+! Access in-depth insights into how well each email campaign is performing and plan smarter strategies for future campaigns.
Don't Wait for More!
Get Connect+ to build direct relationships with key decision-makers
How does Connect+ make business contact database search easy?
Smart Search
Besides managing data you should also know how to track that data and fetch it at the time of need. Mostly it is a tedious task to search any data manually and it also consumes a lot of productive hours. The data search of your business must be fast so you can quickly know about your prospects and can start prospecting effectively. The integrated SME contact database in Connect+ makes prospecting painless. But when you have so much data then often it becomes a tedious task to find any specific data. Here Connect+ Smart Search option helps you in simplifying this search. The smart indexing search helps you to locate any b2b data in a few clicks.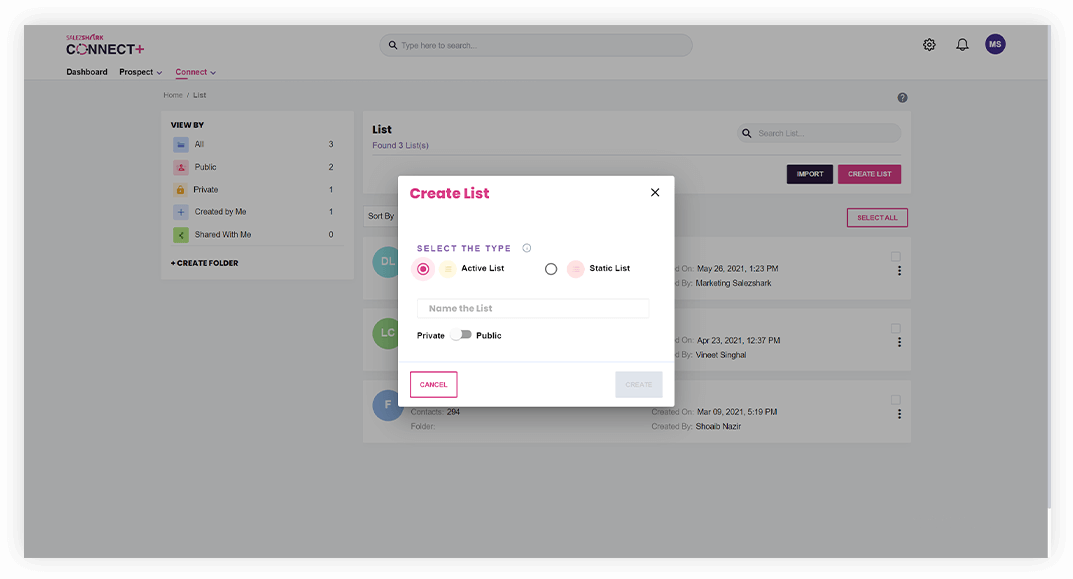 Org Chart
Irrespective of the size of a business- small. medium or large and irrespective of any industry your business belongs to; an Organization chart is something that displays all employees' designations and who is reporting to whom. The organization chart is a useful feature of Connect+ that helps you to understand the hierarchy of any organization. It showcases detailed information about each employee in an organization like their designation and also who they are reporting to i.e. Reporting Managers. Based on the Org. chart you can narrow down your search and can identify which profile of an organization you wish to target.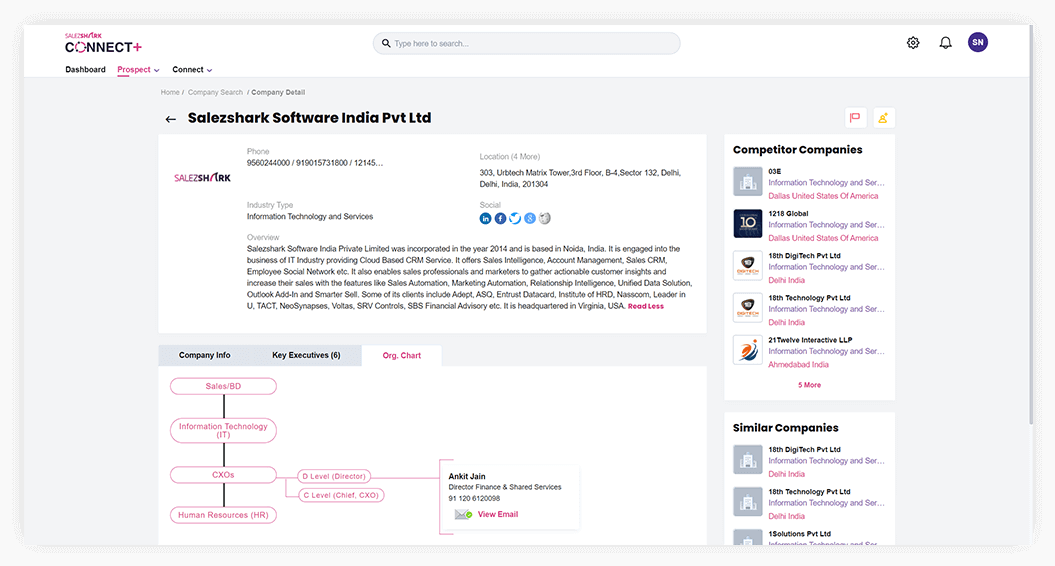 Radius Search
This is one of the most useful features of SalezShark CRM that makes prospecting quick and most sales and marketing executives can use it at the time when they are at fieldwork. As the name suggests, the Radius Search option of Connect+ helps you to find and locate relevant prospects in any vicinity and make their information readily available to amplify the prospecting cycle. The Radius Search option of Connect+ helps you to locate the right target audience near your vicinity resulting in finding the right business buyers. So, through the Radius Search feature, you can tap opportunities quickly that are relevant to your business and make the most of your time while attending to other clients.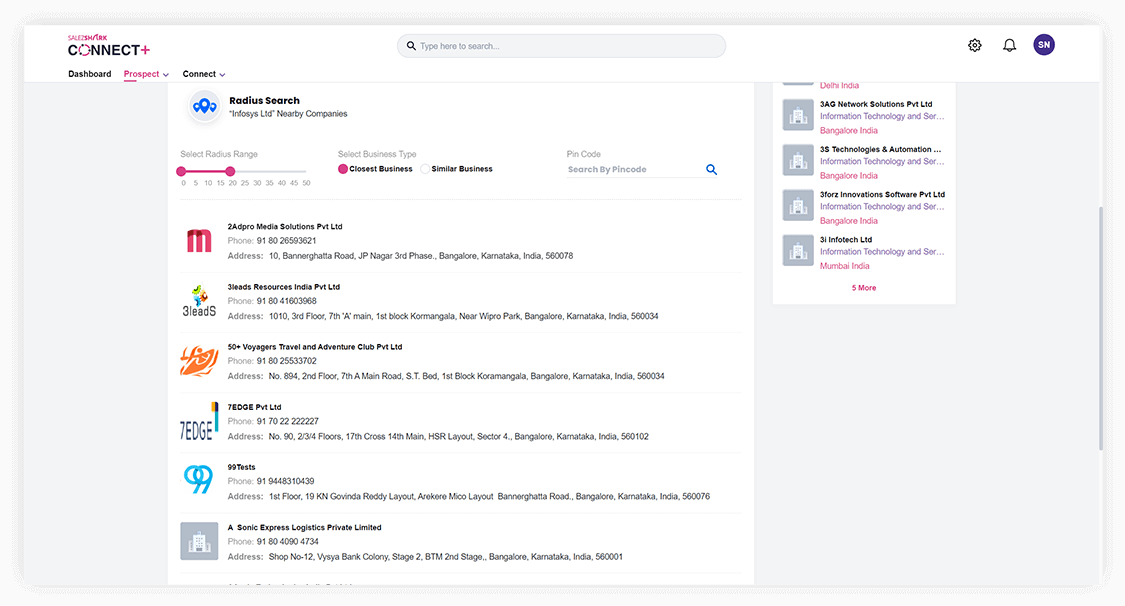 Social Intelligence
Everybody uses social media platforms these days. Businesses also understand this fact and try to connect with prospects on these social media platforms. By connecting with prospects on these platforms you can understand them better and build good rapport to enhance your business sales. SalezShark's other significant feature Social intelligence helps you in understanding your target audience by understanding their social media activities. By gaining those social insights you can start building strong relationships with your target audience and you can search for promising buyers easily. It helps you to connect with the target audience based on their interests and makes prospecting painless and effective.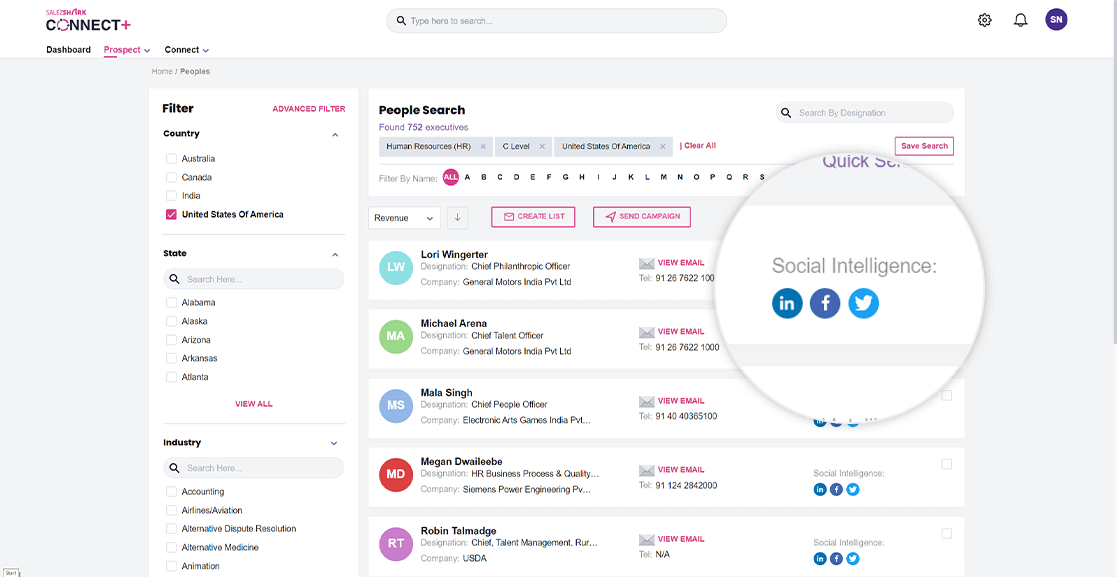 Amplify your marketing efforts
Book a free trial of SalezShark Connect+ now