How does SalezShark
Connect+ business contacts help?

Leverage integrated database (business contacts)
By deploying Connect+ you get empowered with integrated business contacts that help you to find business emails of key decision-makers of desired industries and companies. By leveraging this data you save time and can build direct relationships with key decision-makers.

Access smart analytics
Just creating the email campaign is not enough, you should also know how to analyze its performance. SalezShark Connect+ offers some smart marketing analytics that helps you to gauge the performance of your campaigns. By measuring the performances of your campaigns you can ensure your emails get delivered in the right inbox.

Create email campaigns swiftly
Creating multiple email campaigns can be a time-consuming process and to make it simple Connect+ acts as a savior. It helps you to create highly personalized email campaigns in no time. It offers a wide range of readymade and highly customizable email templates that gives a great visual appeal to your email and saves a lot of time.

Customize
SalezShark Connect+ can be easily customized based on your business and industry needs. It doesn't matter what size of the company you run – small, medium, or large; it is equally useful for all the sizes and helpful in offering a unified portal keeping all information in one place that can be easily accessed by your multiple marketing teams.
Importance of Connect+ business contacts
in making email marketing effective?
Create email marketing campaigns that connect instantly
The primary objective of creating email campaigns is to connect with the target audience instantly. It gets only possible when you know what your audience wants. Here SalezShark Connect+ makes this process simple for you, by offering its integrated database. It helps you to make email campaigns more targeted and based on audience needs. It also helps you to connect with the key decision-makers of your targeted companies. That saves your time and helps you to connect with them instantly.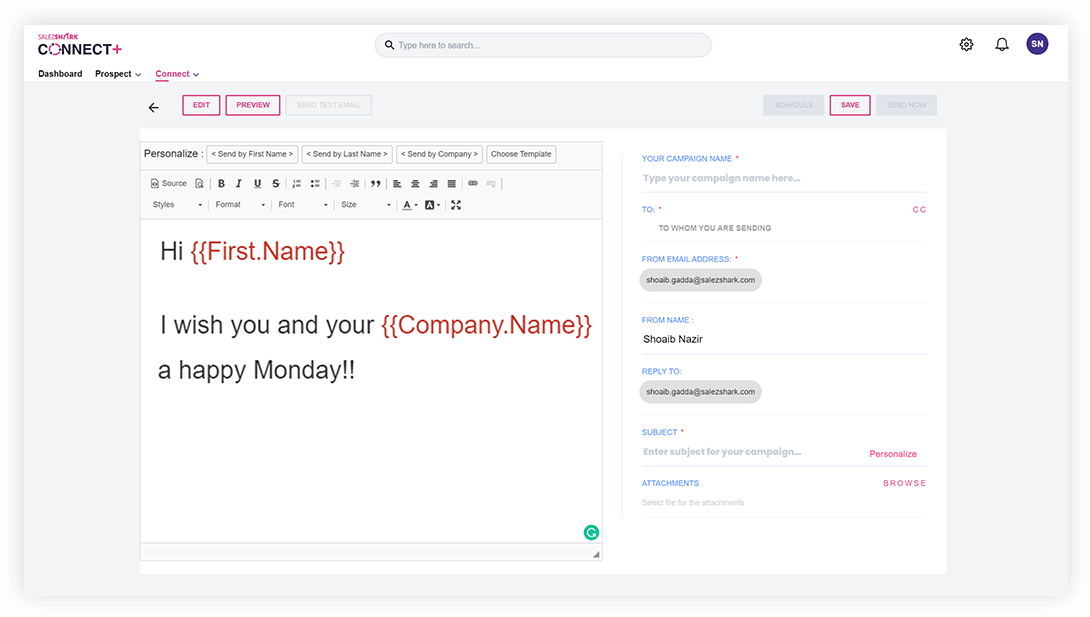 Build a targeted email list & schedule email campaigns
While creating email campaigns the most important factor to make it successful is the email list. If your email list is accurate and targeted then nothing can stop making your email campaign successful. SalezShark Connect+ offers an integrated database that includes information (email addresses, phone numbers) of key decision-makers from various organizations and industries. From this database, you can create an email list that is accurate and targeted. By deploying Connect+ you can also schedule various email marketing campaigns in advance by using a marketing calendar.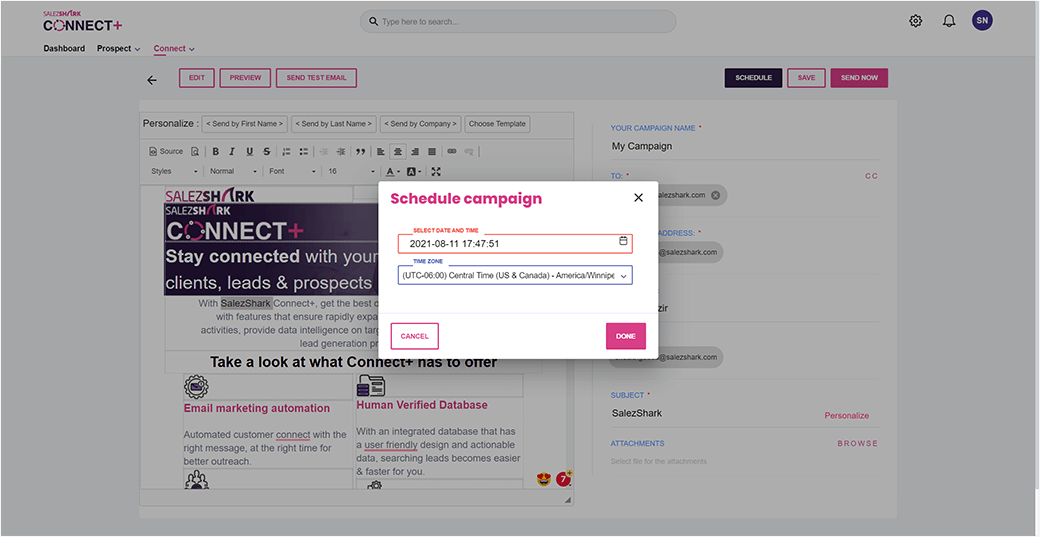 Create multiple campaigns in no time
SalezShark Connect+ helps you in creating multiple mass email marketing campaigns in a few clicks. By leveraging the pre-built and highly customizable email templates, multiple mass email campaigns can be created quickly. It saves your productive hours and helps you to connect with each email recipient in a personalized manner by addressing every email recipient by his/her first name in the email.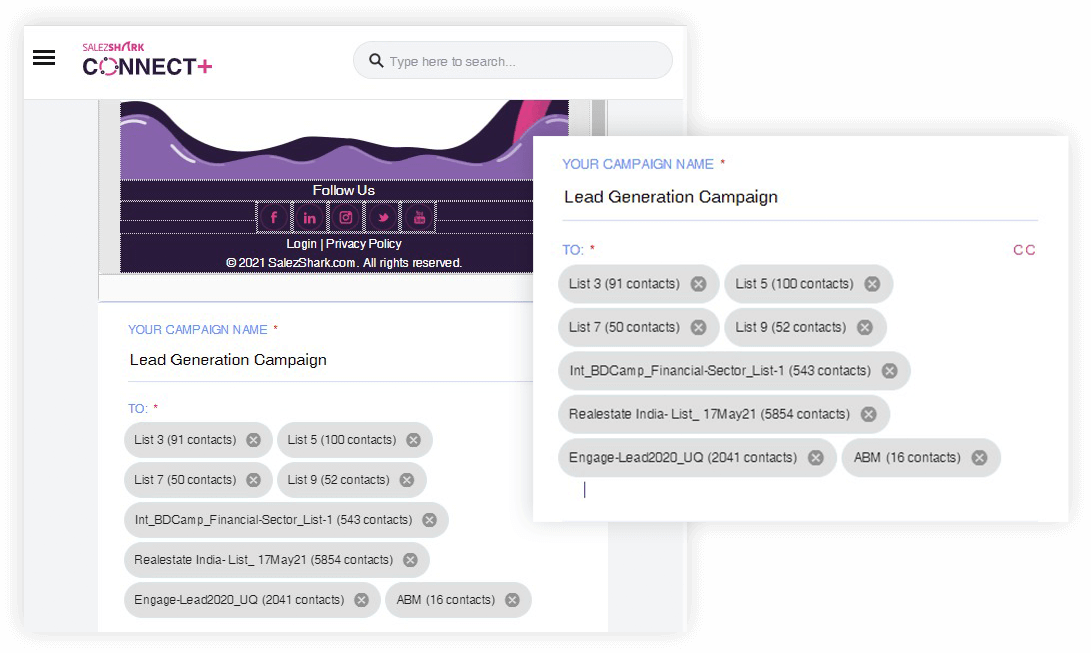 Analyze email campaigns' performance
Creating email marketing campaigns and in the end failing to measure its results and performance; isn't it frustrating? Here SalezShark Connect+ empowers you with smart marketing analytics that helps in measuring the performance of your email marketing efforts. It gives you a 360* view of marketing campaigns' performance. It offers you detailed reports of email marketing campaigns' performance showing your emails' open rate, click rate, drop rate, and bounce rate. Besides this, it also tells you the number of active receivers of email campaigns and new subscribers.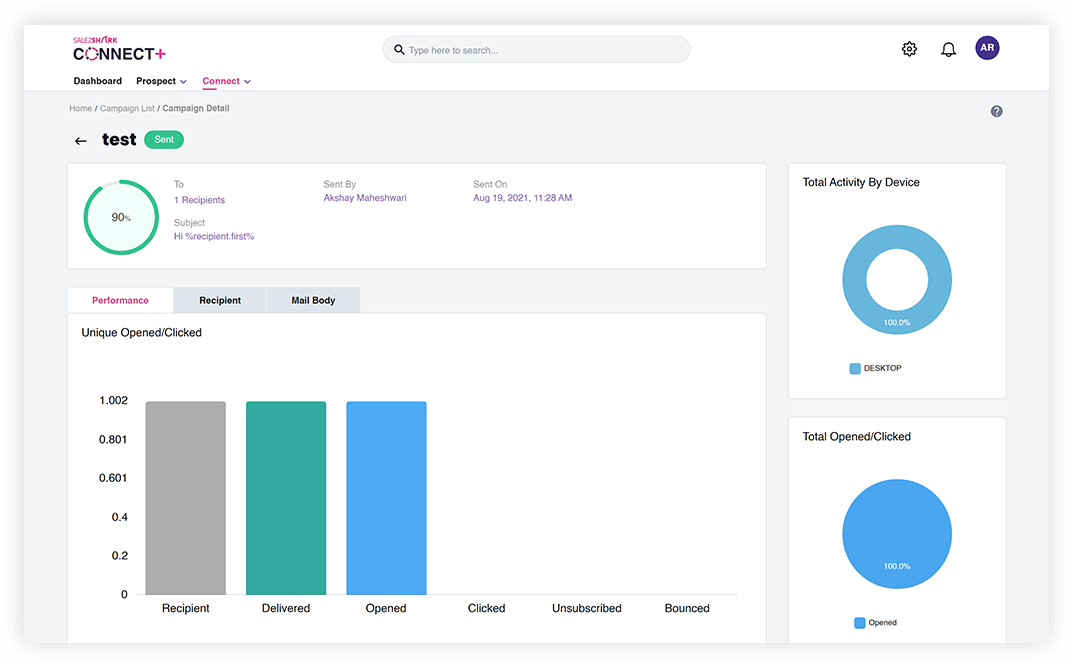 Make Marketing target-oriented
The first and foremost benefit of using Connect+ integrated data is it helps the sales and marketing reps to extend their reach to the most genuine prospects and target those who are most likely in buying the product and service.
Quick Customer Acquisition
Another benefit of using Connect+ integrated data is that the sales and marketing executives can reap out in the form of quick customer acquisition. With an accurate and relevant database, sales and marketing executives waste less time researching the leads and focus more on driving core sales and marketing campaigns.
Time Saver
One more benefit of using Connect+ integrated data is that it results in saving a lot of time for the sales and marketing team. By using relevant and accurate data, it becomes a cakewalk for sales and marketing professionals to get in touch with the right leads at the right time resulting in getting more time to drive the customer acquisition process faster.
Affordable
In times today no business would like to waste their money and sales marketing efforts on activities that lead to zero results and scale-up expenditure by leaps and bounds. Connect+ integrated data in such times is bliss for most of the companies as it is not very expensive and very affordable than any other traditional marketing technique, so we can say that it is not an expensive affair even for start-ups and fits into most of the brands' budgets.
Take your marketing beyond just basics.
Get SalezShark Connect+, customized as per your business needs.