SalezShark CRM (customer relationship management) software is an Artificial Intelligence (AI) based CRM software. It helps businesses by offering innovative solutions to various issues and challenges they come across in driving sales and marketing operations. This cloud-based CRM software is highly accessible and can be accessed anywhere, anytime on any mobile device via the internet. It keeps your data secured and allows you to set permission for accessing data. Hence SalezShark CRM software is a completely safe solution that businesses can use to drive their sales and marketing operations seamlessly. Let's explore what exactly this CRM software does and how it does make sales and marketing operations better.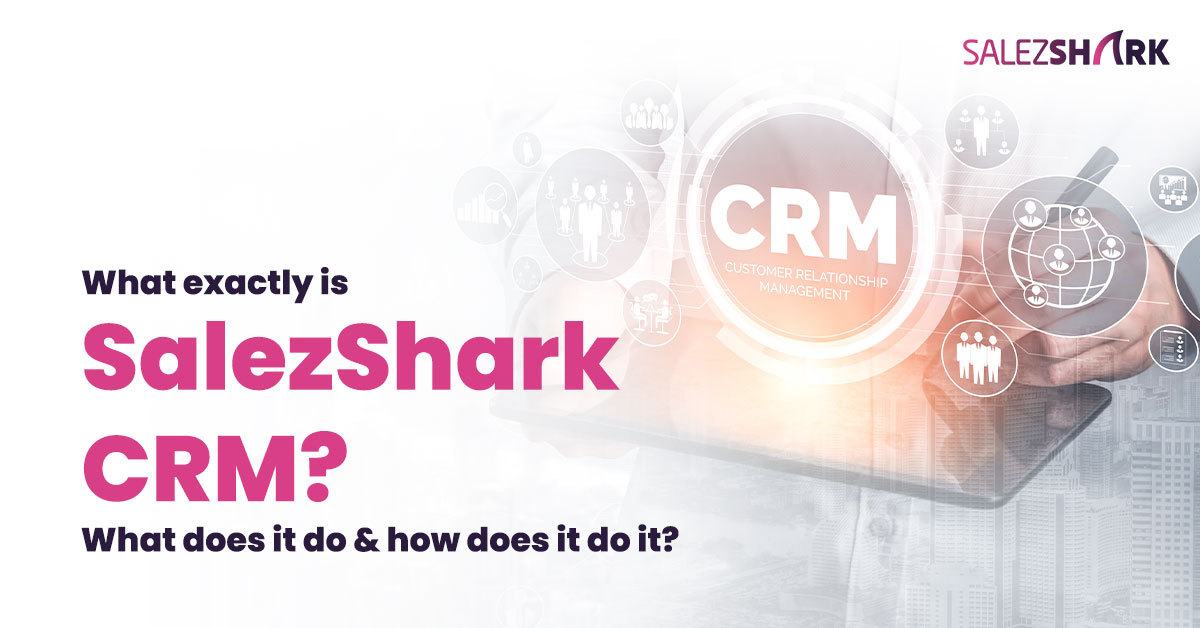 Capture leads automatically – SalezShark CRM
SalezShark CRM software enables you to leverage its power of sales automation and marketing automation that helps you in various ways. It plays a vital role in capturing leads and automating the entire process. By doing so it makes your job easy to capture all leads automatically from multiple sources like social media portals (Twitter, LinkedIn, and Facebook), websites, web forms, chat, IVR, emails, and so on. You don't need to log on to every portal individually to get leads; simply by signing in to the SalezShark CRM platform, you can get all the leads captured and arranged in it. Hence, by leveraging the power of SalezShark CRM automation you can save a lot of productive hours and quickly start building a relationship with leads.
Nurture leads effectively
Another activity that gets automated with the help of SalezShark CRM software is email marketing. When it comes to nurturing the leads then the best mode to do it is through emails. However, creating and sending emails manually to the target audiences and existing clients consume a lot of time and decrease overall productivity. By leveraging the power of SalezShark CRM automation this can be done in a few clicks. It automates your email marketing campaigns and enables you to draft and send highly personalized e-mail marketing campaigns in no time. You just need to access the SalezShark email template gallery and from there you can choose desired email template and can create email campaigns in no time. It also enables you to add a touch of personalization to your emails by enabling you to address every email recipient with his/her first name, especially in mass email campaigns that help in building a personalized relationship with leads and existing clients.
Convert leads into deals quickly 
Every business wants more and more leads to convert into sure-shot deals. To do this effectively you can deploy SalezShark CRM that amplifies your lead conversion. It automates your entire lead management process and enables you to set any rule or a parameter in the SalezShark CRM that makes lead capturing, lead scoring, and distribution automated.  Hence, as soon as the lead gets captured it automatically gets a score and is assigned to the most appropriate sales executives which scale up the lead conversion process. It also enables you to create visual sales funnel where you can keep all leads arranged and prioritize them. By doing so, you can first pay attention to the leads that can be turned into a deal quickly and then the rest of the leads.
Forecast sales accurately
Last but not least the SalezShark CRM software not only helps sales executives to scale up the lead conversion process but also helps senior sales professionals to forecast the sales and expected revenue generation accurately and effectively.  Just by looking at the visual sales funnel of SalezShark senior sales professionals can forecast sales accurately. It displays the expected amount of revenue generation from each lead in the funnel that makes the job of senior sales professionals easy to forecast the expected number of sales and revenue generation from the leads.