Today in the world of digitalization, data is the most valuable asset for any company. Securing data must be the top priority of the company because it will help keep your sensitive data safe from your competitors, make it easily accessible, and enforces data integrity. Secondly, suppose you are operating your business in any of the following countries like USA, Faroe Islands, Jersey, New Zealand, and Uruguay. In this case, according to law, you should implement a major to protect the privacy of your customers, which simply means that you protect their data from theft. Let's move on to how to ensure proper sales tracking CRM security?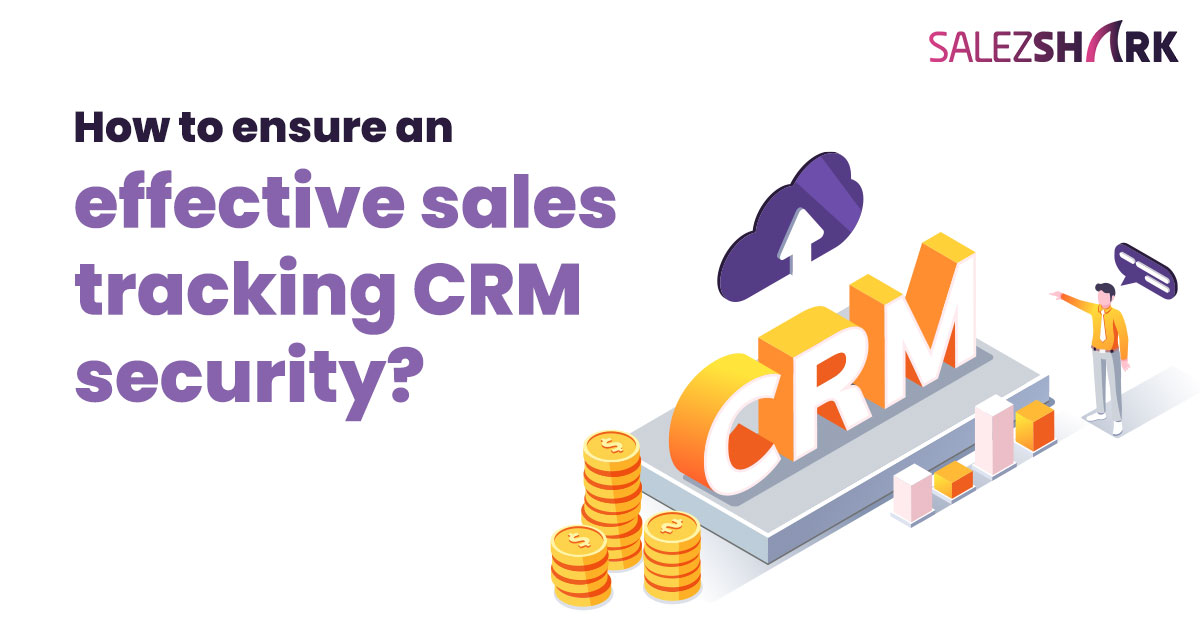 What are sales tracking CRM security?
CRM or customer relationship management is an essential software without which you cannot imagine running a business in this digital world. It helps you stay ahead of your competitor by providing you with the necessary information about your target audience. There are various CRM available in the market, but what makes a CRM best is the availability of security features. Here are some sales tracking CRM security features that your CRM  must have:
Encryption
It is a perfect time when anyone can steal your data. Often, it is required to move the data from one place to another or one person to another in a company. Therefore, the data in transit must be encrypted. So that even when someone outside the system receives the data, it appears in the form of scrambled codes.
Authentication
The data must be authenticated so that not everyone can see it. Because even in the organization, each piece of data is not meant for everyone. To restrict the viewership, you need to authenticate the person's credentials who want to view the data.
Two Factor Authentication
This is an extra layer of security to stop the data breach. This comes in handy in sensitive data like information related to bank accounts or employees, financial status, etc. The user may be asked to enter an actual time code over his phone or email with a password.
Password Policy
A CRM should allow you to create a password policy for your user this way, and it will add security to your business. By using the sales tracking CRM security feature, you as an administrator can set some rules for creating passwords within the organization. So no one from the outside world has any information about this.
Offline mode
Your sales tracking CRM should limit the information which can be viewed in offline mode. It may be annoying for the employees, but it can prevent employees' computer or phone hacking.
Browser App based CRM
Nowadays, CRM is primarily cloud-based means they store data on a server connected to the internet and can be accessed by any device. On the other hand, a browser app-based CRM needs a more secure environment, which means it offers better efficiency, better integration, and easy navigation. 
CRM Ideal Time
A CRM must have a lower session ideal time so that even if you forget to log out, someone else may not have access to the CRM if he uses the same system. 
Wrap Up
Get one of the best and most secured sales tracking CRM software for your entire organization. SalezShark sales tracking CRM security offers several features to protect your data from unauthorized access. You can monitor your team's activities through audit logs, which will tell you about their modifications with IP restrictions and features that prevent unauthorized access to the system.  
SalezShark CRM has been designed in such a way that it provides many options to safeguard the customer's data while meeting the standard of the industry. All your data are hosted at state-of-the-art data centers which are under monitoring and have only limited access to prevent any physical attacks.