E-commerce systems had already gained a significant position in the market in the mid-2010s. But this industry got a real boom around two years ago due to COVID-19 and the resultant worldwide lockdowns.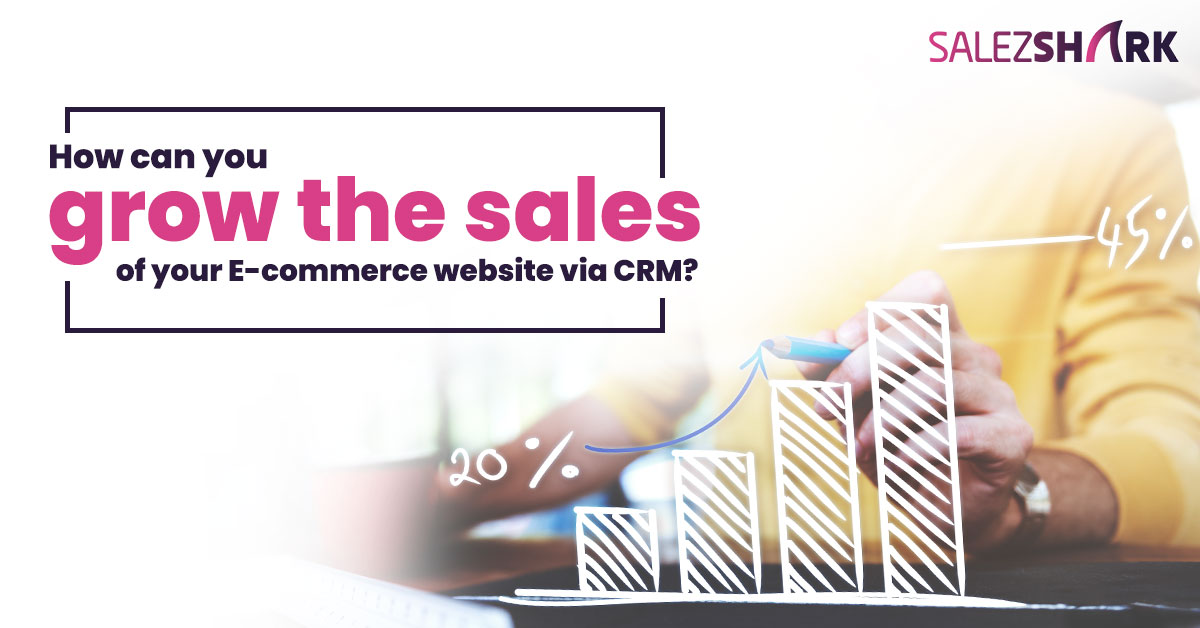 CRM is an inseparable part of E-commerce that helps in managing strong customer relationships for the long term and in gathering useful chunks of customer data relevant to the organization. By using the best E-commerce CRM software, you can manage contacts, automate procedures, and use the appropriate tool such as pipeline manager. 
The SalezShark CRM software is the best CRM software that acts as a great source of information about your business. It also enables your business to get the right business strategy to determine both strengths and weaknesses. Let's move on to the methods to grow sales of your E-commerce website using the best CRM software.
5 ways to grow sales of E-commerce website with CRM
Take advantage of automation 
It is a bit obvious to treat every customer as an individual. But being a part of the company, no one can personally reach out to your customer if anyone buys something from your website or signs up for getting your services. SalezShark marketing automation tool always makes sure that no customer gets missed. E-commerce sites such as Squarespace, WordPress, and Shopify have a huge marketplace of extra plug-ins and apps that you can refine for automation.
CRM Integration
The best CRM software like SalezShark has become one of the smartest systems to help online stores grow sales. Workflow management, Email marketing, collaboration, customer support, document management, accounting are key features of a CRM system that can be integrated with:
Database

Email marketing

Social Media

Help Desk

Marketing Automation
If you integrate CRM with any of these tools, it will boost your business productivity and act as a success powerhouse for your business. Your team will also get rid of extra paperwork and will solely focus on lead generation activities.
Mobile Wallet Marketing 
Today, most smartphones have a mobile wallet built into the device itself. In case it is not there, there will be plenty of mobile wallet apps that can be easily downloaded from third-party sources. The tap-and-pay process within phones has become very popular with an estimation of winning around 1.31 billion mobile wallet users by next year. 
You can use different methods to develop digital marketing tools, particularly for mobile wallet interfaces. These tools help you to gamify shopping experiences and digitize gift cards and vouchers. 
Make the CRM Software Easy to Use
One of the huge challenges, why most businesses are losing their valuable customers, is CRM complications. In today's world, hardly anyone would be there who would like to spend time reading tons of menus and options to get exactly what they require. Hence, it becomes more frustrating and cumbersome. 
Therefore, try to implement your CRM keeping in mind the end-user. Whether you are offering any product or service, you must figure out properly what is the need of your customer. Always keep the UI of CRM easy to use, and simple for end-users. 
Keep Data up to Date 
In this digital era, the most essential asset of every business is Data. The main goal of having the right CRM is to process data efficiently and effectively for the business. Hence, it is important to keep the gathered customer data updated and clean in your database.
You will enjoy two benefits of keeping your data updated i.e. you won't be required to maintain every report and enter new data manually, Second, you will easily track down a customer, send them a marketing offer, and ask for feedback, in case it is needed.
Get SalezShark CRM to grow sales of your E-commerce website flawlessly!