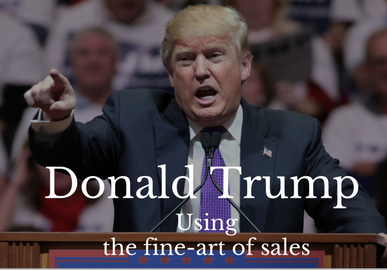 His success in the presidential elections is not an accident. Rather, I believe, we are seeing a master class in showmanship from quite an intelligent president. After Brexit, Donald Trump's presidential coup was yet another highlight of 2016 which stormed nations and left people stunned, globally. It was indeed the most astonishing and unanticipated win against all odds. Even after passing racist, lewd comments, having little knowledge of politics and taking on a tussle with America's most favorite president, Barack Obama, he still managed to hit the right chord with the audience and emerged as victorious.
As a sales professional, I decided to pull out his campaigns to study the pattern and his selling strategies, which turned tables around and made him end up in a win-win situation. Fortunately, there is a lot to learn from Trump in terms of sales and mentioned below are some of his master selling strategies:
Make a Major Claim
Grab and maintain attention. No matter how you felt about his major claims but they had all of your attention. He did it all so well! It is still in your mind word to word. "I saw the WALL!" You see, no matter what message you try to deliver you must first gain your audiences' attention.
Spread the word out
"The press should write about you." It indeed is another masterstroke by the US president.
A good word of mouth is one of the most inexpensive and credible ways to do marketing, which can do wonders for your brand and will get more businesses coming on-board in a comparatively shorter span of time. Sending regular newsletters to the customers, communicating with them on a regular basis and requesting for feedback are some of the crucial steps that should be taken to increase visibility and get people talking about your brand.
Don't go by the script
With an easy access to the technology, audiences have become increasingly aware and intelligent which means a script won't be just enough. Donald Trump used this strategy to the best. He did not go by the norms and did not say what was expected of a political leader but still conveyed his message in his simplest of statements. Not everybody agreed with him but it still got people talking about him, ultimately leading to his victory. So, here the takeaway is being empathetic with your customer, understanding the prospect and then putting forward the sales pitch suited accordingly.
Maximize the options
 "I never get attached to one deal or approach". This one is the ultimate takeaway. In today's evolving time of fierce competition, where brands are trying to outperform each other and technological innovations are also stirring businesses simultaneously, sticking to single selling approach might not work with every prospect.
Bringing innovation to your selling pitch from time to time is highly recommended to keep your audience engrossed with your brand.
Conclusion
Donald Trump's victory sure was a surprise for everyone but inarguably, it proved the fact that innovation and doing things unconventionally can also grab eyeballs, resulting in making your brand a buzz of the town.