SalezShark CRM vs Zoho: Which one suits your business better in 2021?
For anyone running a business, the term CRM is a pretty big deal today but at the same time, becomes a source of leisure when the right CRM aligns multiple functions in an organization. Nowadays, customer engagement is much more beyond manufacturing quality products and offering top class services to your customers.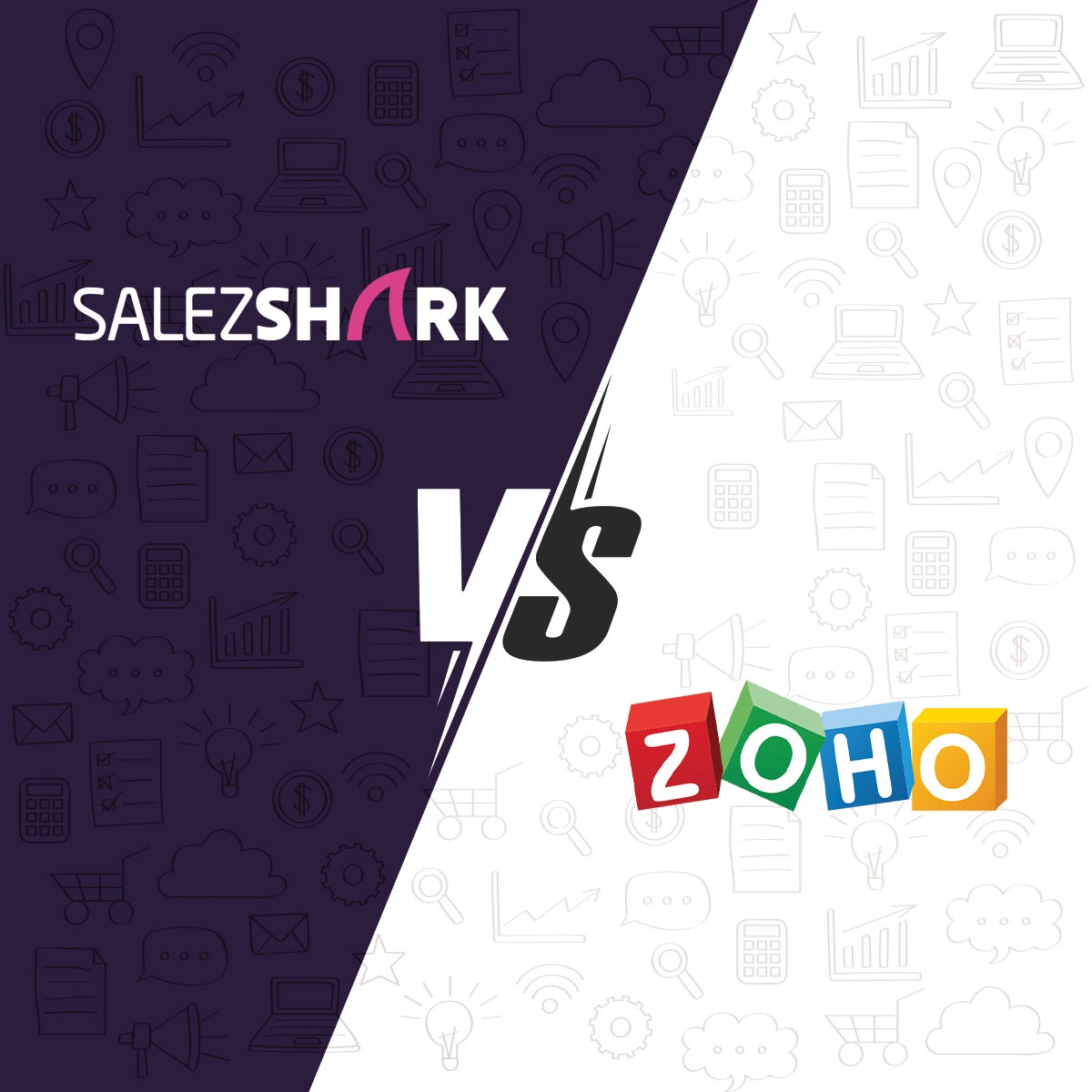 If you are also searching for the best CRM software that matches your business requirements and budget, then you will be glad to know that this article will surely provide you with crystal clear visibility about an ideal customer relationship management tool for your business.
You may be concerned with the features, user ratings, plans and pricing, languages support, integration, customer support, and many other things associated with CRM solutions. Also, you might be feeling confused due to the existence of a wide range of CRM platforms with different cost models and capabilities. Therefore, we are going to display a detailed comparison between the top two CRM platforms – SalezShark CRM vs Zoho to assist you to get the desired CRM.
"Catch & Retain Your Customers Using The Best CRM Software"
About Vendors
SalezShark
SalezShark is an intuitive relationship cloud platform that anchorages CRM tools and sales automation to assist you to establish long-lasting customers' engagements at your platform. If we talk about customer ratings and revenue, SalezShark always outshines due to its unique relationship management architecture that facilitates high lead conversion into potential customers in less time.
With the help of an expert team of SalezShark, your sales team enjoy a wide range of smart features to grow your business faster. The SalezShark CRM software has been designed on a very intuitive technology specially developed to effectively manage data attained from your sales professionals.
The SalezShark CRM platform will always act as a backbone for your data backup as well as storage. It helps in project analysis and generating accurate and actionable performance reports to enable you to make the right sales and operational decisions. It boosts your sales pipeline in a very fine manner to enhance your customers' relationships. Not only this but also, it has revolutionized the sales intelligence process to cut all the additional costs involved in driving high sales.
Zoho is another eminent CRM for small, medium, and large-sized businesses. It aids every business using its web-based and client-prioritized solutions. This vendor enables you to send personal invitations and operate your customer support using its Zoho CRM system. Its social media integration feature acts as a well-rounded source for client management.
Features between SalezShark CRM vs Zoho
Email Marketing / SMS Marketing
Email Templates
Referral Tracking
Relationship Intelligence
Sales Intelligence
Social CRM
Sales Force Automation
Sales Forecasting
Unified Data Solution
Cloud Telephony
Product Catalog
CRM & Sales Dashboards
Social Media
Document Management
Employee Directory
Mail Merge
Quote Management
Outlook Plugin
Lead Generation
CRM & Sales Reports
Contract Management
Plug-And-Play Integration
Task Management
Territory Management
Mobile App
Integrations
Contact Management
Workflow Management
Mass Email
List Handling
Accounting
CRM & Sales Dashboards
Customer Support
Lead Management
Marketing Collateral
Mass Email
Sales Tracking
Mobile App
Now it's time to introduce you to their products specifically designed as per their ideas and creativity.
Product comparison between SalezShark CRM vs Zoho
SalezShark
SalezShark Connect+
The foremost product of this vendor is Salezshark Connect+ which makes a great combo of B2B Database and marketing automation services at the client's end. This product strengthens your business using the power of artificial intelligence. It also automates the process of customer connection by sending the right messages, at the right time. Moreover, it always executes insight-driven personalized outreach.
It is leading among the top database service providers by offering an accurate and action-oriented database to highly reputed organizations. The information maintained in its business directory enables many B2B companies to connect with each other using high-quality and consistent data stored in its Indian companies database.
Let's dig deeper to know where it is standing currently in the market.
Features:
Lead Generation: SalezShark Connect+ aids its customers in bringing good leads and connect with the desired and valuable prospects faster.
Campaign Management: Its pre-designed and amazing templates enable small and medium businesses to create and send customized campaigns to their target audiences.
Intelligent Analytics: It empowers your business by tracking your campaign performance and suggesting you full-proof ideas to connect with your customers.
Strong Segmentation: Using demographics and behavior analysis techniques, it enhances profitable conversions with highly personalized emails.
User Management: It smartly controls users' activity with the help of permission and restriction provision.
Database Management: It provides B2B contact database services to the list of SME companies all around the world.
SalezShark Engage
The next product is SalezShark Engage which is much easier and useful than you can imagine. It automates the sales operations across the whole customer journey. As we have discussed above that customer engagement plays a vital role in increasing a company's revenue. It outstands in this field also. The good part of this product is its ability to streamline both sales and marketing teams simultaneously. There is no time restriction for the employees since they can log in at any time to initiate client conversation or move ahead to the next step of the sales cycle.
Integrating your chat and telephony process, it enables your teams to spot the customer queries faster for better customer experiences. Using this product, your team can better focus on the right leads at the right time. You can engage your potential customers at your platform using marketing automation and other features of this amazing product.
Why should you buy SalezShark Engage?
Social CRM: SalezShark Engage provides you with wonderful CRM software that is integrated with social media platforms to help you to understand your customers' behavior and engage them with the best and desirable customer services.
Cloud Technology: Using its reliable cloud technology, speeds up your business performance.
Account Manager: The dedicated and intelligent account manager guides you using live tutorials.
Lead Automation: From lead capturing to lead nurturing, it will always make your work easier with its automated approaches.
SalezShark Assure
With the excellence acquired in the above two products of SalezShark, now its team is dedicatedly working on one more product which is going to be released soon. Its' name is SalezShark Assure whose motive will be to take care of every factor that matters the most for your business growth. It will seamlessly connect your business with your important prospects to make them permanent at your panel. It not only automates customer tickets but also the process of ticket assignment. It helps in powerful reporting and analytics without any failure.
Arriving Features:
Personalized After Sales Support
Ticket Management
Easy Customization
Security & Data Privacy
Zoho CRM
Bigin
Bigin aids small businesses to manage long-lasting customer relationships.
Desk
This product helps to improve agent productivity, increase customer happiness and handle cross-functional service processes.
Create Forms
With this product, you can create forms, share those forms online, get instant notifications, and manage your data.
SalesIQ
It offers digital customer engagement tools to your teams to enable them to communicate with every site visitor throughout the customer lifecycle.
SalesInbox
You can convert unopened emails into closed deals with this product.
Bookings
It helps to sync your calendars during the time when your customers self-schedule and pay for their appointments.
Packages comparison between SalezShark CRM vs Zoho
After knowing this much about both the vendors, you might be eagerly waiting to know about their price and packages available for you.
Do you know what is TCO? It stands for Total Cost of Ownership of CRM software. This cost includes the subscription fees, software license, software training, hardware (if required), customizations, maintenance & support.
You can select any of the below-mentioned plans as per your requirements.
SalezShark
You can choose any plan for using SalezShark CRM software depending upon your business needs and affordability.
| | | |
| --- | --- | --- |
| Plans | Shark Basic | Shark Pro |
Zoho CRM
Zoho CRM is quite expensive and adds unwanted costs in the case of professional and enterprise plans. And if you will opt for the standard one, the features will be limited.
| | | | |
| --- | --- | --- | --- |
| Plans | Standard | Professional | Enterprise |
*Free Trial is available in both CRM systems.
*Quality matters not quantity in the case of CRM plans.
*To know more about their price, you can contact the respective vendor.
Best For
SalezShark
It is ideal for sales & marketing professionals working in digital marketing companies, small medium enterprises, and startups.
Zoho CRM
Best for small, medium and large businesses.
Benefits
SalezShark
Using SalezShark, small and medium businesses get a wonderful chance to directly access the CRM tool and other important technologies to forge stronger customer relationships. It makes you enable to determine every type of customer pattern, personal preferences, and other related characteristics.
You can say that this CRM platform goes one level ahead to help you to better understand your customers by devising and implementing awesome sales strategies. It delivers comprehensive solutions to aid your team to nurture your prospects satisfactorily and broaden your customer reach in less time.
Also, you can access millions of stored records and data intelligence to fetch all the significant information to filter, recognize, and ideally work on business opportunities. This CRM system arms you to boost your sales productivity even via your mobile phones with its mobile web app facility.
From the beginning itself, you will quickly able to generate more leads and run all other sales activities without any difficulty or failure.
Zoho CRM
Zoho CRM system allows users to track every client interaction in one place, irrespective of the fact whether the lead has been brought online, via email or phone call.  It has phone bridge functionality to initiate the calling process and view any client info from the same place.
Desktop & Mobile Platforms Support
SalezShark
The best thing about this vendor is its adaptability to the current trend and customers' demands to make them happy and satisfied. So, its intelligent expert team has worked on CRM in such a way that you can operate it on both desktop and mobile platforms at your convenience.
Windows
Macintosh
IOS
Android
Web-based
What makes SalezShark highly preferable among other CRMs?
SalezShark
It is considered as one of the excellent tools to generate and manage leads. You can equally handle all the sales opportunities using SalezShark CRM.
Its quick and easy integration with database as well as email marketing tools makes it more proficient for business.
With time, you will realize that you are creating, and closing more deals with this amazing CRM tool.
It is simple in design and easy to run its essential automation and workflows.
It saves a lot of time by managing your sales and marketing tasks properly.
It allows you to invest more time in research or lead generation activities.
It provides the best customer support.
SalezShark CRM team has been working together to soon provide you with the support for many more languages other than English.
In which countries, they provide their services?
SalezShark
India
United States
Australia
United Kingdom
New Zealand
Dubai
It has been spreading its services overseas to help as many as companies it can.
What kind of support does the vendor offer?
SalezShark
Email Support
Phone
Live Chat
Online Training
Social media
Zoho CRM
It is limited to certain support services like live chat, email that sometimes become difficult for customers.
Esteemed Clients
SalezShark
SAMSUNG
OLA
UBER
OYO
DELL
AUDI
TOI
BMW
VOLTAS
CANON
NASSCOM
Zoho CRM
This vendor has been providing its services to OLA, AMAZON, HOTSTAR and many more companies.
Bottom Line
Hope the deep study of CRM features of both vendors helped you a lot to buy the best customer relationship management software for your business. Both offer amazing features, but if you want to save cost and scale up your business with a highly advanced and reliable CRM, SalezShark is a delightful option in terms of both customers' ratings and the benefits offered to its users.