Ask any sales guy and he would say a lead is the ray of hope that brings him closer to his sales target. Any data that land into the salespeople account become a lead but to convert those leads into sales opportunities is the biggest challenge that requires the segmentation from unqualified to qualified, regular follow-ups and prioritizing day to day sales activities. Manage Your Leads with Simplest Sales Automation, The usage of intuitive SalezShark Sales Automation ensures that every lead is captured into the account be it from web, chat, call, or email campaigns, preventing them from falling through the cracks. It assists the marketing team to analyse their efforts and let them know which source of marketing is getting the most revenue. No business can grow without a sales funnel that is constantly occupied with new leads and prospects through the various sales stages.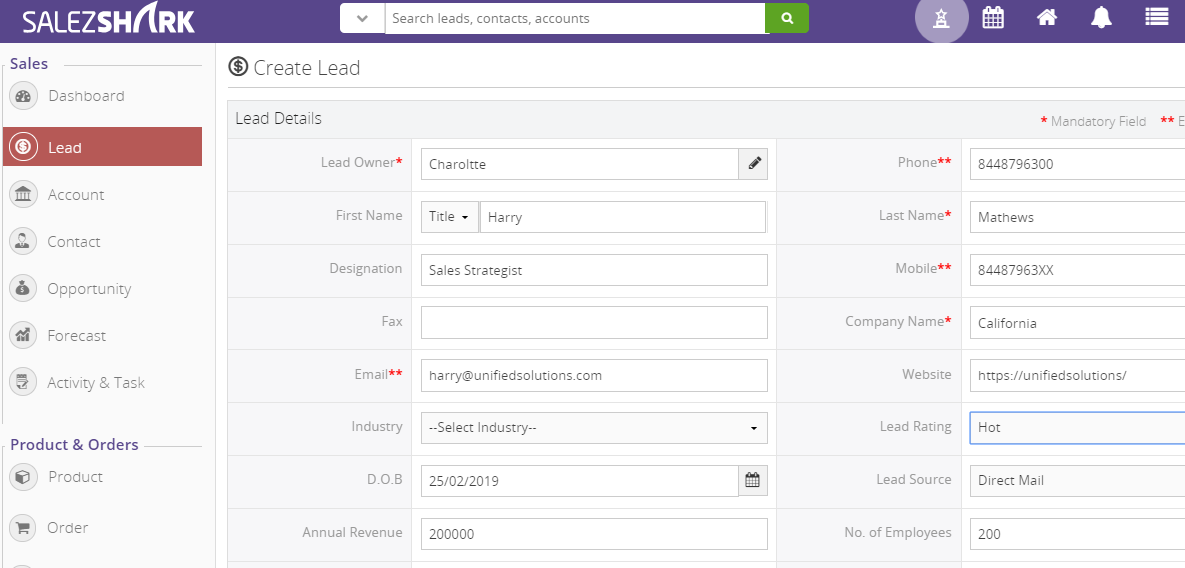 To make prospecting easier for you, SalezShark Sales Automation can integrate your contacts from your Outlook, LinkedIn, and Gmail account, allowing you to send and receive emails in a single click while managing all your customer information under one roof. However, to increase your reach-out mechanism via bulk emails, you can also import millions of verified email addresses of key decision makers from Dataguru to cut down your research time without leaving the CRM platform.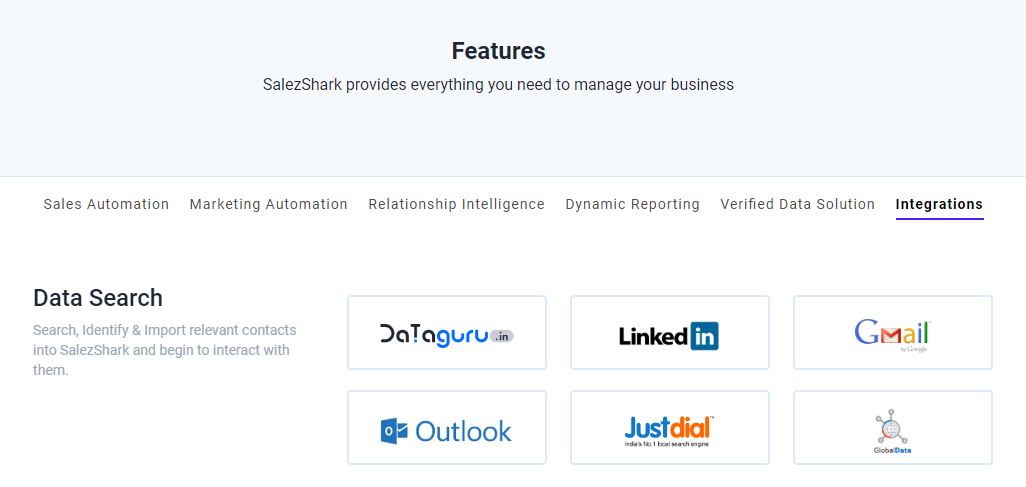 If your business majorly depends on web-based leads for sales, you can make immense benefit from the structure and organization that SalezShark sales automation tool can offer. Once you create a lead into the system, you can directly send emails or make calls without coming back and forth from the CRM to the email account. The lead's profile is already enriched with the first and last activity that has been performed by the assigned sales owner. We comprehend the significance of 60 seconds in the tough life of salespeople and that is why we have also generated the provision of creating a quick lead by just adding the basic information like name, designation, company name and contact details.

With less sales personnel, it is easy to manage and assign tasks to the right sales representative. But when the business grows, you ought to hire more salespeople and gradually it becomes difficult to follow the old-school methodology. Through our very customizable sales dashboard, you can assign a task to any of your sales member without knocking at his desk. With the repository of data, you can easily streamline your sales process and assign leads to respective sales reps. Let's say, we all are familiar with the UI of Gmail and find it simpler to use even for our official purpose. With the right integration of SalezShark Chrome widget, you can directly create a lead and add the communication in your CRM. Without duplication your sales efforts, we intend to true to our words and automate your sales workflow for better revenue oriented results.