Build seamless communication with leads
Lead nurturing is often considered a difficult process that takes a lot of effort and time for any marketer or sales rep. This stage is crucial as many leads during this stage lose interest in the product or service and stop interacting with a business. Here you need to be very careful in constantly being in touch and maintain seamless communication with leads through informative emails. You should generate curiosity among leads to know more about your business and how your products and services can be a solution to their issues and challenges. So to do this effectively you must deploy SalezShark Engage CRM tools that make lead nurturing a cakewalk. It offers you an option to create mass emails with a touch of personalization where every email is sent to the recipient with his/her first name which instantly builds connection and strong communication with leads. Besides this, you can also create automated follow-up email campaigns that help you to be in regular touch with leads and never lose them.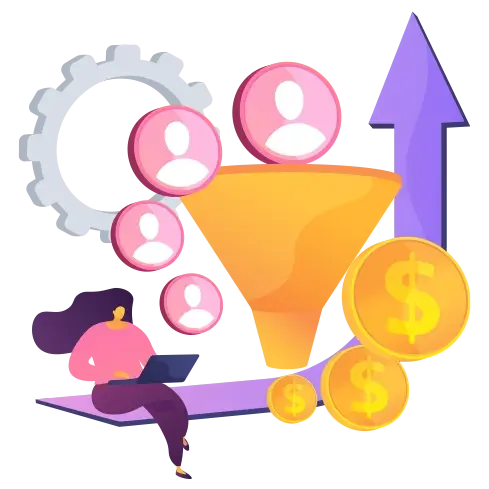 Turn leads into deals in no time
Turning leads into sure-shot deals is the primary goal of any sales or marketing executive. To achieve this objective effectively, powerful and intuitive CRM software like SalezShark Engage CRM plays a vital role in boosting lead conversions. Its visual sales funnel feature offers great help to you and your team of sales executives to boost lead conversions effectively. By using this visual sales funnel it becomes easy for you and your sales reps to organize and prioritize all sales-qualified leads from top to bottom in the sales funnel. This placement of leads is based on their chances of conversion into paying customers. As the leads get closer to deals, they can be moved towards the bottom of the funnel by using the drag and drop functionality. In this manner, it becomes very easy for you to work on all leads simultaneously without losing the track of any lead. You can also prioritize leads, just by looking at the sales funnel and the leads which are closer to deals you can first focus on them and the rest of the leads later. Besides this, visual sales funnel is also very helpful to your senior sales professionals as they can do sales forecasting accurately and calculate expected revenue from those leads, just by looking at the sales funnel.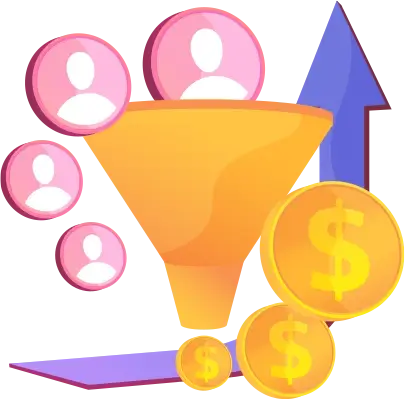 Boost your business growth with the SalezShark CRM system
SalezShark Engage CRM offers you great helps in tracking every sales opportunity not only by automating the lead management process but also by offering a 360-degree customer view. This feature enables you to analyze when, how, and at what stage any lead can turn into a sure-shot deal. For any business, sales are the most important process but that doesn't mean the marketing process has no importance. The marketing process is solely responsible for lead generation where they need to turn marketing qualified leads into sales-qualified leads, and then finally transfer them to the sales professionals. Doing all of this manually consumes time and to save these daily productive hours you must start using SalezShark CRM which enables you and your team of marketing professionals to automate daily marketing activities involving various tasks like lead scoring, distribution, lead nurturing, creating email campaigns and so on. Majorly email campaign creation and scheduling follow-up mass email campaigns manually is a time-consuming process. However with SalezShark CRM and using its readymade and customizable email templates this all can be done in a few clicks. You can also set reminders in the system to send mass email campaigns, product demos, telephone calls, and so on that help in enhancing your lead conversions.
Get the best CRM system now
Use the SalezShark CRM platform which is highly customizable
Why you should choose SalezShark CRM tools?
SalezShark Engage CRM comes with a highly responsive user interface. Its interface is very user-friendly and requires a minimum learning curve. It can be easily accessed on all kinds of screens like laptops, desktops, tabs, and even mobile screens. Yes as we know that these days most of us access our business from mobile, so SalezShark Engage CRM is also accessible on mobile phones. You can be in touch with your work, leads, and existing customers and can access any information on your mobile. As this software is also cloud-based so all the business information is secured and saved on the SalezShark Cloud. Due to this, you can access any business information from anywhere through any mobile device or laptop, or desktop via the internet. Besides this, it also helps you to be in touch with not only your customers but also with other staff members and subordinates. Overall your business growth never stops if you have Cloud-based Mobile CRM like SaleShark Engage CRM.

Last but not least is its affordability. SalezShark Engage CRM platform is highly affordable software that fits in the budget of even small enterprises. SalezShark Engage CRM software offers you a good value for money which means you get exactly what you pay for. There is no hassle of a bundled package where with CRM software you are forced to buy multiple unnecessary programs that multiply the price of CRM. Apart from this at the time of SalezShark Engage CRM deployment, the team of SalezShark Engage CRM experts is 24*7 ready to provide you support. It also offers various tutorials and training sessions on Engage CRM that makes your onboarding experience hassle-free and smooth.