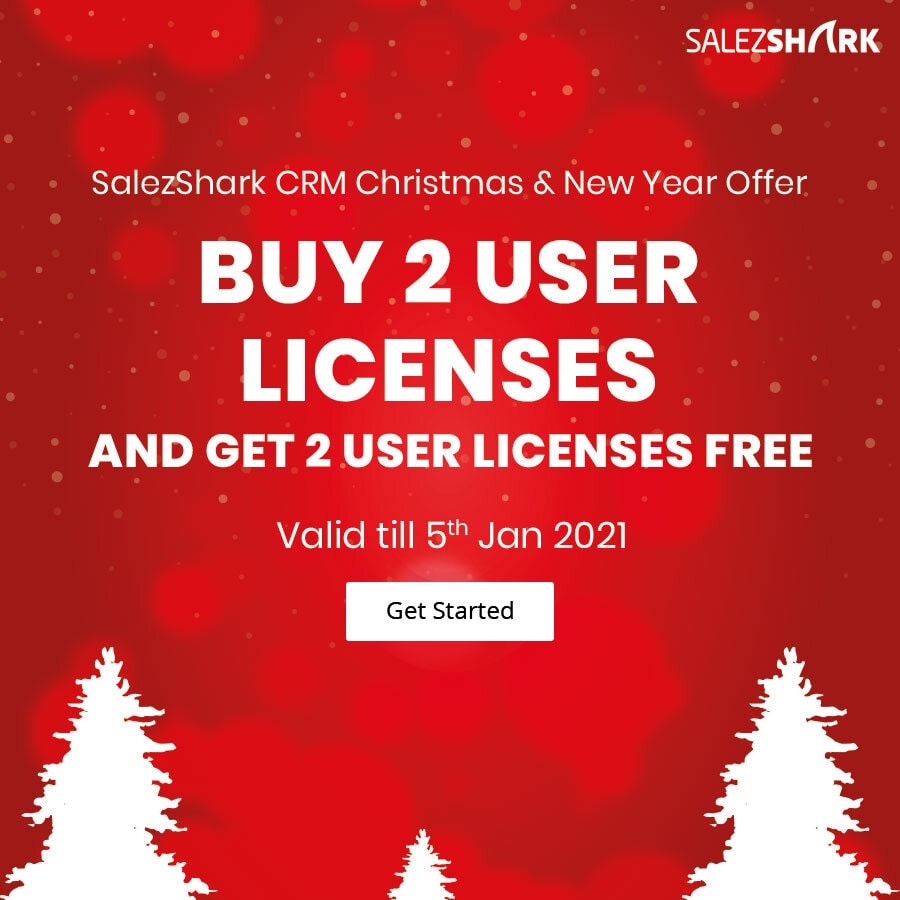 We are in the midst of the holiday shopping season. Right from the retailers to any service providers, a CRM system is one of the effective software that helps brands in maximizing the sales throughout the year and especially during the holiday season like Christmas. SalezShark CRM software offers you an invaluable collection of tools and features that helps you in leveraging the power of automation into your business. It simplifies your sales & marketing activities all year-round and especially when a seasonal rush hits your business. So, to make the most out of this Christmas holiday season and beyond, make sure you leverage the power of the CRM system in the best ways possible and keep it your top priority. Let us look into a few reasons why CRM should be your top priority this Christmas:
Automate & Personalize Christmas Greetings
Sending personalized company Christmas cards is the best way of paying individual attention to your customers, and the perfect way to say thanks for all the trust they have shown in your brand throughout the year. Sending personalized Christmas greeting to all your customers manually is a tedious and time-consuming process. SalezShark CRM automates this task by offering you an option to set up your Christmas email campaign. You can create highly personalized Christmas emails by choosing any of the readymade Christmas templates from a wide variety of customizable email templates offered by SalezShark CRM. Once your Christmas email campaign gets designed you can schedule the date, day, and time you wish to run a campaign and delight your customers with personalized Christmas greetings.
Create Discounted Deals
Christmas is the best time to offer discounts and lucrative offers to your customers. Shoppers at the time of the holiday season are not only looking to buy a product or service; they want something more in the form of discounted deals. So in order to create a lucrative discounted deal, you need to present that deal in a manner that holds the attention of shoppers in one go. You can design and drive email marketing campaigns with a help of CRM that conveys a direct message to shoppers and make them feel privileged.
Track Christmas sales
Besides creating effective marketing campaigns with CRM, you also need to keep a track of your Christmas sales. SalezShark CRM software offers numerous dashboards that enable you to access your Christmas sales progress reports entailing the sales key performance indicators via graphs, charts, tables, and so on. It enables you to get a bird's eye view of the sales figures achieved or lost that help you to stay updated with the Christmas sales overall performance.
So, with no more delay, grab the exclusive Christmas offers on CRM software. Make the most out of this holiday season by grabbing SalezShark Christmas CRM deals. Get an awesome deal of lifetime 50% off on SalezShark Basic plans now by simply signing up for a free trial account and our CRM sales experts will be there to suggest you the most appropriate CRM package that resonates with your business needs.
Merry Christmas!