SalezShark vs Salesforce CRM: Overview, Features, Pricing in 2022!
Getting to the bottom of customer relationship management (CRM) software to pick out the best one for your business can be troublesome for you. You may come across numerous CRM providers, but how will you confirm that you are opting for the right one?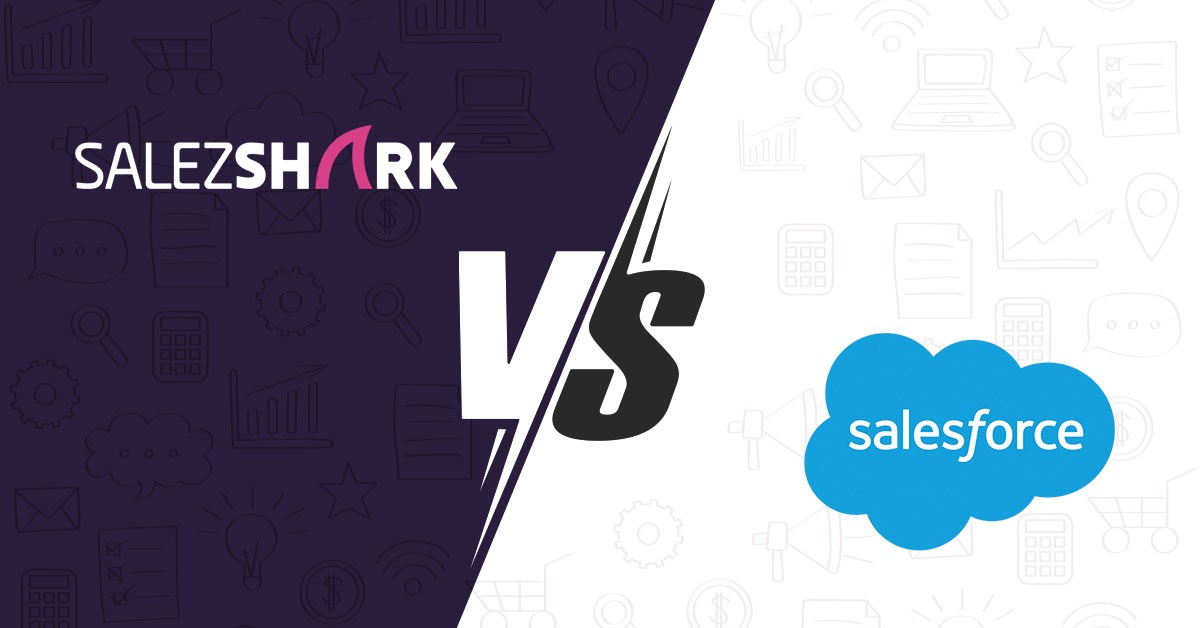 No doubt, there are multiple options around you but comparing CRM systems can be a little daunting. Nowadays, what happens is companies waste their efforts, time, and money due to the lack of proper research on CRMs. Consequently, they have to switch from one system to the next once they realize that the chosen one doesn't meet their business needs.
Choosing the right CRM for your business has become one of the biggest challenges in the market. There exist a ton of factors to consider before arriving at a final decision. This article will help you cut through the noise to get an ideal online CRM software to make the whole process less terrifying.
"Bringing new prospects and retaining old ones is the foremost goal of an ideal CRM"
SalezShark CRM and Salesforce CRM are popular CRMs for SMBs. Let's compare SalezShark vs Salesforce:
SalezShark vs Salesforce: Vendors Overview
SalezShark
SalezShark is the next-generation platform that empowers small and medium businesses by forming long-lasting customer relationships. Its unique contact management software genuinely turns the leads into permanent customers at a low software price.
Top Entrepreneurs call SalezShark an intuitive sales automation platform that anchorages various industries like Technology, Marketing, Artificial Intelligence, Digital Marketing, Business Intelligence, and Machine Learning.
This CRM vendor is always highlighted when one talks about appreciable customer ratings and high revenue via the best CRM delivery to its clients. The SalezShark CRM software free tool is embedded with a wide range of smart features and trending technologies like artificial intelligence. It enables its clients to analyze the behavior of their prospects and fulfil their requirements.
The SalezShark CRM platform acts as a backbone for many SMBs in terms of both data backup and storage. Its email marketing CRM helps to generate an accurate and actionable performance report to make the right decisions for the company. Using SalezShark's extensive support, you can revolutionize the sales intelligence process finely and effectively.
Salesforce CRM
Salesforce is counted among the tough-to-beat CRM solutions that excel with an ever-widening set of innovations. The system satisfies different businesses of different sizes using its robust features along with effective add-ons.
It offers you the best cloud CRM solutions to aid sales reps of ts client's panel in relationship management. Its business CRM software also gives you multiple user-friendly automation options.
SalezShark vs Salesforce: Features
Before using the sales automation CRM, you must consider its features & functionality. It should have the ability to support the workflows, processes, reports required for your team. To help you get the best CRM software with deep evaluation, we've discussed a comparison of SalezShark vs Salesforce CRM depending upon their most important CRM features.
Lead Management
Relationship Intelligence
Performance Reporting
Marketing Automation
Sales Intelligence
Email Marketing / SMS Marketing
Social CRM
Email Templates
Referral Tracking
SalesForce Automation
Sales Forecasting
Unified Data Solution
Cloud Telephony
Product Catalog
CRM & Sales Dashboards
Social Media
Quote Management
Employee Directory
Mail Merge
Document Management
Outlook Plugin
Lead Generation
CRM & Sales Reports
Task Management
Plug-And-Play Integration
Contact Management
Territory Management
Mobile App
Integrations
Contract Management
Workflow Management
Mass Email
List Management
Salesforce CRM
Campaign Management
Case Management
Customer Database
Email Marketing
Lead Management
Marketing Automation
Social Advertising
You must be waiting to know more about these vendors. Let's end your curiosity here by making you introduced to their respective products and the motive behind their development.
Products
SalezShark
The excellent B2B Database and marketing automation services of SalezShark Connect+ make this product powerful for every business. It strengthens your business database using artificial intelligence. Its marketing automation software automates the process of customer connection whenever required.
It comes among the leading database service providers due to its action-oriented database to highly reputed firms. The information maintained in its business directory India connects many B2B companies with each other. Do you want to know where this product is currently standing in the market?
Features:
Lead Management: SalezShark Connect+ helps many organizations to acquire good leads and convert them into valuable prospects frequently.
Personalized Campaigns: It offers pre-designed templates to create and send customized campaigns to your target audience.
Intelligent Analytics: It provides you with new ideas for faster customers connection.
Strong Segmentation: It amplifies profitable conversions using demographics and behavior analysis techniques.
360-degree prospects view: It saves every essential detail about each prospect in a few clicks for proper sales process management.
Database Management: The list of SME companies get great help from its B2B contact database
SalezShark Engage
This product helps in customer engagement that is crucial for increasing a company's revenue. Its ability to streamline both sales and marketing teams simultaneously enhance its importance in the market. It is flexible for employees since there is no time restriction to log in to the CRM dashboard to move ahead to the next step of the sales cycle.
You might be thinking about how it helps you to engage more customers? Integrating your chat and telephony process helps to solve customer issues instantly to provide a better customer experience.
Why should one buy this product?
Social CRM: Other than online CRM software, it also provides social CRM to closely monitor your prospects' behavior using social media platforms for high customer engagement.
Cloud Technology: The reliable cloud technology embedded into SalezShark Engage speeds up your business performance.
Account Manager: You can better understand the whole CRM structure via live tutorials presented by its intelligent account manager.
Lead Automation: You can now automate your lead management process by adopting its automated approaches.
SalezShark Assure
The applauding and satisfied gestures of a large number of clients motivated the SalezShark expert team to develop one more product named SalezShark Assure. It will be released on the market soon. The primary aim of this product is to take care of every single factor involved to boost your business growth.
Upcoming Features:
Ticket Assignment
Personalized Sales Support
Ticket Automation
Easy Customization
Reporting and Analytics
Security & Data Privacy
Salesforce CRM
Based on business requirements and Industry type, this customer relationship management tool offers multiple products to its clients.
SalezShark vs Salesforce: Pricing
Let's move forward towards the pricing and plans offered by the individual vendors to their target audiences. You can select the plan according to your budget and business needs.
SalezShark
It is preferred more due to its low software price and hi-tech functionality. The initial price of SalezShark Inc is $20 per user/month.
| | | | |
| --- | --- | --- | --- |
| Plans | Basic | Pro | Enterprise |
Salesforce CRM
On the other hand, Salesforce is quite expensive. It costs $25 per user/month if we talk about its basic plan. The price increases when you choose the other two plans.
| | | | |
| --- | --- | --- | --- |
| Plans | Starter | Lightning Professional | Lightning Unlimited |
Best For
SalezShark
Startups, Small-medium businesses, and Private use.
Salesforce CRM
Small, medium, and large size organizations.
Integrations
SalezShark
It enables your teams to give solid performances by integrating CRM with a large variety of business systems and applications like:
Twitter
Facebook
LinkedIn
Justdial
Intercom
GlobalData
SnapEngage
MyOperator
VICIdial
How does SalezShark build a success path for its clients?
SalezShark
By determining every type of customer pattern, personal preferences, and related characteristics, SalezShark provides multiple opportunities to small and medium businesses to forge stronger customer relationships.
By devising unique sales and marketing strategies, this CRM platform aids your teams to nurture your prospects better, expanding your customer reach in less time. You can fetch any record at any time from the centrally stored location to filter, recognize, and excel on different business opportunities. From the initial stage to the deal closure phase, this CRM system arms you to generate high revenue for your business.
Therefore, SalezShark provides you with comprehensive solutions that let you boost your sales productivity by carrying out every process in the sales cycle ideally without missing anything or causing failure in between.
Salesforce CRM
Smart features and customizations
Powerful social collaboration options
Third-party app marketplace
Outstanding workflows
Platforms Support
SalezShark
The SalezShark CRM adapts to the current trend to fulfil the customers' demands with 100% satisfaction. So, its relationship intelligence teamwork on CRM functionality in such a way that you can easily operate it on different platforms at your convenience.
Salesforce CRM
It supports the Cloud platform.
Why SalezShark CRM has been winning many hearts?
SalezShark
SalezShark marketing systems are excellent to generate and manage leads effectively.
Integrate email marketing with CRM makes it more proficient for every business.
The SalezShark CRM is easy to use and simple in design.
Its marketing intelligence tools help in marketing as well as product promotion.
It offers a personalized customer experience whether it's sales automation tools or marketing automation software for small businesses.
Its small business CRM software acts as a backbone for small and medium enterprises.
Soon, you will enjoy SalezShark CRM services in more languages like French, Spanish, German, and many more other than English.
Where do these CRM vendors provide their services?
SalezShark
India
United States
Australia
United Kingdom
New Zealand
California
Dubai
Salesforce CRM
United States
Ghana
Canada
What kind of technical support does the vendor offer?
SalezShark
Email Support
Phone
Live Chat
Online Training
Social media
Tutorials
Salesforce CRM
It is limited to a few support services like email, training, live support that is expensive but fruitful for customers.
Prominent Clients
SalezShark
SAMSUNG
DELL
AUDI
OLA
NASSCOM
OYO
CANON
UBER
TOI
BMW
VOLTAS
Salesforce CRM
This vendor has been providing its services to Stanley Black & Decker, Coca-Cola, Spotify, and a few more clients as well.
Wrap Up
Understanding what is CRM software is not enough to run your business. You must wisely choose the best CRM software from one of the leading CRM providers like SalezShark and Salesforce. Though both CRM vendors are sure to set up a gateway of success in the long run. But we guess SalezShark is much better in terms of both price and features to improve your communication with your prospects and grow your business quicker than ever before.