Competition and lack of trust are two important reasons for the failure of the Health Insurance Business. Selling a health insurance product is not an easy job. It can also be very challenging for experienced sales professionals.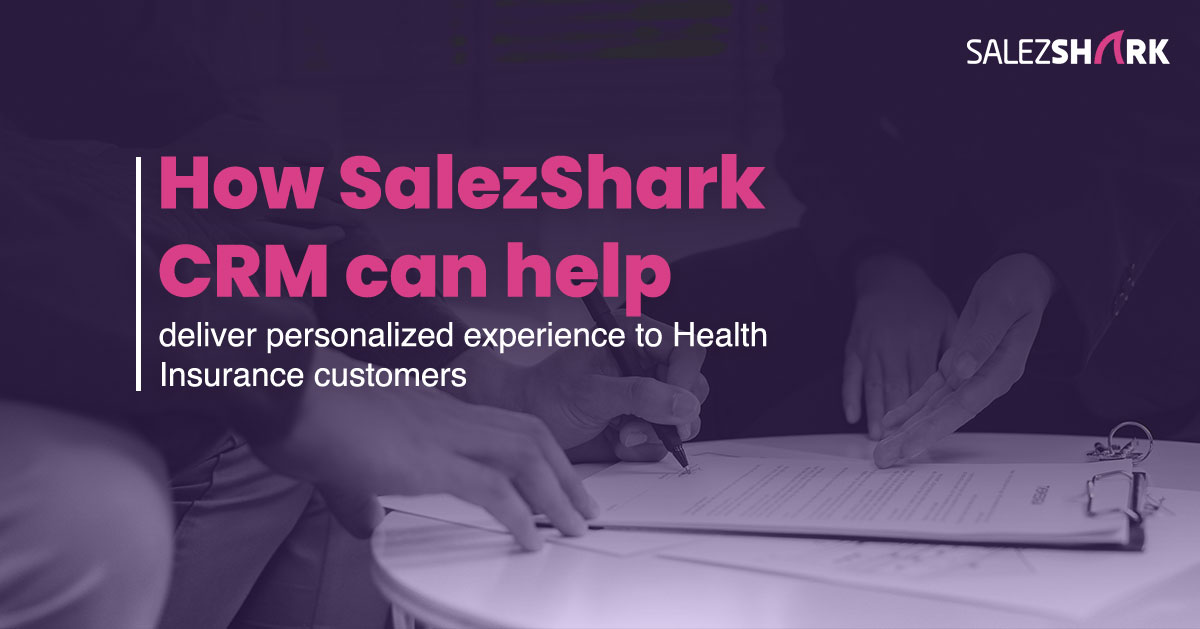 80% of the agents get the same answer, "I am sorry I spoke to another broker," from the lead they call every day. This is true even when they have filled the inquiry form on your websites. Because your team took a long time contacting them, and meanwhile your competitor grabs this opportunity. Thus, contacting in the first few hours is crucial for successful lead conversion. 
This is one of the significant problems associated with the manual lead conversion process in the Health Insurance Business. So what is the solution? 
The only solution to this problem is to eliminate the manual process by adopting a SalezShark CRM for your Health Insurance Business. There can be various benefits like: 
Reduce lead response time

Automatically follow up messages

Automated Response 
Features of SalezShark CRM for Health Insurance Business
User Friendly
While looking out for the best CRM for your Health Insurance Business, one must be user-friendly for quick adaptation across your organization. If it is user-friendly, you will have to allocate fewer resources to train and educate your staff.  
Customizable
Yet another essential feature that you should look out for in a CRM because your way of approaching clients may be different from others. So when the software is customizable, it can quickly adapt to your requirements.
AI-Based Sales Assistance
Make sure that the CRM uses the latest technologies like artificial intelligence. This way, it can analyze the data more accurately and provide you with your customers' future requirements, which can be a game-changer for your Health Insurance Business.
Seamless Integration
The CRM software should be seamless and easily integrated with your existing system. This way, you can ensure that your previous data is not lost and work is not hindered for longer.
How can SalezShark CRM software boost health insurance business growth?
SalezShark CRM collects all customer information like their demographics, preferences, age, gender, etc. it also tracks their social activities. All this and other information are quite valuable for the sales team in building a strong relationship with them.
Better Customer Experience
Your team member has a complete insight into the customers, and it helps them better understand them and pitch products and services more personalized. For example,  You can identify the preferred communication channel for a customer and store it in this CRM software. Any other team member can then use this information to connect with them.
Compliance with Rules and Regulations
Today, customers are more informed and involved in their healthcare. They want high-quality Services and care along with the privacy and security of their data. The best CRM is also obliged to facilitate data privacy and data security.   
Helps you identify Sales Opportunities
This CRM in the Health Insurance Business helps you find the right leads, which has more potential for conversion and fits your sales pipeline. It can also help you allocate these leads to your concerned person to reach out to the customers in the shortest time.
Capturing Inquiries
SalezShark CRM system can help you segregate various inquiries that come through different channels. It then automatically allots them to the concerned person. This way, your team can entertain each customer's inquiry as quickly as possible.
Standardized organizational process 
This CRM helps you standardize a process that needs to be followed while interacting with customers. This way, you increase overall customers experience with your Health Insurance Business.
Final Words
Leverage the features of SalezShark CRM to find the best leads for your business from multiple channels. With the help of SalezShark's automated and seamless sales and marketing automation suite, build a strong relationship with your customers. Provide them with a more enhanced user experience through personalized services.