Run Tasks on Auto-Pilot & Grow Sales by 100%, For a smooth on-air experience, autopilot is a significant buddy in the aviation industry. It can automate routine assignments like maintaining altitude and direction, so the pilot can concentrate on the next significant step that is landing at the destination spot. Although as easier as it seems to be from outside the cockpit, pilots know that autopilot does not fly the plane for you. Pilots are still constantly in charge of landing the plane at the objective destination. It's just that autopilot generally helps make that activity simpler and more secure. Similarly, for sales, run sales tasks on autopilot and grow sales by 100%. Think about your objective as your goal and achieve them with predictive methods of sales automation that can act a great deal as an autopilot does. It lessens the remaining workload at hand, prioritizes tasks, and streamlines best practices so you can concentrate on things the autopilot doesn't do.
In the realm of the technologically advanced world, people are yearning more for the "human touch" that takes their relationship to the next level. By automating the relationship-building attributes, you perhaps adversely influence the client experience. However, automation cannot replace the human touch, no matter how many robots you hire to fly the airplane. It simply can lessen your workload and assists you to enhance the productivity of already efficient sales force. Insignificant admin-related assignments can be better automated to give your business experts more opportunity to concentrate on finalizing negotiations, acquiring leads and developing your business.
Tasks that you should automate for better sales results:
Automation can give your business reps more opportunity to concentrate on what makes a difference. Below are some tasks that better to be automated at first place to replace those non-selling hours into productive selling.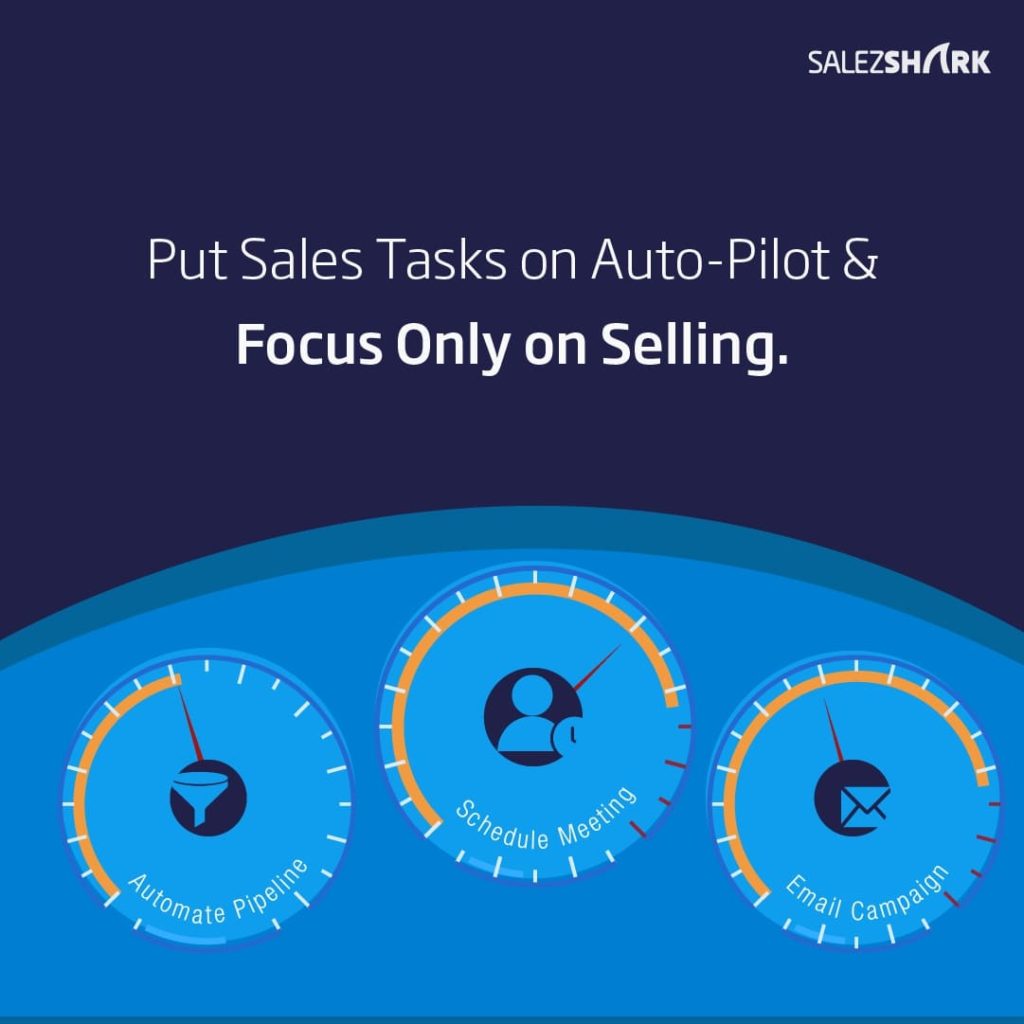 Run Tasks on Auto-Pilot & Grow Sales by 100%
Scheduling Sales Tasks
Create your sales activities with a click of a button only via SalezShark CRM. Do share the meeting invite with the correspondent party, without involving yourself in the lengthy process of scheduling meetings over calls/emails. Fortunately, creating the task is as easy as swiping your smartphone for the next screen.
On top of that, you can even assign tasks to anyone right from your SalezShark CRM and get instant email alerts with regard to the same. You will be notified of the activity (call/demo/meeting) even before 15 minutes from the time of commencement. The addition of a geo-tagging feature is available for better sales insights and can be termed as 'high', or 'low' as per the sales preference. Such tools provide greater access to scheduling tasks with ease and allow you to invest more in what you are best at i.e. selling.
Automate Your Sales Funnel
Salespeople address such a significant number of individuals throughout the day, consistently, so it tends to be anything but difficult to forget about who will be who, and where prospects are inside the pipeline. Though every sales rep has his own way of following the pipeline. Some will utilize post-it notes, others will utilize through CRM. It tends to be a battle to keep your post-it notes altogether or your CRM refreshed, which could bring about you missing critical touchpoints and is not able to gauge future deals.
Automating your pipeline can resolve such issues by giving you absolute authority and transparency when you need the most. By utilizing the efficient tool of SalezShark, you will get a reasonable visual interface of your sales pipeline, empowering you to know precisely who to contact straight away and to remain responsible for your business procedure.
Leave a Note
Did you realize that sticky notes are still prevalent among sales force that relies on crucial meeting discussion and use it every now and then? Note-taking still dominates the business culture but thanks to automation that replace the historic pen and paper combination with keyboard and SalezShark CRM. Yes, you can brief the meeting/call discussion in the notes section of your sales activities that will be saved with the lead/account forever. It enables a sales rep to better communicate with the lead/client, assisting in closing the deal more quickly and gives sales managers the understanding about the progress on a particular lead. Additionally, you can also upload relevant documents/pdf with regard to the communication that you had with a particular lead.
Automate business to supercharge your sales
Supercharge your sales funnel by adopting automation that will automate the repetitive and time-consuming tasks and leave the rest to your talented workforce. Any issues or product changes can be best-taken care of by people. Similarly, sales conversation and live demo are best left to the stars of your organization as it requires more degree of association that cannot be accomplished by chatbots, IVR or recorded demos that are not equipped dealing with prospects.
If you wish to learn more features of the SalezShark sales tool, request for the FREE trial by calling on 9015731800 or drop us a line at contact@salezshark.com.