Have you at any point broken down on your stretched working hours that were consumed by different non-selling exercises? Consider the number of deals that were lying in your pipeline and if you would have contributed similar time on those, you would have grabbed the sales rockstar award of the month. Truly, a portion of the exercises like catching up with potential clients or refreshing imperative records can't be maintained a strategic distance from. But imagine a scenario in which you have additional assistance at your workstation without even hiring any personnel.  Yes, SalezShark sales automation is the right tool that can be your 24/7 assistance and successfully utilize your time in profitable tasks.
Sales automation is the best fit for any SMEs and evolves your sales process with rich mechanism, lesser repetitive tasks and better sales results. Here, we are sharing top features of SalezShark sales automation to leverage your business.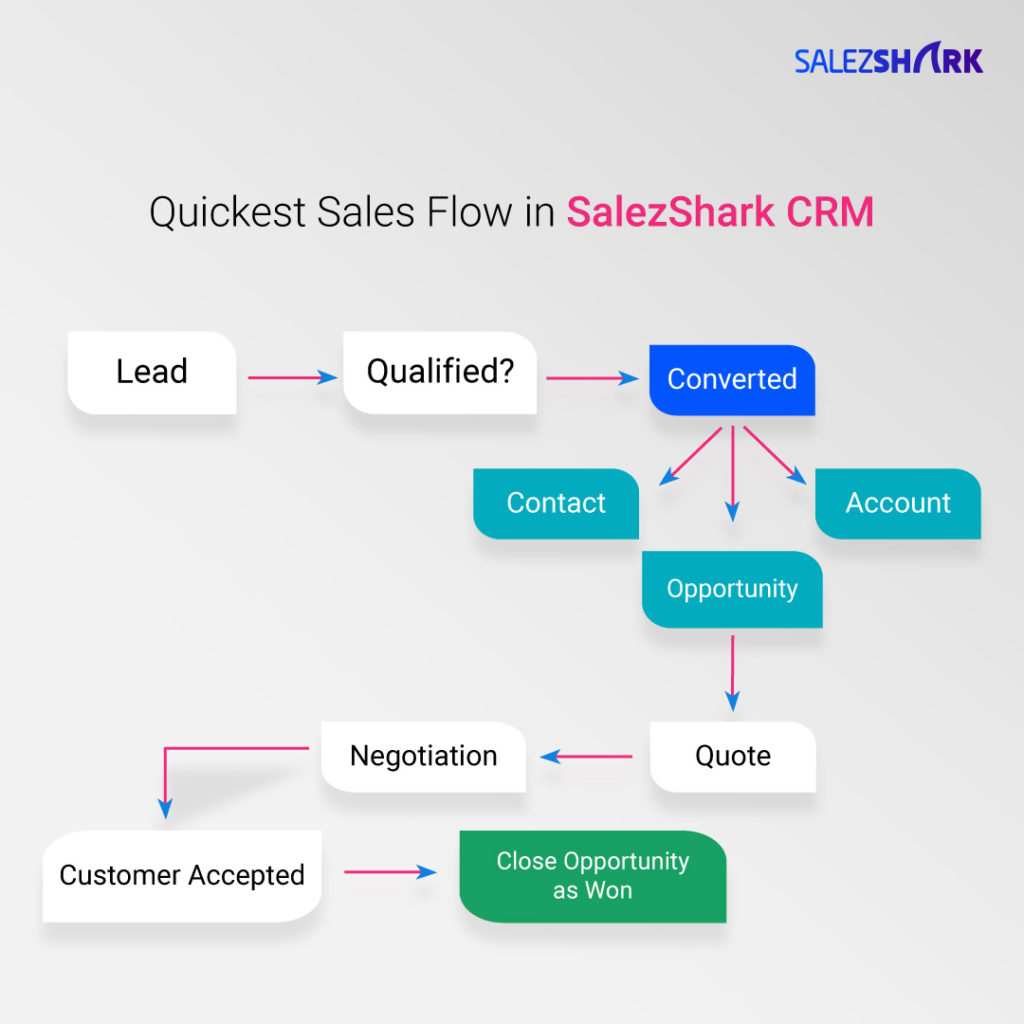 1. Automate Your Contacts
Client contacts are crucial to any business, especially sales. On the off chance that they aren't gathered and streamlined in one spot, your deals might lose hitting the winning crease. The manual exercise of managing contact information is indeed a time-consuming task and open to unintentional blunders as well. The SalezShark sales automation automates your sales stage of contact creation wherein the website visitors are directly land into web to lead just by filling the basic contact details. In this way, a lead is created into the CRM and each time another guest fills up the website contact form, SalezShark will consequently get the data and streamline it in a repository.
2. Deal Distribution
You must be aware of the deal losses when you don't act on time.  A slight delay from your end may be a big triumph for your competitors. More often team leads are occupied with hundreds of things and unable to convey the lead arrangements on time because of which numerous worthwhile open doors become lost despite a general sense of vigilance. Utilizing the intelligent workflows of SalezShark CRM, your TL receives the notification of new sign up every time and can distribute the leads to the team. This way the tables are reversed and now the leads cannot be slipped through the cracks but can be smartly tackled with the right sales automation tool.
3. Actionable Leaderboard
Another effective way to boost productivity and accountability for your sales analytics process is to present a sales leaderboard among your sales professionals.  A leaderboard in SalezShark CRM helps to increase transparency and sales activities so that managers can check the real-time performance and drive better results against a time-bound target. This actionable leaderboard at SalezShark is also getting upgraded into Smart TV plug-in to display team's performance and at the same time, providing public recognition to sales personnel.
4. Profile Improvement
The more data you have about your prospects, the quicker you can push them ahead in a business procedure. Be that as it may, discovering data about numerous prospects isn't a simple assignment. It devours a great deal of research time. Did you realize that in the vast majority of CRM tools the clients' profiles can be consequently improved? With integrations of various third-party applications in SalezShark, you can upload necessary information into your clients profile like website url, company location tagging, email address, LinkedIn profile, social media links, and other features as well. Every client's information would make your sales process smoother is automatically updated in your SalezShark CRM. Just create a client profile, and we will do the rest for you.
5. Automate your follow-ups
Do you know that 51% of salesmen surrender after one follow-up?
Clients won't effortlessly put their valuable dollars in a single email. You have to put in additional endeavours and catch up with them every now and then. We understand the lesser feasibility of regular follow-ups amidst the tight calendar and high deal targets. Along these lines you ought to consider SalezShark marketing automation that get the emails triggered at the right time, for right place and to the right target audience. The impact of cold emails is higher in engagement and best reach out solution in the real time e-world. You can easily schedule trigger-based follow-ups and send in according to the recipients' time zone. Beyond the click and open rates, the smart recommendation and impact analysis fetch you the list of interested prospects that could become your profitable clients in the near future.
If you wish to learn more features of SalezShark sales tool, do request for the FREE trial by calling on 9015731800 or drop us a line at contact@salezshark.com.