Capture leads in a few clicks
The way of capturing leads has been evolved with time. These days with the existence of multiple sales channels, leads are generated from multiple sources and obviously captured too. In such a scenario if you start capturing leads manually by signing in on multiple portals individually and then importing them into the system manually, will only result in wastage of time, and chances of losing leads also increase. So why take any risk of losing good leads? Deploy SalezShark lead management system into your business and automate the lead capturing process completely. SalezShark's powerful automation automatically captures leads from multiple sources and imports them into its unified platform where you just need to sign in once and in a few clicks, you can view all the captured leads and start working on those leads swiftly. By doing so you save time and also the chances of losing good leads become zero.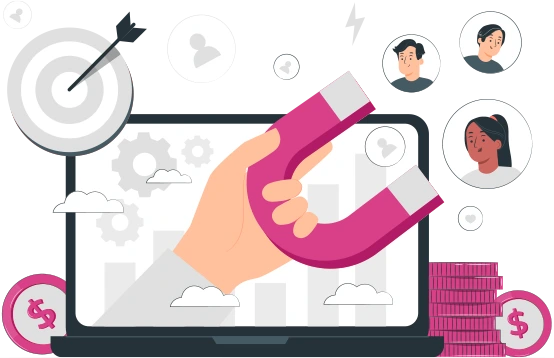 Track leads effectively
The success ratio of your lead conversion directly depends on the kind of interactions you made with them. To make your lead interactions positive and lead to high conversions, you must leave no stone unturned in knowing your leads first properly. You should know their buying behavior, preferences, and pain points. Here SalezShark's powerful and intuitive AI (Artificial Intelligence) based automation makes your job easy to know your leads better by offering you insights on your ideal target audience/leads' buying behavior, preferences, and pain points. By leveraging these insights you can pitch your products and services as an ideal solution to their issues. It also helps you in tracking lead activities such as pages visited by leads or any interactions made with leads in the past. Hence by keeping a track of leads you can build more personalized relationships with leads that enhance lead nurturing and ensure a good number of lead conversions.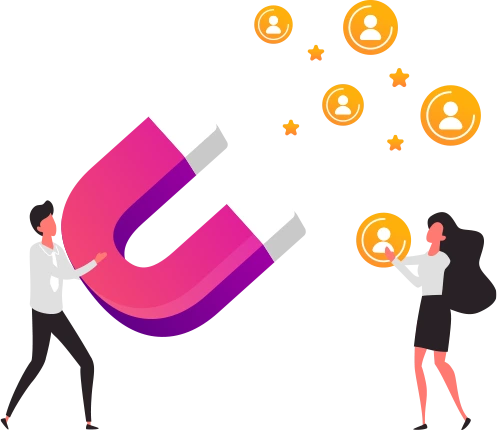 Automate lead scoring & distribution
It has been generally observed that in many businesses marketing professionals without analyzing the leads transfer them to sales executives that create a lot of chaos and sales professional end up wasting a lot of their productive hours in pitching the products and services to those people who are not interested in buying. However, by deploying the SalezShark lead management system you can get rid of this chaotic situation. SalezShark helps you in analyzing leads and gives a score to every lead that enters your system. Here what you need to do is simply set any rule or parameter into the system that decoded which lead is good to go and which one is not. You can set the lead scoring rule and after that whenever any lead enters into the system it gets a score automatically. This feature of lead scoring helps your marketing professionals to understand the leads' quality and also sales professionals can also first work on those leads that have high scores and the rest of the leads later with a lower score.
Once your leads get scores they can be also be distributed and assigned to sales executives automatically. In the SalezShark system, you can set any parameter or rule for lead distribution and lead assigning. Once the rule is set by you, then onwards whenever leads enter into the system they get automatically distributed among sales executives and assigned to individual sales executives based on executives' caliber and perfection of handling leads. Hence by automating the lead distribution and lead assigning you can be rest assured that none of the good leads fall through the cracks while lead distribution and all qualified leads can be attended by the most relevant sales executives that enhance the chances of lead conversion.
Get the best
lead management software in the U.S.A
Use SalezShark lead management software customizable as per your needs.
Nurture & convert leads effectively
Many sales professionals often fail when it comes to nurturing leads effectively. The reason behind poor lead nurturing is nothing but a lack of knowledge about leads' buying behavior, preferences, and pain points. However, by introducing SalezShark lead management software into your business; you can make lead nurturing better and effective. The AI (Artificial Intelligence) based automation of SalezShark offers some intelligent insights on your prospects' buying behavior, preferences and pain points. These intelligent insights on your prospects help you to know more about them and based on that you can easily nurture leads and offer your products and services in a manner that acts as a solution to their issues and pain points.
Lead nurturing also requires you to be in regular touch with your leads and that is only possible through robust follow-ups. Mostly, follow-ups are done through emails and calls. SalezShark helps you in automating your follow-ups too. Helps you to create and send multiple follow-up emails in a few clicks. By leveraging SalezShark's email template gallery you can choose a pre-built email template and create emails in a few clicks. You can also schedule follow-up emails in advance and send them to prospects at the right time enhancing the open rate and click rate of follow-up emails.
Now, last but not least, the most crucial aspect of the lead management cycle is lead conversion. Our lead management system helps you in enhancing lead conversions by offering you an option to create a visual sales funnel into the system. By doing so, you can keep all your leads organized into the funnel based on their chances of conversion from top to bottom. As the lead progresses towards turning into a paying customer, it can be moved down into the sales funnel. The drag and drop functionality makes this job easy and also gives you a bird's eye view of all leads in one go and you can easily prioritize leads. By prioritizing leads you can focus first on leads with higher chances of conversion and the rest of the leads with lower chances later. Not only this but by using sales funnel, senior sales managers can also easily evaluate the no. of sales expected and revenue generation in the near future which means better and accurate sales forecasting.
Don't wait for anymore!
Get SalezShark lead management system U.S.A that is highly customizable.