How can Personalized Email help
your business to grow?
Personalized Email marketing helps create demand for your brand because when a customer gets value through your marketing strategy. Then they develop an interest in your brand and want to learn more about your product and services. This helps you to build strong and long-lasting relationships with your customers.
Personalized email marketing helps you target a specific set of customers who share the same behavior and demographic locations. According to research, personalized email content has 122% ROI. If you would be able to leverage the art of personalized email marketing, then you can skyrocket your sales and revenue through customer email marketing.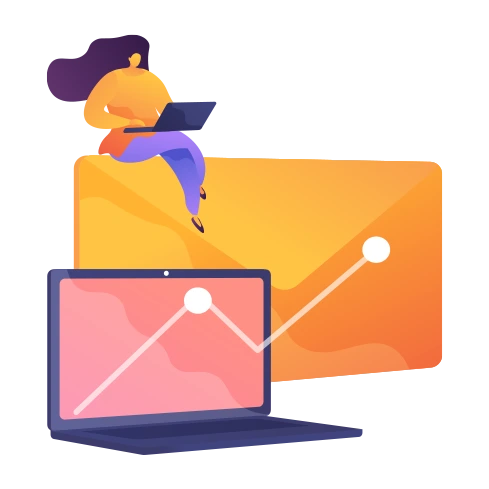 Today, personalization in email marketing concept has become very important for any business, but personalization is much more than just inserting the person's name into the introduction. It segments your potential market and drives your customers through an effective sales funnel.
It is all about having the right data set that ensures that your email personalization Statistics reaches the right audience at the right time. Various benefits of personalized email marketing statistics are as follows:
● Increased click-through rate
● Increased subscription rate
● Increased level of customer satisfaction
● Higher opportunities for customer re-engagement
● Increase in Conversion
● Reaches right audience
● Segmenting your potential audience
● Drives customers through the sales funnel
High Customer Retention with SalezShark
Email Personalization
Email Marketing with personalized outreach is more effective and result-oriented for SMBs.
Email Personalization Strategies to boost your sales
Personalization in email marketing is a complex process and should be done correctly to get the best results. Here are a few ways to increase the effectiveness of your personalized email marketing.
Collecting the Right data
To have an effective personalization email marketing campaign, you will require the right information about your readers or users, like their demographic details, personal details, date of birth, date of anniversary, liking/disliking, the preferred mode of communication, etc. One way to get this information is through your subscription form.
User email according to user behavior
You should automate your emails depending on how your customers interact with your product or services. It is personalized email marketing as triggered emails have 38.03% more open rates. And helps you to develop a more personalized relationship with your customers by interacting with the customer relationship management email at the right time.
Build Customer Personas
A customer persona is an ideal representation of your ideal customer. This helps you in understanding your customer and their behavior perfectly. The better the persona, the better you know what your customers want from you. This further enables you to create more automated personalized emails that are likely to produce higher sales. You will need accurate and perfect data from your customers for all these.
Reach out to customers
Suppose you notice a cart abandonment or card abandoning and poor engagement. Reaching out to customers is an effective strategy to bring customers back on track. Then you can reach out to them by offering them some coupons in their emails. You can even send a personalized email blast regarding a product they have looked for but not purchased. You can ask the reason for not buying their development now and offer technical assistance.
Paying attention to small details
You can further increase the effectiveness of personalized email marketing campaigns by paying attention to the minute details, which are essential from customers' points of view. You can use various tools available in the market to assist you with this. Some common ways of Personalized Email Marketing are A/B Testing of emails, including reference of any previous interactions including a call to action, segmenting an audience into small groups.
Personalized your Communication
You should have personalized email campaigns and personalized communication with each customer for better customer engagement and relationships. This communication is not hard to implement and can be automated by using various personalized email Marketing tools like SalezShark. You can send welcome messages, birthday greetings, seasonal campaigns, promotional coupons, etc.
Create Milestone
Creating milestones is another effective personalization tool that helps you convey that your company appreciates the customers' achievements, which will make them feel valued and essential. You can appreciate them on their work anniversary, course completion, promotion, etc. They will be overwhelmed by this gesture and are more likely to become loyal and happy customers.
Why should you use automated personalized email marketing for your business?
Today the customers are more educated and informed. Modern-day customers want to know more about the business they are dealing with Personalized email marketing customer loyalty. They want more personalized services and at the best prices. So it becomes very important for the business to compete on price or lose its customers.
Personalized email marketing is one of the best ways to connect directly with your customers. It helps your business to stay apart from our competitors. By sending a more personalized email, you narrow the trust gap. This way, you develop a relationship that will last longer and result in more revenue production for your business.
Personalized Email marketing has more user engagement because it is more customer-centric rather than when compared to traditional email marketing, which focuses more on making sales rather than addressing customers' needs. This way, personalized email marketing increases the conversion rate because customers can co-relate their problems. Instead of looking at it as a product, they see it as a solution to their problems, making them purchase the product.
As more customers make the purchase, the company's overall revenue increases, which is the ultimate goal of any company. Not only this, but personalized email communications also help improve the customers' satisfaction rate. Today only 22% of customers are happy with the personalized service they are getting from the company, which is a minimal number, and it means that there is a lot of room for improvement.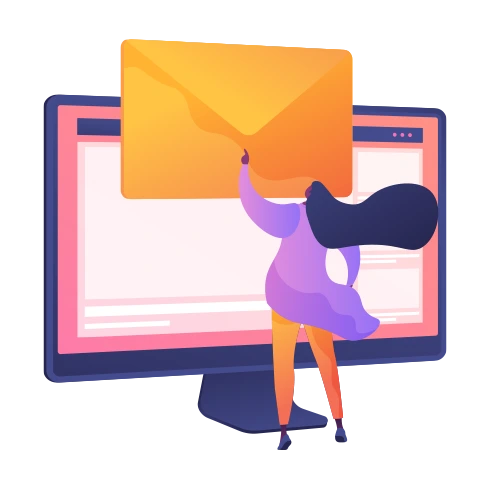 How can SalezShark help you build personalized email campaigns?
To maximize the profit from Personalized Email Marketing, you need to understand your customers in a better way. It is where SalezShark CRM personalized Email Marketing comes into the picture. It accurately captures your customers' vital demographics, purchasing behavior, personal details, etc.
SalezShark uses some of the best technologies like artificial intelligence and has developed an algorithm to predict future demands precisely. This way, you can target your desired customers with the right product at the right time. This information is then stored in a centralized database and is accessible to all the team members simultaneously.
Our email automation tool can help you trigger conditional email marketing customer loyalty for a better relationship with your customers. It helps to bridge the gap between the sales and marketing team through two-way synchronization and enables you to identify which campaigns work better for you.
SalezShark offers more customizable options where you have the freedom to upload your list of best prospects or segment your customer's group. You are free to create your email or select from our high-converting templates.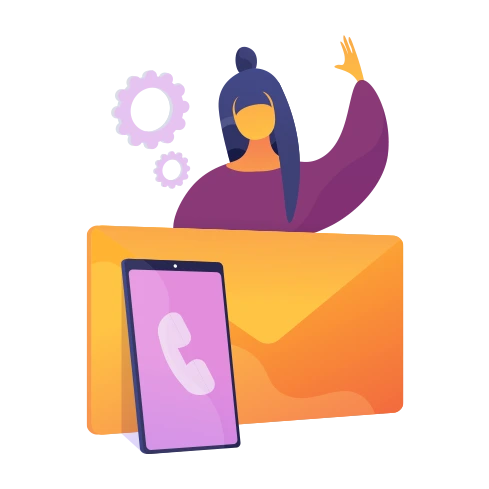 How can SalezShark help you earn high profit with custom email marketing?
Creating a personalized email marketing campaign is very easy using Intuitive tools like SalezShark. It is a platform where you can customize personalized email campaigns. At the same time, we can use automation to make it more effective and results-oriented. With customer insights, get detailed information about your customers and build a long-lasting relationship with your customers.
SalezShark is an effective personalized email marketing software that has been specially designed for small and medium enterprises and is easy to use. It provides great flexibility and is one of the best tracking and reporting mechanisms. Get access to various landing pages,e both attractive and result-oriented templates. That can increase the conversion rate and can be used irrespective of the industry you work in.