Why should you use Email Marketing tools in India?
Still, in this social media and WhatsApp edge, emails are a popular mode of communication. It is straightforward to send emails and less expensive. The best part is that you can connect to a large audience in a personalized way, which no doubt would increase your sales. Emails help you stay connected with your audience by providing updated information. The customers are flexible to read as per their convenience.
Sending emails to those who have subscribed to your email list regularly makes them think you care about them. You can also reach out to them in real-time as around all emails can be opened on mobile devices. This is very important when planning your marketing strategy to design your email to produce a higher conversion rate on mobile devices.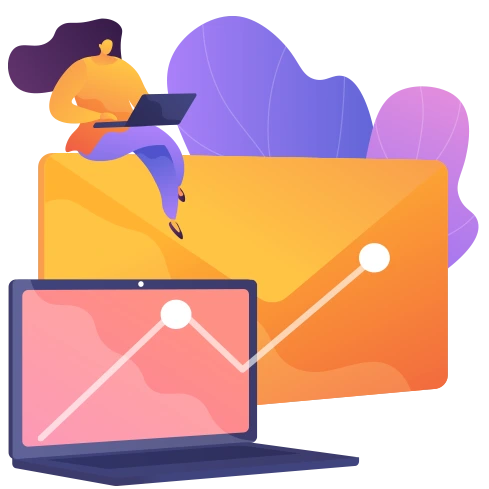 Tracking email marketing tools in India campaigns is relatively easy and effective. There are various parameters to track, like delivery rates, bounce rates, click-through rates, etc., which helps you to understand the effectiveness of your campaigns.
Affordability is what makes email Marketing tools in India the best form of email marketing. You can reach a large number of customers at a nominal price. The conversion cost is also one of the lowest compared to other forms of best marketing tools in India. SalezShark gives you the flexibility to upgrade your plan as you scale up. If you are a small business owner, you can start with a basic package.
When it comes to driving conversion, no other marketing method can beat email Marketing tools in India. The average click-through rate of an email campaign is around 3%, whereas only 2% of fans can see your Facebook post in their feeds. Around 4.24% on average, visitors buy something from email marketing. At the same time, only 2.49% of visitors buy from search engines.
SalezShark Email marketing Campaigns also comes with many features that help you accurately measure the success of your campaigns and calculate ROI. Important features which make SalezShark Email Campaigns the best marketing tools in India are:
Multiple user accounts
Integrated with SalezShark CRM
Effective Email List Management
Improved Email Delivery
Personalized Email Marketing Campaigns
Subscriber Activity Tracking
Extensive Email Marketing Reports
Subscriber Forms / Opt-In List Building
Collecting feedback and surveys
Improving sales
Communicating with your audience
Generating traffic to your site
Sending timely campaigns
Increasing leads
Reaching the right people at the right time
Producing cost-effective campaigns
Providing more value to your audience
Get better engagement and conversion with
Marketing automation tools in India
SalezShark Email marketing tools in India are designed to provide a high open-rate,
resulting in better engagement and higher conversion.
Main Features of SalezShark marketing software
SalezShark Email Marketing tools in India is one of India's best and all-in-one marketing software for small and medium business owners. It helps them generate high-quality leads and increase their conversion rate, which improves the ROI. SalezShark Best marketing tools in India campaigns are easy to use and create. Our readymade email templates are designed to provide a higher click-through rate. The dashboard is simple and effective, which contains all the necessary information at one point. You don't need to be an IT expert. You don't need to be an IT expert. SalezShark allows you to have complete control of your marketing strategy.
Complete Lead Management
With the SalezShark Marketing automation tools India lets you do complete lead management at your ease. Starting from capturing the high-quality lead, it also helps you nurture your information over time through email campaigns or social media campaigns so that they have a strong understanding of the product.
Web Behavior Marketing
Understanding your audience's behavior is very important to provide them with a personalized experience. With SalezShark best Marketing tools in India software, you can analyze every activity of your audience. This will help you in increasing the traffic on your website. And by providing the exact service to your customer you will be able to meet your customers' expectations.
Marketing planner with ROI
It lets you analyze the effectiveness of your campaigns across all channels to make effective strategies and better decisions for your marketing campaigns. You can analyze your plan at the beginning stage and calculate the ROI.
Multi-Channel Marketing
With SalezShark Marketing automation tools, India runs tailored campaigns. On all marketing platforms, offline and online, this will help you get better results and have a higher conversion rate. You can also select the best marketing channel for you.
Insightful Reports
Reporting is an essential aspect of any marketing campaign as it provides actual data that helps you analyze the effectiveness and accuracy of the campaign. This is very important as it will decide the future of the campaigns. There are various types of reports that you can generate with SalezShark.
Unleash the Power of Automation to Grow your Business
Marketing automation is the next best thing to help your business grow as it can drive the increase in sales and productivity of the employees. Marketing automation provides more prosperous and more detailed information about your potential customers. According to the research, companies that have opted for Marketing automation tools India have witnessed a 25% increase in marketing ROI.
Using this detailed information, you and your marketing teams can understand prospects, interests, and purchasing behavior which will help you create trigger-based marketing messages or personalized emails. It can also send tweets to relevant customers. Automation enables you to nurture the leads as it is very tricky and consumes a lot of time.
It's a complete journey that requires a continuous follow-up by providing valuable information at the right time. If you have a small team, it might not be possible to do it effectively. This is where marketing automation can help you with it. It enables you to create more personalized content depending on the customer's behavior. Email Marketing tools in India also capture data from social media, emails to measure their engagement.
Since Marketing automation tools India is fueled by Artificial Intelligence, it lets you make more innovative and more effective decisions. It can analyze all the raw data to do what you are best at interacting with your clients. It helps your sales and marketing team to be on the same page. Marketing automation also improves your team's efficiency and helps you with your budgeting by reducing the staff cost and freeing time for your team.
Automating various processes gives your team more time to do creative work like planning or brainstorming the marketing strategy. In short, it makes your team's work more accessible and efficient.
Bring Automated Marketing and Campaign together
Once you have generated personalized content for prospective leads, you will be able to generate leads into your CRM. Now the next important task is to segment those leads. You can do this easily by using SalezShark automated campaigns features. This feature gives you flexibility and the ability to send specific niche content through emails to your customers.
One of the important reasons you should use email marketing tools in India is to scale up your business. You can use built-in templates to add specific customer-orientated information and track parameters. You can then synchronize the information with the CRM, giving you more insight into your customer's response data.
Using the marketing automation tool India you can send perfectly tailored emails to your audience. You can also send automatic replies and attend to customers' complaints without monitoring your inbox. This will help to improve the overall experience of your customers.