In sales and marketing, relationship intelligence is a relatively new notion. SalezShark is currently leading the charge to reshape the industry. SalezShark Email-based relationship intelligence evaluates your team's communication data and constructs the relationship graph needed to meet business objectives automatically.
Relationship intelligence is emerging in B2B sales and marketing. Individuals with different values, motivations, interests, and priorities make purchasing decisions in B2B. Salespeople must understand the many people and connections that make up an account to offer profoundly tailored buying experiences.
SalezShark Email Relationship Intelligence technology generates actionable business insights using the gathered customer data from your email communications to process and analyze it using Relationship Intelligence technology. This is done to get the positive output in the form of data-driven insights that acts as a backbone for your team to understand your customer better and plan strategically for solving customer queries in the most effective manner to drive high ROI.
What is the value of SalezShark's
Email-based relationship intelligence solution?
The value of Email-based relationship intelligence can be realized early in the sales cycle. Salespeople can utilize SalezShark Email Relationship Intelligence to discover the most effective ways to break into target accounts. With SalezShark, marketing and sales teams can easily map out the whole network of relationships between their team members and decision influencers at target accounts. Sales teams can utilize SalezShark Alliances to expand their network and find new contacts in situations where introduction opportunities are scarce or non-existent.
Increasing the effectiveness of sales

SalezShark Email-based Relationship Intelligence means spending a significant amount of time getting to know each prospect. Emails and other forms of communication are frequently where the most useful information about contacts is held. Salespeople can receive fingertip access to critical contextual information about prospects with SalezShark email-based relationship intelligence solutions. They won't have to sift through their emails to figure out what their connections are like with SalezShark. Because relationship data is readily available, salespeople can more successfully generate attractive material that is tailored to the specific needs of each customer.

Increasing Customer Satisfaction

SalezShark helps in building long-term client relationships to increase customer satisfaction. Customers that come in through Email-based Relationship Intelligence referrals have a 37 percent greater retention rate and 16 percent higher lifetime value. This can help your customer success team establish a strong relationship. Happy retained customers are not only more inclined to accept upsells, but they can also give your team more profitable recommendations and introductions, which can effectively improve your viral coefficient. Strong relationships can immediately lead to increased income.

Increasing Customer Retention

Employees come and go, are promoted, and job duties change regularly. Within a company, sales and customer success teams are frequently single-threaded. Sales and customer service can better guarantee that they are multi-threaded inside an organization (i.e., connected to different stakeholders) and strong ties with SalezShark email-based relationship intelligence solutions. SalezShark Email Relationship Intelligence even reminds users to follow up with important contacts, ensuring that salespeople maintain ties and that meaningful partnerships do not fall through the cracks.
Benefits of SalezShark Email
Relationship Intelligence Solution
SalezShark Email-based Relationship intelligence helps sales professionals and marketers achieve the following goals by supplementing current data about sales, prospects, and customers:
1

Cut down on prospect research time.

2

Identify the best possibilities for a successful transaction.

3

Make their campaign messaging and proposals more personalized.

4

Reach out to new customers ahead of the competition.

5

Strengthen existing customer ties.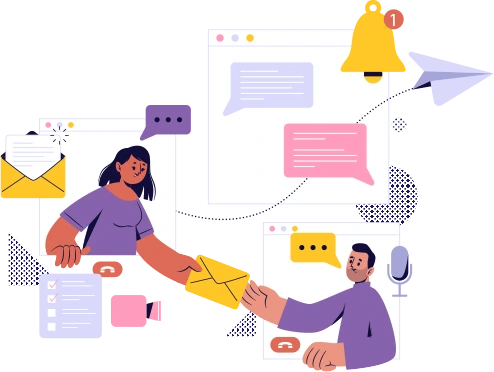 SalezShark Relationship Intelligence Building Tools
SalezShark Email Relationship intelligence software fills in the gaps in contact databases and allows you to act on new information. Consider the following options for developing relationship intelligence:

Management of Customer Relationships (CRM)
A SalezShark CRM system, a must-have for many businesses, can offer untapped potential. Companies can consolidate customer data storage, interface with other customer-facing apps, and import third-party data to uncover relationship insight.

Visualizer of Data
Anyone can fall asleep when looking at lines and lines of data. If you can't see your prospects and consumers, it's tough to establish a complete, 360-degree image of them. Data visualization tools take your data and turn it into graphs and charts that make it easier for others to understand.

Whether you're a data provider or a data collector
In-house data collecting is cost-effective, but it takes time if it's your only data source. Collecting and organizing data is not paid on more critical sales and marketing duties. Data suppliers can supplement your existing database if you have the capacity in your budget.

Automated Email
The majority of contact takes place in your Email inbox. Your emails include a wealth of information, like job titles, phone numbers, events, and business names. This essential data can be readily recorded and preserved for future customer engagement when your Email system is connected with SalezShark CRM using a solution like Inbox.
Developing Better
Intelligence-Based Relationships
Relationship information can be gleaned through professional contacts such as emails and account management activities by sales and marketing teams. By going beyond basic contact information, can help sales and marketing operations. Take that practical knowledge and incorporate it into your next outreach effort to increase sales.