SalezShark Connect+ b2b marketing software
SalezShark Connect+ b2b marketing software is one of the most powerful and intuitive marketing automation platforms that harnesses the power of AI (Artificial Intelligence) to automate many of the tedious task associate with B2B marketing by using prebuilt templates, personalization, email scheduling, and DRIP marketing (automated responses based on the targets response).
And here's the best part: it offers all the same features that supposed market leaders like HubSpot and Salesforce do, but at less than 70% of the cost!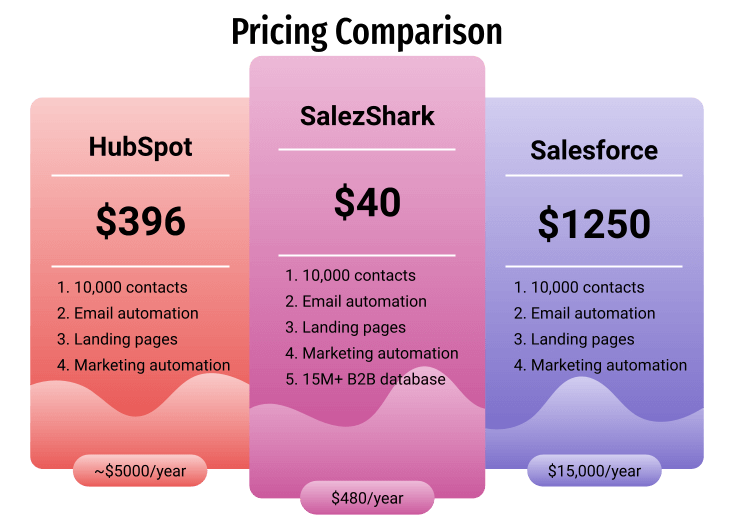 Why use SalezShark? Discover 15M+ strong B2B database… and growing
We don't just offer tons of integrations, such Gmail, Outlook, CSV files, etc. to allows for a seamless transfer of your own customer database into the software, we also provide our pre vetted 15M+ strong customer database, which can filtered by company size, job seniority, revenue range, etc.
Easily discover email ids, phone numbers and other contact information for email marketing and instant connectivity.
Can't find email ids on LinkedIn? No problem
Download our complimentary LinkedIn extension to crawl multiple profiles and discover their email ids within seconds. Upload them directly into our b2b marketing software and start reaching out.
What if the email ids are spammy? This isn't an issue and here's why: Our built-in AI tool analyzes the email ids and only uploads the high fidelity (upto 90% certainty of email accuracy) email addresses into our marketing tool.
Did you know that over 40% of businesses that have CRMs don't actually use them because they are too complex or inconvenient? Well, say goodbye to complexity and hello to affordable simplicity. Get the 2-week free trial for our b2b marketing software, complete with its prospect data. And there is no training, credit card, or strings attached. Just sign up and get going.
FAQ:
SalezShark was formed on the singular belief that sales and marketing needed to be intuitive and affordable. No more complex and counter-intuitive CRMs. Even those that seem cheap or even free, actually come riddled with hidden costs.
At SalezShark, we are a diverse team of serial entrepreneurs and marketers who saw pervasive issues in the SaaS industry and wanted to be the change we wanted to see. Hence, after 2 years of relentless efforts, we created SalezShark, the simplest marketing tool on the market. And after years of hard work, tons of industry awards, and 300+ customers, we come to you.
Yes! We understand that you might have some specific requirements based on your business process, so we'll assist you with product customization as well. Just get in touch with our development team by clicking the button below and request a custom solution. Tell us what you need and we will custom-build it for you!
You bet! SalezShark offers 24/7 omnichannel support whereby you can get in touch with us through our application, online software, website, social media channel, phone number, whatsapp, etc.
You can learn more about our product or troubleshoot any issues by contacting the customer support or going through our detailed documentation here.
Do you wish to know more?
Allow our CRM experts to guide you