Salezshark CRM workflow helps to create automated workflows to save your time by getting rid of manual and tedious activities such as sending personalized emails to leads or following up with every lead one by one. This workflow automation boosts your teams' productivity, work efficiency as well as customer experience. Workflow automation for small business is a process in which a system is used to complete all the assigned activities on time without any human intervention. The business automation workflow is best to use when one wants to design or implement business processes that can offer a great customer experience.
What are the steps
involved in workflow automation
You need to go through five typical steps to undergo enterprise workflow automation
First step

Recognize all the repetitive sales tasks that can be advantageous if done automatically. If your business notices an area of workflow that needs any further improvement either due to human error, repetitive nature, or high cost then you should consider CRM software workflow. But this initial step requires a thorough knowledge of your business operations.

Second step

The second step is to discuss, decide, and define your business goals. To fulfill this successfully, you must be able to sufficiently address the way to achieve these goals via CRM workflow automation. No matter whether your workflow automation is reaching your defined business goal or not, but business goals should also be addressed simultaneously.

Third step

In this step, you need to choose the right CRM software workflow for your business. Your organization must pick the appropriate Sales software workflow to achieve the defined business goals faster. It helps small and medium enterprises to optimize, streamline, and speed up the sales cycle to drive sales growth of their products.

Fourth step

Now, it's time to give proper professional training to your sales employees so that they can make the best use of this business process workflow automation by automating their day-to-day routine tasks. using correct user-defined rules and actions. This whole process requires to be error-free, every time since it is repeatable.

Final step

The final step requires changing the business process workflow and measuring KPIs. Once the new workflow is placed and started running, you need to start with this step as per the KPIs measured and the employees' feedback to improve the user experience. Constant monitoring and measuring can continually improve the business automation workflow.
Why should you use SalezShark CRM Workflow Automation?
Small businesses need to put their conscious efforts to automate workflow software. This requires proper planning as well vas time commitment. Since SalezShark business workflow management is advantageous, many companies have been investing both time and resources to enjoy the below-mentioned workflow automation for small business benefits:

Reduces human errors
When it comes to repetitive tasks, humans are quite bad at making mistakes. Tasks like data migration, data entry, follow-up reminders, as well as keeping track of assets can cause unnecessary human errors. This workflow automation can reduce the chances of errors in sales tasks.

Enhances productivity through data integration
With the growth of the organization, its departments and teams get secluded from each other and start working in their zones. CRM software workflow automation creates bridges to run your business smoothly by keeping systems and data integration between different departments.

Increases work satisfaction
Monotonous and cumbersome tasks can lead to huge stress. When sales employees don't need to perform their duties due to this workflow automation, they get highly satisfying work experience. It can also lead to high productivity, enabling the sales reps to concentrate more on creative work.

Reduces Costs
The SalezShark CRM software is one of the best marketing automation workflow examples to save labor costs in your business. It enables small-medium businesses to run sales and marketing more effectively and efficiently.
Improves Scalability
Hiring new employees is a good sign to scale your business one level up than your competitors.
Features of SalezShark sales workflow automation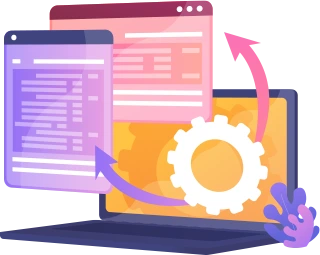 With SalezShark's workflow automation, you can auto-assign leads to your sales employees. In this way, you can deduce your workload and the probability of delays in connecting with these leads. You can also create activities at the time of new deal assignment to your team members, or at the time of addition of a new contact.
Increase your customer engagement by automating your sales emails and sending them highly personalized emails. You can even send them automated welcome emails and reminders to inform them that their subscription is going to expire soon.
It may be difficult for your employees to track all the appointments. To avoid this, you can set up a reminder to take more time for preparation and customer meetings.
For monthly or annual subscription renewal for your product, it enables your team to schedule renewal reminders to increase positive feedback from your subscribers.
Never forget the special occasions because these days can foster your relationships with your prospects. The SalezShark marketing automation workflow schedules targeted and personalized emails to wish your customers on their anniversaries, birthdays, and other special occasions.