Significance of sales dynamic reporting
Sales reports are one of the most important reports for any business. It helps the sales manager track revenue, monitors the team's performance and the status of various pipeline projects.
It also summarizes the number of deals and contains other vital information about possible opportunities that help them prepare an effective strategy for the company. And from a senior management point of view, it helps them understand any blockage their team is experiencing in closing a deal.
How does SalezShark sales reporting motivate your team?
Generally, salespeople are self-motivated and result-oriented; however, this motivation is subjective and varies from person to person. The dynamic reporting helps team members in highlighting their strengths and weaknesses.
Once the weaknesses are highlighted, management can then organize training for individual members. So far, we have understood the importance of sales reports. But to fully understand the sales report, one must also have a clear understanding of various technical terms used in these reports.
Key Sales Metrics offered by SalezShark
Sales metrics are the collection of data that represents an individual, team, or company's performance. It helps the sales manager track the progress done to achieve the company's objective, which plays an essential role in setting future targets. SalezShark sales metrics also help decide awards, incentives, and bonuses for the team.
If you are wondering which sales metrics are vital that you should track, then do not worry, as we have listed down some crucial SalezShark sales key performance indicators. If you track these metrics regularly, your team's efficiency will improve drastically.
Total Revenue
The prime objective of any business is to make huge revenue. Therefore, when we talk about sales reports, total revenue is what we should watch. Comprehensive income can be measured with the sales dynamic reporting on anytime scale. This also enables you to gain real-time visibility into customer insights and current market trends to create highly personalized customer experiences to drive revenue growth.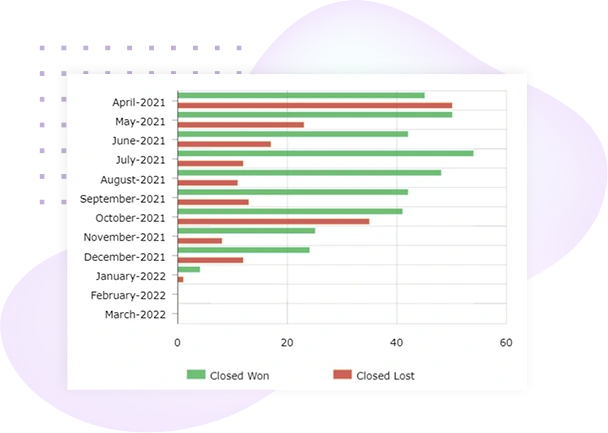 Market Penetration
Market penetration is a metric that is important for top management and sales representatives. It helps them to understand the business possibilities. It is measured against the total addressable market. To achieve a good penetration rate for your business products between 10% and 40%, you can make use of SalezShark CRM software. This will give you enough idea about how to conduct creative ads and personalized marketing campaigns.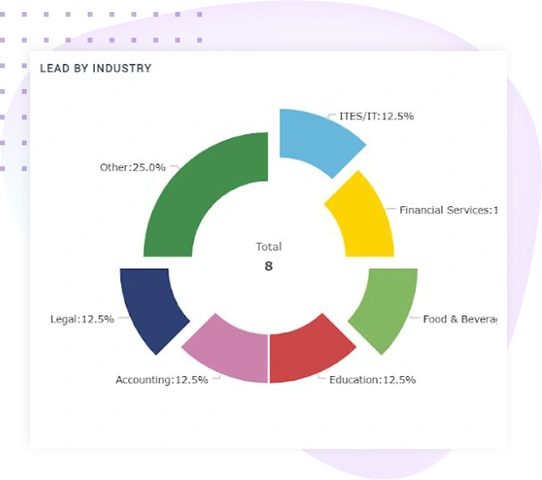 Reports offered by
SalezShark dynamic reporting software
SalezShark dynamic reporting software provides a deeper insight into your business using CRM data, ensuring that the reports generated are accurate and reliable.
Our dynamic reporting software makes it easy for you to generate any sales report. Thus, it helps you save a lot of time that you can use to develop business strategies to grow your business. SalezShark dynamic reporting has various pre-built reports available for you on a mouse click.
Our dashboard is straightforward to navigate. It also contains all the essential KPIs necessary to grow your business. However, with our CRM software dynamic reporting, you get the freedom to customize your reports. With our CRM software dynamic reporting, you can generate the following types of reports:
Deal forecasting report
The Deal Forecasting report displays a clear view of your sales pipeline status to enable you forecast your business daily, weekly, or monthly basis. This kind of CRM report helps you to review all the historical trends with full accuracy depending upon the status of the deals.
This Marketing Automation dynamic reporting report makes you understand how much revenue is on the line as it forecast revenue that will be generated once the various deals get finalized.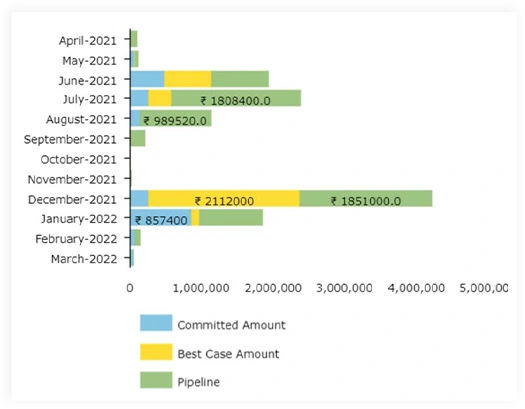 Funnel report
It is an exceptional kind of report generated in our CRM dynamic reporting. It helps companies understand how customers behave at different funnel stages. A snapshot of your total pool of open sales opportunities, run down by different phases in your sales process is the most basic sales funnel report generated in this CRM software.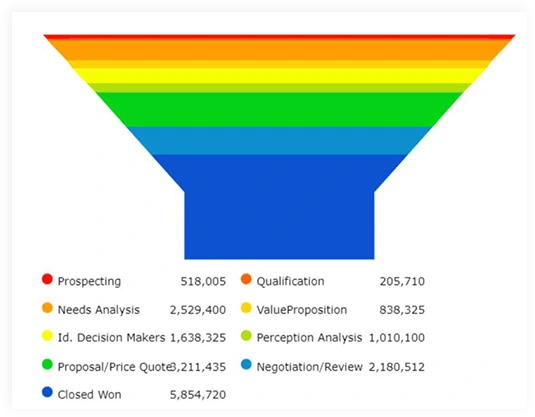 Sales Activity Report
Our CRM dynamic reporting monitors the sales team's productivity. This is very important as this report provides an insight that helps businesses train their team in the field where they are weak. The sales activity report gives you a detailed look at your sales activities that are in progress, pending, or completed successfully over a given time period. These activities include emails, phone calls, and on-site meetings with your prospects. This provides a valuable insight to your sales managers to improve your team performance as well as sales efficiency.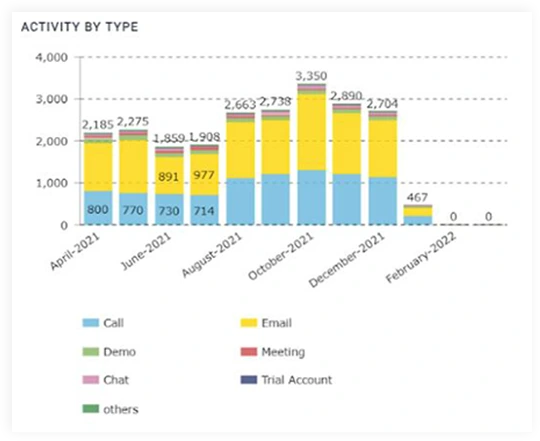 Custom Report
The purpose of designing this custom builder is to answer unique questions related to your business. With SalezShark custom report builders, sales leaders can create reports according to their needs and requirements. The data is taken directly from the CRM, which ensures all reports are unique and accurate. The SalezShark Custom Report is a kind of report that is created by the salespeople by picking up certain dimensions like City, Browser along with considering important metrics such as Pageviews, Sessions, and Bounce Rate to make informed decisions fruitful for the organization.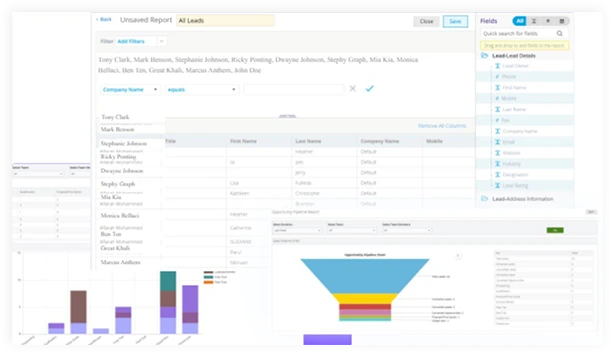 Real-Time Sales Report
We at SalezShark understand that business needs quick and factual reporting. At the same time, this report should be reliable and presentable. Therefore, we have developed a real-time sales report mechanism where sales leaders can fully customize sales reports with KPIs that they want to monitor in real-time. This report helps you monitor any deviation from the goals and take corrective actions in the initial stages.