How is SalezShark CRM software Future-Ready?
The market is unpredictable and dynamic. No one knows what is coming in the future. So your customer management system must be capable of handling the increase in workflow. It must be adaptive to the needs and the requirement of the business. This is very important for start-ups. Because we often hear that many start-ups fail due to non-scalability. Running and managing a start-up is entirely a different game as various obstacles hinder the company's growth. Therefore, all startup owners must adopt CRM online technology to succeed in their business domains.
It has been witnessed that startups with customer relationship management technology witness a 41% increase in sales and a 200% increase in lead conversion rate. So if you are a small business owner and looking for the best customer relationship software in the market, there is no other best alternative than SalezShark CRM services. It helps your business with improved decision-making, enhances productivity, and improves aftersales service and mobility.
Features that make SalezShark Management future-ready are:
Scalability
SalezShark allows you to directly integrate third-party integration or any web pages into the customer relationships, allowing you to design your application interface to provide uniqueness and a better customer experience.
Flexibility
When it comes to flexibility, there is no alternative better than SalezShark, as our platform is highly customizable and improved continuously. That is why we have many customers ranging from manufacturing plants to eCommerce stores.
Extensibility
SalezShark customer management increases its extensibility and usability by seamlessly integrating various popular business apps.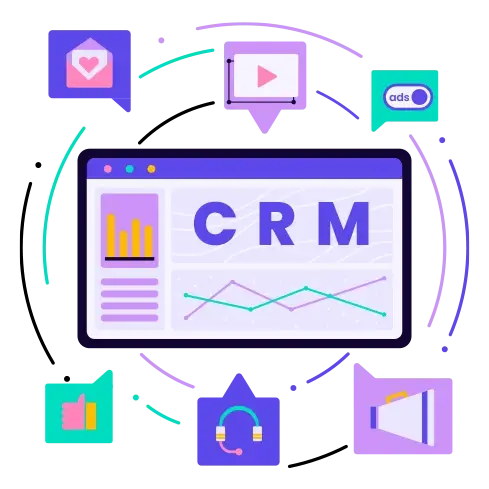 How SalezShark CRM helps build Strong Customer Relationships?
Customer expectations have increased exponentially over the last few years in almost all business sectors, which has increased the importance of customer service for any business. Today it has emerged as a crucial department, and free CRM marketing plays a significant role in its functioning. A user always wants to get associated with a brand that understands their needs and offers them relevant solutions. This is where the SalezShark CRM services can help your business grow.
A CRM management like SalezShark increases customer satisfaction by enhancing the overall purchasing experience as it enables you to understand the needs of the customers and lets you serve them. SalezShark provides you with a platform where you can communicate with your customers through various channels. This way, you offer them to connect with you through a convenient mode. All data stored at a centralized location provides greater accessibility which is very important while communicating with your customers. Because according to the survey, 33% of customers get frustrated when they have to repeat their needs to the customer support team.
Generally, companies invest a considerable amount in generating new leads for their business, but as a matter of fact, old customers pay more when compared to new customers. This is also where SalezShark helps your business. It not only pipelines new customers but also helps retain the existing ones.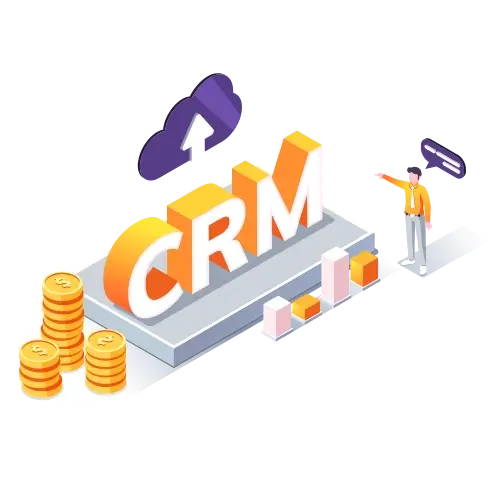 How is SalezShark CRM software Future-Ready?
Today in this competitive world, you cannot imagine selling your products or services without the help of Customer Relationship Management because customers are looking out for more personalized services due to market is getting tough day by day. SalezShark CRM marketing is loaded with many features to help you market your product or services ahead of your competitors. It increases the efficiency of your marketing team and leads them to create high-quality and result-oriented marketing campaigns which generate high-quality leads. These leads can be easily converted into successful customers, which results in better ROI. The best part is that all these things can be done through marketing automation features available in SalezShark CRM Management.
Customer Segmentation
The customer segmentation features let you understand your customer better. With this feature, you can segment your audience on various categories like region, sex, age, responsiveness, requirements, lead source, etc. you can then use these segments to target them through your tailor lead campaigns which is aim to solve their specific problems and helps you to market your products as the only solutions.
Lead Nurturing
Not every lead you capture needs to get converted into sales immediately. This is where SalezShark leads nurturing will help you by updating you with the status of your leads at every stage and letting you provide the relevant and valuable information which will help them in making an informed decision.
Email Campaigns
Let your leads engage and update them about your product and services and offer them great discounts whenever they abandon the cart. Inform them when the product is available or about any new announcement. Not even this, you can follow up with them by writing a personalized email or even trigger an email whenever they take any actions on your websites. Email campaigns with SalezShark open the door to new opportunities for your business. Use SalezShark email templates that industry experts have designed for better open rates. It is one of the best and most effective modes of marketing even today.
Create successful ads campaigns
With SalezShark, AI-enabled management creates campaigns across various digital platforms targeting your audience to get better results. Get the best leads with personalized sales pitches. By targeting the right keywords, SalezShark helps you save your budget.
Data-Driven Marketing
SalezShark CRM provides you with relevant data in real-time, which will help you to understand your marketing strategy. This way, you can focus on sectors with lower ROI. Data-Driven Marketing is the best way to optimize communication with customers. It uses the customer's data to predict future demands and behavior. This is done effectively by AI-enabled SalezShark CRM.
Ease of use
This is one of the basic requirements to be the best Business software. The platform should be simple and effective. The mission is accomplished if a user logs in for the first time and gets a clear view of how the software works. The task is completed. The software must also have an in-depth knowledge resource for more advanced features. People are the heart of your CRM marketing. Therefore, the Business software must help you better understand your audience. It should have a dedicated section for the audience, which allows you to provide information like the best time to connect with your audience, where you should put your sales effort, how you can know them better, etc.
Customization
Another essential aspect of the Business software is its flexibility to adjust according to your business need. It should accommodate company-specific terms, data requirement apps, and processes. The more it aligns with your system, the easier it becomes for your team to handle it and get maximum benefits from it.
Reporting
The best software allows you to monitor and track events to manage them to get better sales and revenue. Ideally, the CRM must be capable enough to generate various reports required within the organizations.
"Arms sales team with the
best time-saving tool"
Give the sales team a tool to close more sales deals with less efforts.
SalezShark CRM is what Small Scale Industry Needs
SalezShark CRM services have been designed keeping in mind the requirement and the problems faced by small and medium enterprises. It helps business owners single-handedly manage their customers and maintain healthy relationships. It helps business owners look at their prospective clients differently by providing all the relevant information about the customers, allowing them to manage them effectively and engage them with more personalized emails and offers.
SalezShark Customer relationship management also helps owners track the customers' online activities to customize their offers according to their services. SalezShark Customer management system can be accessed through android and Apple phones, which gives the flexibility to access information at their fingertips.
One of the significant problems small business owners face is compliance with the regulations. One of the critical problems small business owners face is compliance with the rules. SalezShark CRM online gives more visibility to the business owner about its clients base, which helps in formulating tactics and strategies for long-term profitability. This management can also work as your private consultant, allowing you to focus on your sales or customer retention.
SalezShark CRM lets you mark the important dates and events in the calendar and sends you an automatic notification to remember to renew your rules before they expire.
Customer Relationship software helps you streamline your sales process. It can create an effective sales pipeline, automate essential tasks, and provide real-time data to the sales team for better collaboration with the marketing team. One of the significant benefits of implementing SalezShark software is that it keeps all the team members on the same page by storing information in the centralized database, making it possible for all teams to access this information.
It might be possible that you may be using different software or application for managing another task. The software makes it easy to access this additional software in one place by easily integrating with them. This CRM software builds strong and lasting relationships with your customers. But also helps you in finding opportunities where you can pitch your additional product or services to your existing loyal customers.
All central system Software platform is scalable, giving your business flexibility to grow without worrying about changing the software system or altering your business process. At first, it may not appear to be a challenging task, but it is complex and expensive on the ground. It can be overwhelming to manage customers' needs, understand their requirements, notify them of a new product, understand their problems, etc. This is where This software can help by segmenting your audience into various categories and providing them with the exact information.
Customer service is one of the important aspects of every business. Resolving the client's query quickly and effectively helps your business grow faster. Salezshark software provides consolidated customer information on the dashboards, making it easy for your representative to resolve the issue in the shortest possible time. This will improve your customer's overall happiness, and they will become the brand ambassador of your organization as there is no better advertising than a happy customer.
"Make your sales experience smoother with No. 1 CRM"
CRM stores your customer information at one place to offer better customer service.