Elevate the level of your customer engagement with SalezShark Engage
SalezShark Engage is powerful CRM software that helps you to build strong customer relationships, maximize customer engagement, and drive business growth effectively. Your customers always want themselves to be your top priority and to achieve this objective, SalezShark Engage helps you: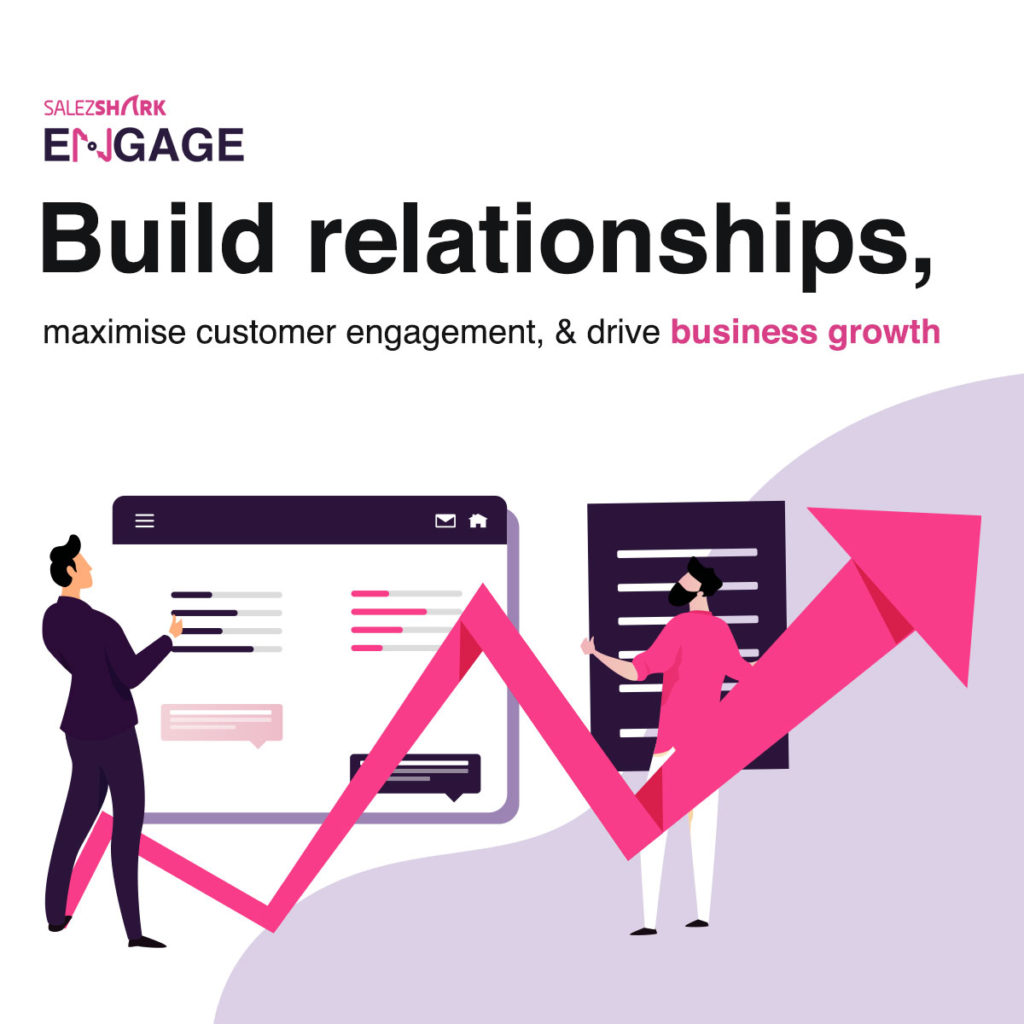 Deliver personalized customer experience by enabling you to get an idea of all the deals your customers made with your company in past or will make in the future. 

Tracks each & every customer interaction that helps you to know when & with who from your company customer spoke last, and what sort of interactions they had? 

Leverage the knowledge of customer interactions that helps you in making your customers feel special and they know you care & remember them which eventually enhances customer engagement.
How SalezShark Engage fuel your business growth?
Know your customers better
Know what your customers want by gaining access to intelligent insights offering you their buying behavior and preferences information. By leveraging the power of the SalezShark Relationship intelligence platform you can easily get access to these intelligent insights on activities performed on different leads.  
Improve your customer engagement
SalezShark Engage helps you in automating manual business processes that save your time on routine administrative works and enables you to focus more on driving customer engagements and relationships. It not only keeps your customer data organized but also helps in delivering personalized experiences to your customers which improves engagements. 
Manage leads like never before
SalezShark Engage automates your entire lead management process. It tracks & distributes leads automatically by scoring the leads based on any filter or rule pre-set by you facilitating effective lead nurturing resulting in higher lead conversions.
Track contacts & interactions in a few clicks
Improve the traceability of all contacts by streamlining them under specific accounts. An account is a company name under which you can have multiple contacts. This feature of creating an account by company name and creating multiple contacts under it helps you in tracking your interactions made with the company & various contacts registered under that account.
Track sales & opportunities effectively
Track sales key performance indicators, including current trends & future predictions. Create a sales funnel that helps you in analyzing the chances of leads getting converted into paying customers. It also helps you to know with which opportunity what is the expected revenue rate attached that makes the process of sales forecasting effective.
Assign sales targets
Set & assign sales target or sales quota with quota assignment feature of SalezShark Engage. It enables you to set and assign a sales target or sales quota for a particular sales team or individual sales agent for a stipulated time period which can be for a daily, monthly, or quarterly time period. 
Organize your inventory 
Keep your inventory organized by associating it with the accounts. Any product or service offered by you to any contact can be easily tracked through the Inventory management feature. It helps you to keep various documents arranged and tracked associated with inventory like the price book, list of orders, invoices, and so on.
Integrate 3rd party applications
Integrate your chat, email, and telephony process that helps you to address your customer queries instantly. From the system directly you can chat, send emails and make calls to your customers. It keeps a track of all chats, emails, and also all calls dialed get automatically recorded for future reference. 
Get 3rd party data in a few clicks
Integrate 3rd party applications like Gmail, Outlook, LinkedIn, etc. to SalezShark Engage which helps you to get complete information of your leads coming from there. Hence you don't need to do multiple sign-in on these different portals. By signing-in, on the SalezShark Engage platform, you can easily search, identify & import relevant contacts from these 3rd party applications.
Get real-time reports & insights
Make smarter business decisions with powerful, real-time analytics. Get access to real-time based reports on various sales, marketing, and business activities in the form of a Dashboard. This feature of Dashboard is dynamic in nature that showcases real-time reports entailing business insights in the form of tables, charts & graphs. 
Track employees performance 
Leverage the Leaderboard feature of SalezShark Engage that motivates your employees to strive for excellence. It helps senior managers and executives to keep a track of their performance as it displays their performance results on the system. It brings transparency and increases the competitive spirit among your employees. 
Stay productive on the go
SalezShark Engage is a cloud-based CRM that is highly effective in managing your dynamic sales and marketing teams. Its mobile application enables you to have important customer data at your fingertips even when you are away from your workstation. 
Elevate customer engagement and company revenue now