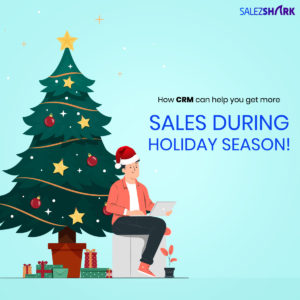 The holiday season is the most lucrative time of year for any business. December and January are the part of this holiday season and impactful for all kinds and sizes of businesses. A fruitful holiday season for businesses means enticing new customers, cracking sales, and establishing relationships with customers to carry you through the rest of the year. The holiday season is here; now is the time to formulate and implement your strategies to entice new customers. Let us look into a few cost-effective measures to be taken to ensure a fruitful holiday season for your business:
Plan & Implement Sales Goals:
It is an old adage, "If you fail to plan, you are planning to fail." Many shoppers plan their purchases in the holiday season, so it is the right time to plan and implement your sales and marketing strategies now. Be clear about your sales goals, set them wisely, and also plan a calendar if any promotions you wish to offer during this holiday season.
Optimize Your Web Site for Mobile:
The dynamics of sales and marketing has been changed a lot with the pace of time. The way of selling, marketing, and buying things has been transformed completely now. Shoppers today are more aware, and before buying any particular product or service, they wish to do a thorough survey of any product or service they interested in buying. They analyze products, compare pricing and features, and then come to any buying decision. This all is possible through the arrival of the internet on mobile devices. So if you wish to be highlighted in front of your target audience, then it is extremely important for your website to be responsive in nature, so it can be accessed through any mobile, tab, or iPad.
As per one random survey, the chances of products and services to be sold through online channels are increasing dramatically. These online portals are offering ease of access on mobile sand ease of payment methods that attract customers to a huge extent. Customers find this way of shopping more convenient, time-saving, and fast.
Give Special Discounts and Unique Offers:
Who doesn't like to discount and lucrative offers? Shoppers in this holiday season are not looking just a product or service; they also look for the best buy deal that fetches them good discounts. They look for lucrative and unique offers that make them feel privileged. They need a product or service that offers them true value for money. So come up with unique and lucrative offers and enticing discounts that compel them to buy from you.
Leverage the Power of Social Media Platforms:
Relationships get established well if it is two-way communication. You must follow people if you wish that people follow our business on twitter, facebook, LinkedIn, and so on. As you want that people should take an interest in your brand or business products and services, then you must also show interest in knowing what people want from your products and services. Go through the consumers' blogs and comments and try to understand what their concerns are. This will generate confidence in consumers' minds regarding your brand that you care for them and ready to listen to them. Besides this, merely showing interest in consumers' blog and comments not enough, try to come up with solutions for their issues and also share valuable insights regarding your business products and services that will help prospects and your existing customers to know your brand in a better manner. You can also create your brand presence online stronger by re-posting something that has been already shared on the internet related to your business and industry. Retweet the content on twitter that is related to your brand or industry.
It doesn't matter which social media platform you choose to fuel your sales this holiday season; be sure to link to your webpage to that particular social media platform. If your social media audience likes your content description, then they are more likely to buy from you.
So try to implement these simple strategies this holiday season and attract new as well as existing customers that can help your business see success over the coming year.