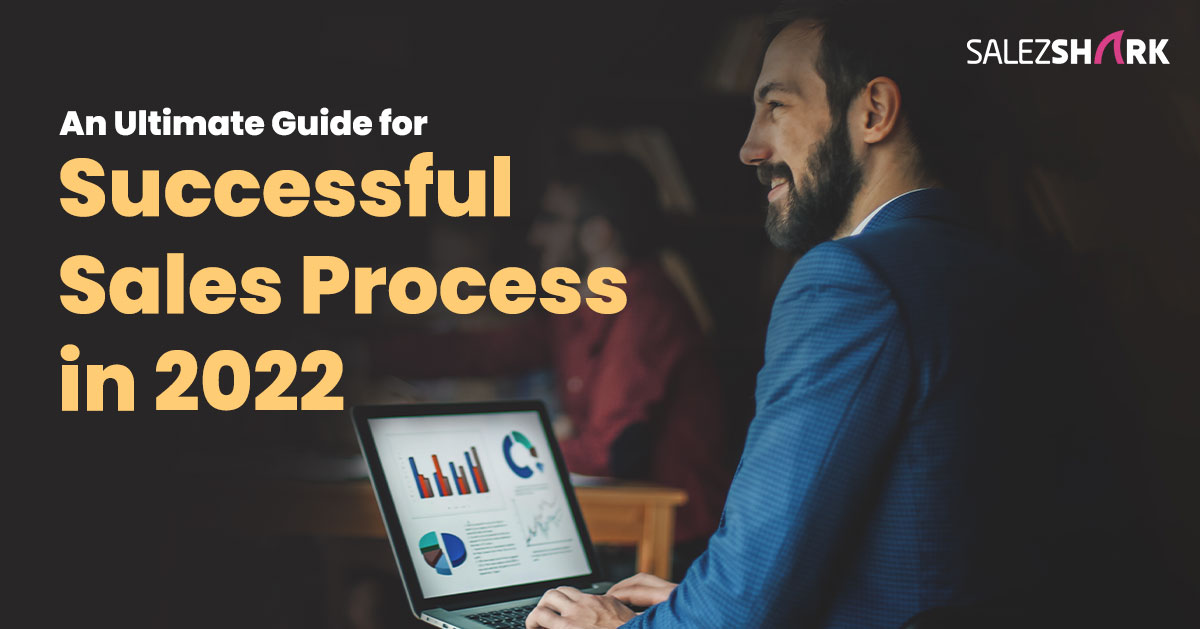 A sales process is a series of repetitive steps taken by a sales team to shift a prospect from an initial stage to a deal closure stage to turn him into a paying customer. An ideal sales process always helps salespeople to consistently close good deals by providing them a simple and easy framework to follow. So, if you want to run a successful sales process in 2022, keep reading this blog!
What is the significance of a sales process for your sales team?
If you are a sales manager managing a team without any sales process, then let us paint a clear picture for you. Your team has been performing different sales activities every day, taking care of different accounts, and accomplishing various deals. The most important metric tracked is the total number of deals closed and how much value are they creating for your team. When you don't have any visibility into the sales activities performed, and the revenue generated by the sales team oscillates, none of your team members has a clue why. For a successful sales process in 2022, you need to know the importance of an ideal sales process.
Get a deeper understanding of your customers
A well-defined sales process clearly displays the buyer's identity and the ideal profile for potential buyers. It enables sales reps better understand whom they should spend more time on instead of consuming a lot of time on the non-convertible and useless leads.
Get more qualified leads
When your salespeople will be able to filter the leads, understanding which customers are less interested to buy, they will only spend their precious time engaging with the right prospects. Putting more effort into prospects who are likely to turn into permanent customers not only justifies the time and efforts of your sales reps but also reduces the sales cycle. The SalezShark CRM software having AI lead scoring feature is useful in ranking the leads according to their level of engagement with your product as well as a sales team.
Make use of the right talent 
Running a Successful Sales Process in 2022 is not easy due to the current COVID situation. Thus, you require a standard sales process to build a useful insight into your sales team's performance at every step of the sales process. For instance, you will get the exact number of emails sent out by your team along with the metrics associated with it like click rate, open rate, bounce rate, and so on. It will not only help you to know who is sending out more user-engaging emails and having highly-engaged phone conversations but reps who need guidance in this area to run a successful sales process in 2022.
What steps are involved in the sales process?
Prospecting: Prospecting is the first step of sourcing early-stage and new leads to run a successful sales process in 2022. It's an essential step of your sales process which includes the daily or weekly workflow of your reps.
Find and qualify leads: The first part of this second step is to find, connect with early-stage leads to gather the maximum amount of information. The second part is to qualify new leads and decide whether they fit your business requirement or not and whether they will further move forward in your buyer's journey. If yes, it will be a sign of a successful sales process in 2022.
Research the company: Research will help your sales reps to create a more tailored and highly-personalized customer experience to close more deals. This stage is to understand various challenges associated with your leads and prospects' needs to sell your product easily.
Give an effective pitch: It is quite time-consuming. Therefore, it typically comes at a later stage in your sales process. Connecting and qualifying step is critical since it is reserved for highly-qualified prospects.
Handle objections: It's usual for your prospects to face various objections to your sales rep's proposal and presentation. To run a successful sales process in 2022 is a more specific step in the sales process. Be prepared to handle all these objections.
Close the deal: This sales process step includes the late-stage activities sounding like a deal closing step. It fluctuates from one company to the next and may include delivering a proposal, quote, negotiation, useful to run a successful sales process in 2022.
Nurture lead and continue to sell: The final step of the sales process involves nurturing your leads and continuously communicating with your prospects to sell your product to blissful customers.
Are you ready to accomplish a successful sales process in 2022 to increase your sales and elevate your revenue faster and better?
SalezShark Engage
is a complete CRM suite that makes it easy to organize and grow your customer relationships with built-in sales tracking, reporting & analytics, forecasting, data visualization, and more — all in one place. Follow us on LinkedIn, Twitter & Facebook to learn about the latest sales & marketing updates!