Before moving on towards the tools and tactics to close more deals in 2022, you need to answer one question first. Do you know around 65% of sales reps' time is spent in non-revenue generating sales activities? As a result, sales productivity and business ROI are adversely affected. Here comes the need for the top sales automation tools to standardize and automate the entire sales process from prospecting to relationship nurturing.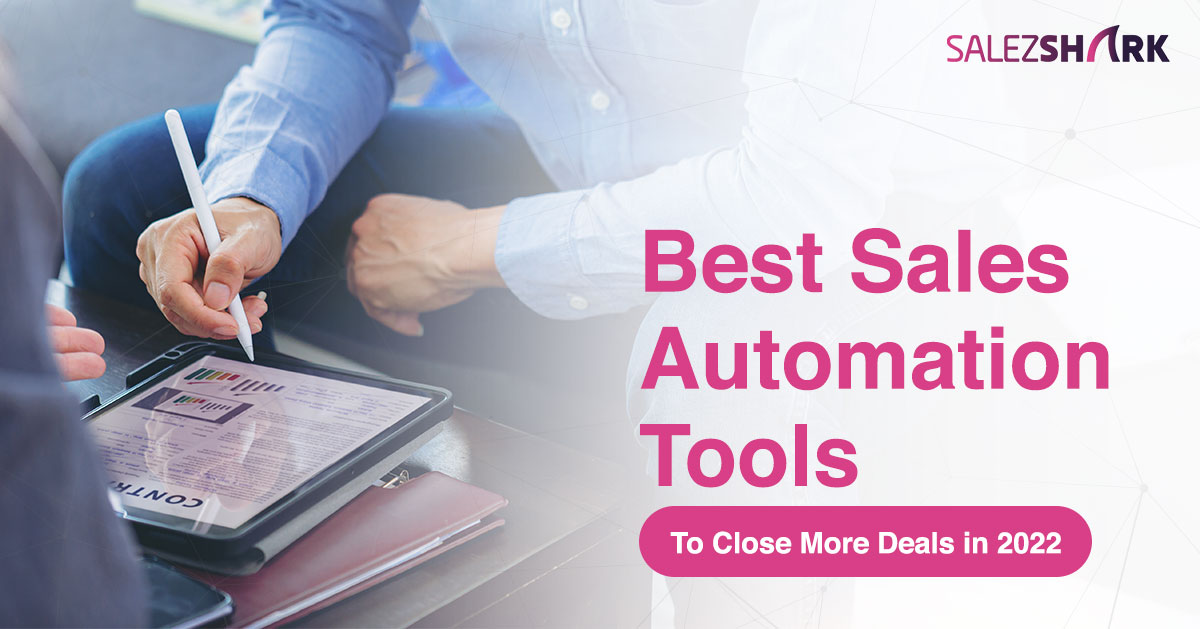 What are sales automation tools?
Sales automation tools are nothing but software-based solutions to empower your sales team, making them more successful, consistent, and efficient in workflow automation. These tools robotize every task associated with different sales functions like lead management, contact management, customer follow-ups, pipeline reports, sales analysis, etc. 
These tools eliminate the need for managing manual tasks such as:
Writing Emails

Prospecting leads

Entering data

Scheduling meetings

Maintaining sales records in Excel
With the appropriate use of sales intelligence tools, sales teams can invest the right amount of time bringing leads into the pipeline and less time shuffling papers. 
Benefits of sales automation tools
The best Sales Automation tools always streamline all tedious and time-consuming sales tasks to free up the time for sales representatives and managers to focus on more that can generate high revenue for what they have been hired for.
In addition to refining sales efficiency, sales automation also helps employees adapt to remote working conditions more steadily. 
Research has shown that these tools decrease marketing overload by 12% and enhance sales productivity by 14%. Some automation systems are so powerful that they can reduce sales administration time by 14% and increase sales closure deals rate by 30%.
These intelligent tools enable the sales team to make good connections with their customers convincing them to arrive at their place again and again. SalezShark Sales automation tools overcome all business stress with the easy handling of sales tasks with an accurate schedule. 
Both managers, as well as employees, can be assured that sales activities are running smoothly without any unwanted distractions in the sales cycle. 
Best Sales Automation Tools in 2022
HubSpot Sales Hub
HubSpot Sales Hub is one of the leading sales automation tools in the sales market. Its cloud-based system provides real-time engagement updates and robotized business communication. This enables the sales team to connect quickly with hot deals and potential customers. 
Features:
User-friendly click-to-call dialer

Automated contact data entry & engagement history

Real-time notifications about leads to take an immediate action

Consistent HubSpot CRM integration

Automation of chronological email follow-ups to ensure your sales team is properly connected with leads at right time.
Pricing:
This automation tool offers free access to basic functionality for every salesperson. 
The starter package costs $40 per month. 

The professional package costs $800 per month. 

The enterprise package costs $3200 per month.
Leadiro
Leadiro qualified in smart B2B contact data with 100% accuracy. If you are looking for generating more leads in the emerging competitive market, Leadiro is one of the best sales automation tools for you.
Features:
You can easily filter target accounts related to technography, firmography, and demography.

From price to lead generation features, everything makes it suitable for your high sales productivity.
Pricing:
The cost of this intelligence tool begins from a free to a premium plan for $259 per month.
Leadfeeder
It is the web intelligence tool that generates more leads by keeping an eye on companies who visit your site. It keeps a track of which leads are visiting your door, how useful they are, how much engagement they are showing on your platform along their contact information. 
Features:
CRM automation & integration

Lead filtering

Email integration

Reminders

Centralized Dashboard
Pricing:
The Lite plan is free for accessing its basic features.

The premium plan costs $55 per month (initial cost).
Pega Sales Automation
Pega Sales Automation is the software system used to accelerate the sales cycle, enhance productivity, and hence the business revenue. Its lead scoring features help to identify the hot leads via Artificial Intelligence (AI). 
Features:
Leading ranking score to judge the performance of sales representatives.

Email integration and outlook calendar.

Knocking good sales opportunities to establish repeat purchases frequently.

Persoanlized deal finalization.
Pricing:
The Standard package costs $140 per user every month.

The Intelligence Edition package costs $170 per user every month.

The Engagement Edition package costs $240 per user every month.
Growbots
Growbots is a 100% automated outbound sales automation system that lets you manage email drip campaigns and CRM integration. The idea behind its development is to simplify the sales lead workflow and bring hot leads with fruitful outcomes.
Features:
Instant contact lists

Targeting specific companies and profiles

Unlimited access to a vast database

Self-updating database keeping bounce rate low
Pricing:
You can purchase all in one plan at $199 per user per month.
Wrap Up
To close more deals with high success in 2022 is easier now with the best sales automation tools described with their features and affordable pricing. To get an additional benefit of AI-based CRM, all you need to do is contact the sales intelligence team of the SalezShark sales automation platform to get rid of manual sales tasks with their excellent resources. So, what are you waiting for? Take a free trial now on SalezShark CRM Software.