Do SMEs still follow manual strategies to complete their sales cycle? Are their facing difficulties in generating handsome revenue every year? Irrespective of the industry, SalezShark sales automation software is an ideal automation solution to accelerate their lead conversion ratio and valuable customers at their panel without any trouble.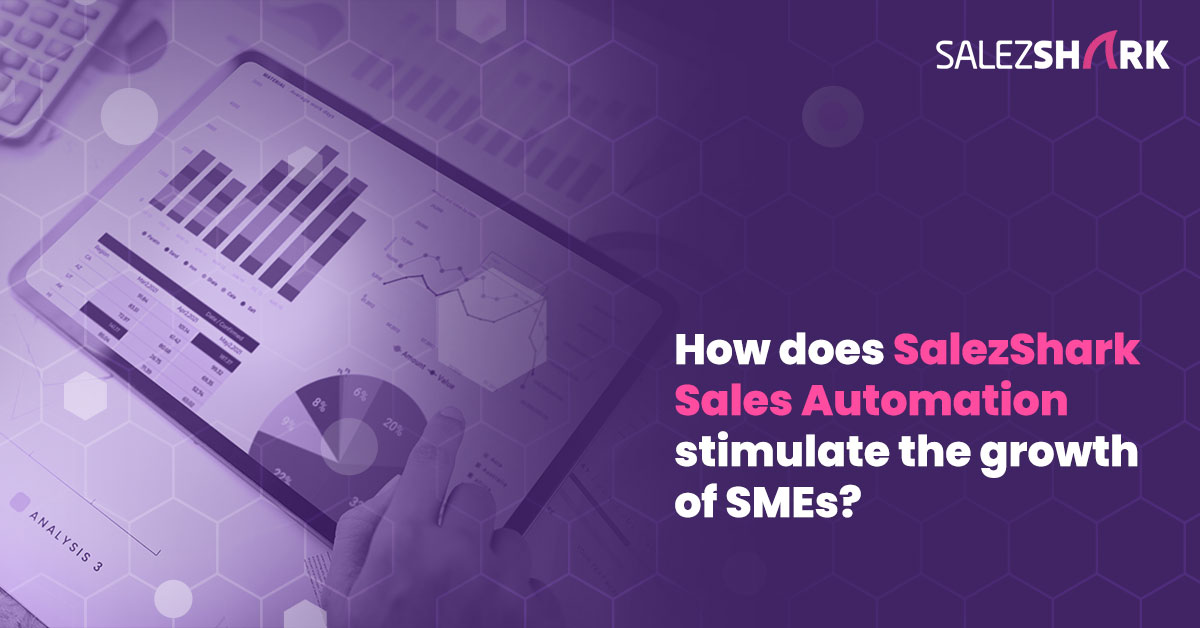 What is SalezShark sales automation?
Sales automation refers to the technology used to create consistent, advanced, and tedious-free sales processes by automating all sales functionalities without any failure. 
SalezShark Sales automation makes use of the software to get rid of repetitive, tedious, and manual sales activities by automating them to enable the sales employees to aim more at closing more sales deals in less time.
Features of SalezShark sales automation tools:
Manage your sales pipeline

Automate follow-ups

Send personalized email campaigns to customers

Easily train new sales employees using a scalable and repeatable system

Send timely invoices and payment reminders to clients without having awkward conversations
When sales automation combines with marketing automation software, your automation software becomes much more powerful to stimulate the growth of small and medium businesses. 
Advantages of SalezShark sales automation software
Sales tracking in one place
Have you ever played the game of telephone? Beginner passes one information to the next person which is further passed among many people. This way the details get inconsistent and things get messed up. To avoid such confusion in the sales process, the sales automation tool handles the sales process in a single place.
Quicker responses mean happy customers
Sales automation tool increases customer personalized experience and faster responses to solve more customer questions and queries. With instant customer responses in real-time, the customer satisfaction rate also increases. More customers stay at your place which in turn increases sales productivity.
Activity Logging
Sales automation software help in logging usual communication channels like emails, phone calls, and in-person visits. When all these channels are logged in real-time, one sales representative can get to know how far another representative has communicated with a targeted customer.
Funnel Monitorization And Sales Forecasting
Your sales funnel acts as the actual roadmap for the whole customer journey starting from the phase when they knocked at SMEs' doors till today when they are meeting again with you as your repetitive buyer. 
Sometimes you may lose your essential leads and potential customers from the sales track since you may remain occupied with other sales tasks on your task plate. 
By moving to automated modes with the help of a digitized funnel, you can properly and timely take follow-ups with your lineup customers in your comprehensive list.
Pipeline Management
There exist different pipeline management tools such as activity notifying tool, automated workflows managing tool, pipeline reports creation tool to qualify the next steps directly moving towards deals closure with high customer satisfaction. 
Wrap Up
Thus, the primary goal of SalezShark sales automation is to create a strength for SMEs that can capture the attention of their target audience faster and help them to meet their defined sales goals. This is how you can achieve beyond than you have imagined for SMEs' growth. SalezShark is one of the renowned Marketing automation platforms helping many businesses to make a cost-effective transition to take the success graph of SMEs to the next level.