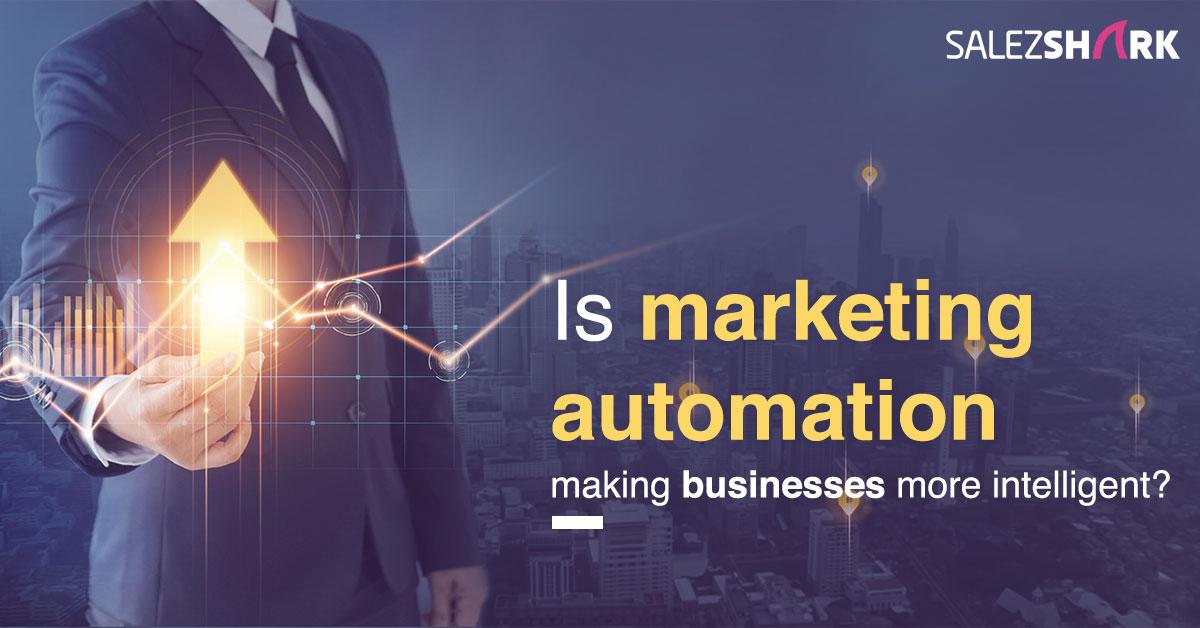 Marketing automation is a unique concept for every business to synchronize and automate their marketing workflows to improve operational efficiency as well as lead conversion ratio.
Marketing is the driving force of any business. Do you know how and why? If you have a breakthrough product or service, and your target consumers are heedless of it, your business won't be able to achieve its goals. Consequently, your business will soon die.
Being a business owner, if your team still has not opted for a marketing automation platform, you need to read the entire blog to know how worth the marketing automation is for your business's success. Also, how artificial intelligence is ruling the marketing industry to elevate revenue faster.
What is AI marketing automation?
When artificial intelligence is fused with marketing automation, it acts as a backbone for marketers to optimize and automate every task running across the marketing spectrum. 
It is becoming very challenging to manage all the marketing efforts manually. You must have sufficient resources to successfully operate the marketing technologies stack. Combining marketing automation with AI acts as a superpower by cutting down most of the risks arrived at throughout the marketing cycle. Marketers can improve campaigns engagement by drawing everything accurately about their consumers to provide personalized customer experiences with precision. 
What are the common applications of AI in marketing?
Data Insights
AI is the biggest supporting technology to provide useful data insights, particularly for marketers who can't reach out to data engineers. The recent AI models have the ability to identify the right patterns in customer data and then convince customers based on the generated patterns. This is how top entrepreneurs discover the impact campaigns much before by powering analytic models on their marketing techniques.
Personalization
The next advantage of AI marketing automation is personalization. It boosts up the speed and scale using AI models to analyze customer preferences to personalize real-time content accordingly. It also helps in product recommendations, self-optimizing campaigns, dynamic websites, and personalized messaging (the most common example is chatbot).
Campaign Recommendations 
Artificial Intelligence plays a crucial role to recommend the correct content to marketers so that they can build customer-engaging campaigns in less time. AI takes care of your tone of voice recommendations and image recommendations.
Scheduling
For correct Campaign Recommendations, scheduling is the best use of AI in marketing. Every customer wants to communicate at their preferred time, and we know that each prospect's open and click patterns affect our campaign performance. Thus, AI time optimization algorithms fill tremendous capability in your marketing automation software.
Programmatic Advertising
For marketers who advertise their products digitally, taking the help of AI for successful programmatic advertising will offer thousands of amazing benefits. Artificial Intelligence analyzes data in real-time that helps marketers to implement bidding strategies faster to maximize revenue by presenting the right content to the right audience with high relevancy.
Benefits of market automation for every business
Marketing automation refers to the use of software to automate all three marketing processes customer segregation, customer data consolidation, and campaign management. The use of marketing automation makes processes easier by making manual tasks much more efficient.
Increase Productivity
One essential function of marketing automation is untangling daily marketing tasks. By effectively eliminating the repetitive manual processes and introducing automated solutions. It increases productivity since it helps the marketers to focus on tasks other than manual monitoring.
Strengthened sales and marketing team bond
Sales and marketers are the epitomai of frienemies. The salespeople fight for more leads, while marketing rebukes sales for dissipating the leads they worked hard to obtain. Marketing automation eliminates the clashes by strengthening the relationship between both teams. 
Generate potential leads
Lead generation is one of the extremely important processes for any business' growth. Automating each step involved in sales and marketing gives your team more time to focus on marketing and leads nurturing strategy. This implies marketing automation provides a richer and more detailed picture of your customer behavior.
Behavioral tracking methods like analyzing a user's path coming to your website. This is how your sales team can understand your prospects' interests.
Customizing the customer experience
Marketing automation tools ensure that the buyer gets the right content at the right time. The captured content is then filtered to capture the essential data. Which emails, customers are opening and clicking upon? Which posts are doing well on your social media channel? How do social media visitors jump on your website?
One effective use of marketing automation is that it helps in retaining more customers using marketing intelligence. It provides relevant business insight into both existing and prospective customers. 
Tracking marketing campaigns
Dictating the success of any marketing campaign can be accomplished by measurable data, data picked through precise tracking. Our best Marketing automation software not only helps in monitoring marketing expenditures but also analyzes the users' responses to these campaigns depending upon the specific success or failure parameters.
Final Thoughts
Thus, it is depicted that marketing automation provides an accurate customer profile and significant data management capabilities to small and medium businesses to help them serve their customers better. Though we can never predict the right position in which our marketing industry is heading right now. But yes, experts have found out that it's completely safe to combine AI with marketing automation to prepare your business for upcoming opportunities with the advancement in our technology.