Marketing automation is no longer secluded to the threshold of wealthy and powerful businesses. Once expensive is now totally cost-effective for even SMEs and start-ups to increase the customer base, automate repetitive tasks, and receiving instant reminders/notifications. Marketing automation is the intelligent software that automates the actions of email campaigns, generates actionable analytics, and predicts the performance of campaigns even before sending. Isn't it makes the lives of marketers easy and less time-consuming? Therefore it empowers you to come up with more creative campaigns to run B2B emails on a regular basis.
Marketing automation offers increasingly productive methods for doing different tedious tasks with a simplicity that delivers consistent and one-one-one customer experience.  Moreover, it delivers the right content, to the right customer, at the right time, empowering personalization touch and brand trust.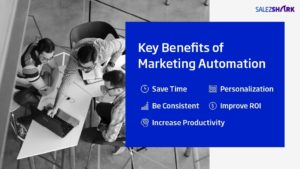 What are the Key Benefits of Marketing Automation?
No matter, if you are the founder of SME or the manager of the marketing team in leading MNC – you must generate revenue to survive in the competitive world by pushing marketing efforts ahead of everything. Amongst many benefits of marketing automation, let's shed light on a few advantages that purposely add value to your business:
Saves Time – Schedule campaigns beforehand and utilizes that time into some other marketing activities for better business results.
Increases productivity – Make more space for brainstorming with the idea of automating your marketing tasks and come up with even more effective ideas, or series of creatives.
Personalization – Create tailored and customized messages according to the client requirement and send them with the personal touch for increased engagement and sales.
Be Consistent– Make sure the messaging and image should be the same on all your platforms – be it website, email, social media posts and ads to sound consistent to your leads and clients.
Improved ROI – When you target the right audience, your marketing budget is likely to used efficiently and justifying the ROI.
Strategic Tip for Marketing Automation
Did you know that marketing automation can reduce your marketing expenses by 12.2% and increase your sales by 14.5%? Yes, that's true! Automation stands for improving your productivity and boosting your lead generation efforts collectively. Although you would be taking regular follow-ups with your leads marketing automation will assist you by notifying which campaign should go out and which one is performing better than the rest. However, the software will not be writing emails for you, because you excel in this framework. But it will make sure your email will land in the right inbox of the right recipient.
Get ready to get the most out of your marketing initiatives with SalezShark marketing automation.