The year's end means the beginning of a new one with new possibilities in the year 2020. Especially if you are a sales professional, then I'm sure you have started planning how to build a better relationship with your prospects. As per one random survey, most of the consumers not only buy a product or service they buy emotions and experience also. The way you make them feel during their buyer's journey matters to them more. The way you approach and pitch your products and services make a difference. As we already know that a well-crafted email is one of the effective ways to connect with prospects; however, to make that email impressive and increase its open rate depends a lot on its subject line. The subject line of your e-mail should be precise, readable, and should directly meet the recipient's needs.
So, how to draft that perfect sales email subject line? It all requires a little bit of creativity. To help you, we have compiled a list of best subject lines on various situations that can be used by your sales reps in the year 2020: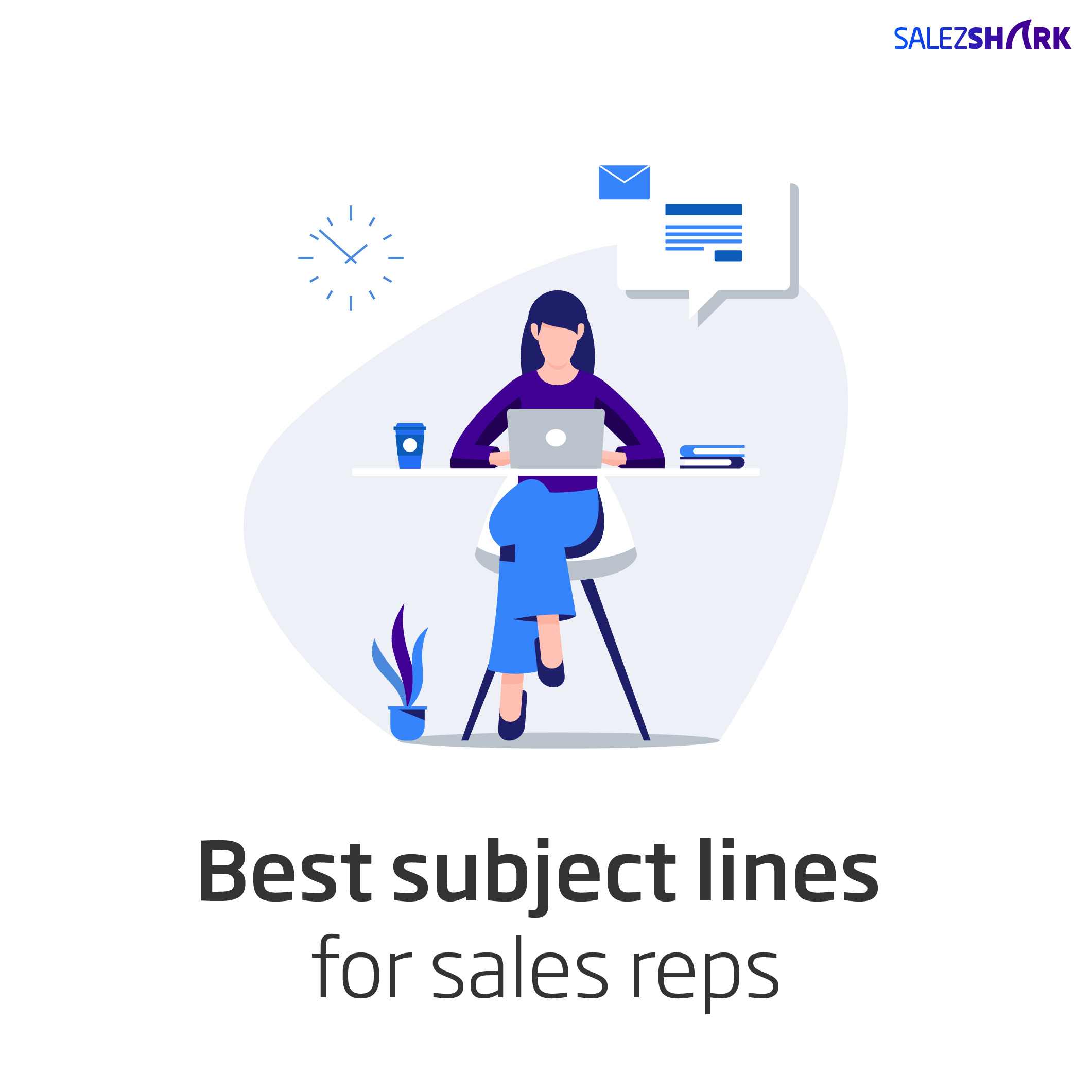 Subject Lines asking Questions:
How are you coping-up with (Pain Point)?
Thinking about (specific goal)?
Are you making these mistakes?
Question about (Goal)
Where shall we start?
Are you ready for?
Can you help me out?
Want to discuss (Topic)?
Can you guide me in the right direction?
(First Name), what went wrong?
Subject Line with Mutual Connection:
(Mutual Connection) asked me to get in touch with you.
(Recipient's Name), it's finally nice to connect with (Common Ground).
Build your (team) like (favorite sports team)
(Mutual connection) told me to get in touch with you
(First Name), I love (favorite facebook group) too
One Question. (question about favorite place)?
Things didn't work out here. How about (playing favorite sport) next weekend?
Subject Line that creates Urgency:
Time to get ready for (event)!
Only two weeks until (regulation law).
One last quarter to hit (specific target)?
Only a few seats available for (conference/training classes/etc..)
Need help in implementing (change due to regulation)?
Subject Lines with Value Proposition:
Key challenges in implementing (solution).
(Recipient's Name), wish to know more about (solution)?
Resources to help with (pain point)
Ideas for (goal)
Subject lines for Event invitation:
Don't miss out: (Event Name)
Largest (Event Type) in (Geographic Location): (Event Name)
Hi (Recipient's Name), free (Date)? Join us at (Event Name)!
Special, early bird offer for our fans!
Exclusive ticket price just for (Recipient's Name)
Hi (Recipient's Name), it's here: (Event Name + Year)
Last chance to see (Speaker/Performer) live at (Event Name)!
(Event Name) is almost sold out. Get your tickets now!
You're about to miss (Event Name)! Get your tickets before they sell out
Subject lines for event follow-up:
Take this survey and help us improve (Event Name)
What did you think of (Event Name)?
You're awesome for attending (Event Name)
Subject Lines for Holidays & Festive Discounts:
We're feeling very merry. Get 50 percent off your order.
Get up to 20% off before the ball drops tonight!
Goody gumdrops! Free Shipping.
Be thankful, get a coupon.
Jingle, Jingle! Our Christmas Shop is Open.
New Year Savings to Renew You!
3 perfect holiday gifts
A sale to escape the winter weather!
Are Your Holiday Cards in the Mail Yet? Get 60% Off!
Family from Far + Wide, We've got the makings of your cozy Christmas morning
Merry Christmas! Surprise your family with a pizza dinner!
Going on now. The very Merry sale!
Last-minute Gifts, Santa-Approved
It's time for some Santa Banter!
Santa, can you hear me?
Let's catch up before Santa gets here!
Resolve to look good
Get your New Year's resolution off to a new start.
New Year new me, blah blah sale is going quick.
Your wish list is about to grow.
Welcome the New Year with bigger and better deals
Short Subject Lines:
Request to connect.
Are you ready?
Just tried calling you.
Oh! I forgot to mention.
Time to Part Ways
It's not you, it's me.