Marketing has advanced essentially throughout the years and has turned out to be more mind-boggling and complex than any time in recent memory. With marketing automation in CRM, a business can automate workflow and upgrade an assortment of marketing undertakings. Marketing automation focuses on account-based online marketing such as personalized emails, social engagement, web management, and analytics. It allows marketers and salespeople to easily connect with the right lead, for the right location, and at the right time. This will empower every business owner to access the high-end technological tools to accelerate the sales cycle, build dynamic campaigns and check analytics to help them grow.
For marketers who are still exploring the facets of marketing automation, we have compiled some must-have features that any marketing automation tool should be capable to offer you.  The listed features of SalezShark simplest marketing automation will assist you to increase employee productivity, saving time on manual tasks and connecting with the right lead at the right time.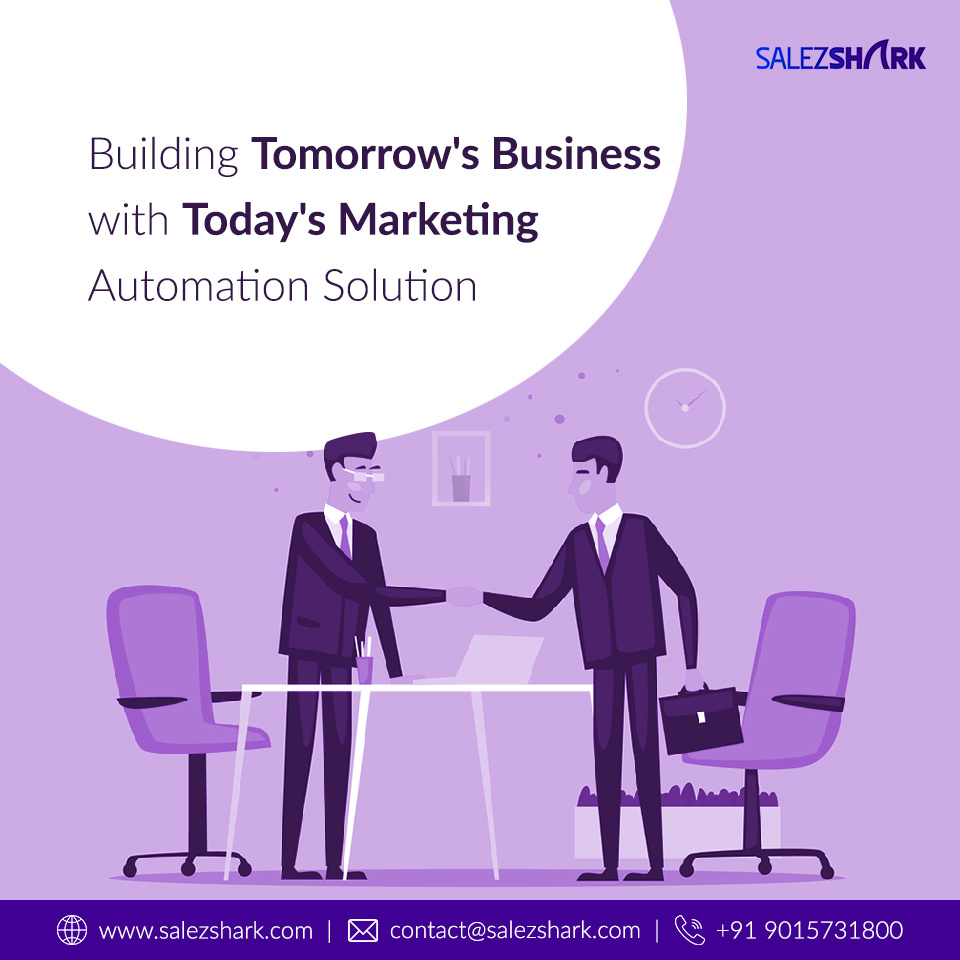 Top 8 Must-Have Features of Marketing Automation
List Segmentation:– Divide contact list into groups/segments to trigger the right message to the relevant consumer base and move them closer to buying. Thanks to the framework of marketing automation that helps in segmenting database based on location, device usage, behavior, and statistic. It effectively manages the client data and filter information based on the specific criteria.
Visitor Tracking – Need to see who is seeing your site? On which page the lead is evaluating? Oh, did someone just sign-up? Is anyone checking the pricing page? Get the real-time alerts of all such questions once you integrate the powerful marketing automation that is capable to track prospect and visitor's action. Track the results of your website visitors to determine high-value prospects and plan engagement accordingly.
Lead Scoring & Management – Being the basic principal feature of marketing automation, lead scoring empowers marketers to focus on the most engaging leads based on his actions. With regular organic and paid promotion, you are likely to be flooded with a number of leads/inquiries that are awaiting your attention to be nurtured. Before passing on these leads to the sales team, the organization must invest in the subtle art of lead management that begins with lead capture, lead qualification, lead distribution and finally lead nurturing. Having the option to move leads through the marketing funnel is a difficult job and ought to be taken care of by your Marketing Automation Platform.
CRM Integration – You must have heard about the proverb that states 1 + 1 = 11. Based on the same line, the integration of CRM with marketing automation is a powerful weapon in today's competitive business space. It will result in better cooperation of teams and your sales & marketing will be on the same page when it comes to managing leads, customer grievances, lead distribution, examining campaign analytics and more. There will be transparent communication between two robust team groups and better alignment of client engagement and deal closure.
Email Marketing – Moving ahead of the traditional email sending mechanization, email marketing in marketing automation is way ahead of your open and click rates. With SalezConnect, you can target the right audience by simply drag-and-drop contacts mechanism, choosing the pre-defined template, personalize the email body, A/B test the content before sending, preview the email look, get AI driven predictions on campaign performance, strategize campaigns through impact analysis and calculate marketing productivity & ROI.
Landing Pages – Optimize your landing page with email marketing and move prospects straight to your sales funnel. Landing pages and forms are a crucial aspects of any lead generation strategy. Marketing automation lets you fabricate customized landing pages without the assistance of HTML code. You can build multiple landing pages and design as per the industry requirement to attract as many leads as you store in your contacts base.
Drip marketing – Trigger right messages at the ideal time to nurture customer's experience through the automated marketing funnel. It saves the complex process of sending email to prospects at different stages of the sales cycle. Moreover, it assists in maintaining customer relationships through triggered messages and keep on reminding them that we are here for a valuable and best customer experience. Drip campaigns touch leads on regular intervals and it becomes hard for prospects to neglect without making the buying decision.
Social Media Integration for Lead Capture – When you are automating your email & lead management, you better opt for the marketing tool that automates your social media as well. With marketing automation, you can post campaigns with easy-to-use post scheduler and keep a tab on different social media channels from one platform. Get detailed performance reports of each campaign and actively respond to client queries. Map all your leads at zero effort from the Facebook/Instagram lead ads integration.
Top 8 Must-Have Features of Marketing Automation
SalezConnect support marketing operations of small and medium-sized businesses to manage all prospect interactions at a single platform. Our customers credit us for the increase in their sales conversion, a surge in sales volume and leveraging customer experiences single-handedly. If you wish to learn more features of SalezShark marketing tool, do request for the FREE trial by calling on 9015731800 or drop us a line at contact@salezshark.com.