With SalezShark Marketing Automation, you can create thousands of emails every day in lesser time and just with handful of employees. Just drag-and-drop is enough to create meaningful campaigns and engage millions of prospects right away.
From the beginning of sales journey, keep your prospects informed about the product through email marketing that would nurture customer relationships for better sales. With zero dependency upon your technical force, you can create beautiful campaigns in a personalized way and run your marketing campaigns across different platforms. For salespeople, marketing automation assists you to target the right audience at the right time for the right location and thereby closing more revenue.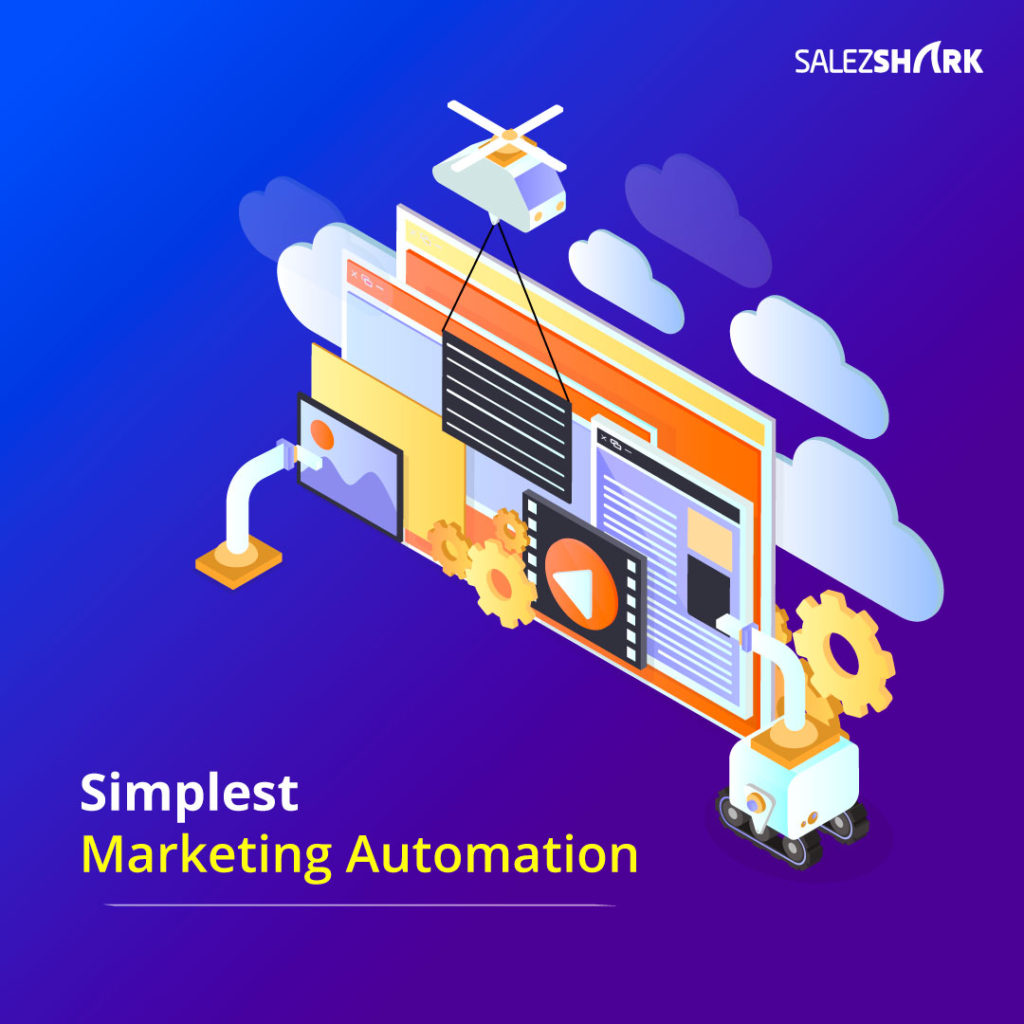 Create effective campaigns with minimal human intervention– Analyze the performance of email marketing campaigns with accurate open and click rates that would assist you in understanding the real-time consumer behavior based on the engaged recipients. On the marketing dashboard, you can view your email campaign report summarizing the open, delivered, and click rates for improving marketing strategies that need to align for upcoming campaigns.

Spend Less Time on Execution & More on Conversion – By analyzing the performance of each email campaign, SalezShark marketing automation assists you in finding qualified leads, while enhancing your productivity and streamlining the work process effectively. The statistics provide you greater control over the top engaged contacts by showing the successful deliveries, bounces, unsubscribers and spams based on the real time engagement graph.

Your One Stop Go-To-Marketplace – With 100% digital marketplace, email communication is the right preference to connect with your clients and consumers alike. Know your top campaigns in a single glance to optimize your marketing strategies and get the better aspect of campaigns that won and lost in the email race. Drive your business forward by reiterating those successful campaigns and nurture leads with the best crm software for small business.
Flawless Marketing Solution with Better Analytics – The accurate campaign results of this flawless marketing solution is meant to simplify your email marketing strategies and reduces the dependency upon business analyst. With nurtured campaigns, the SalezShark marketing automation does all the groundwork of your sales pitch and prepares you for the one-on-one customer interaction. With such statistics, the businesses can reach out to the right target audience and send them what they expect by directing the links towards the tracked pages.
Only Marketing Tool That Offers Beyond Click & Open Rates
We're constantly trying to make your campaigns easy. Give the personal touch to your emails without investing personal efforts.
Studies reveal that email provides highest return on your marketing front. Since we always strive to go ahead from the cliché we bring to you loads of other features that would assist growing your business at the larger scale. With SalezShark Marketing Automation, your leads will be attracted to various marketing channels like emails, content, offers, and outreach at scale.
Intelligent Analytics – Track entire life cycle of a lead and find out your active recipients with event tracking on sent emails.
Campaign Builder – Create simple text or HTML emails to engage your target audience.
Import Contacts – Keep your contacts informed about your business advancements.
Lead by Campaign – Track the entire campaign lifecycle to see where your leads are coming from.
Top Marketing Executives – Find your top performing marketing executives with number of campaigns they send and how many leads generated against it.
Lead by Status – Figure out which lead is resting in which sales dome. Use lead by status feature to know the exact ratio of open lead, qualified lead, converted lead and more.