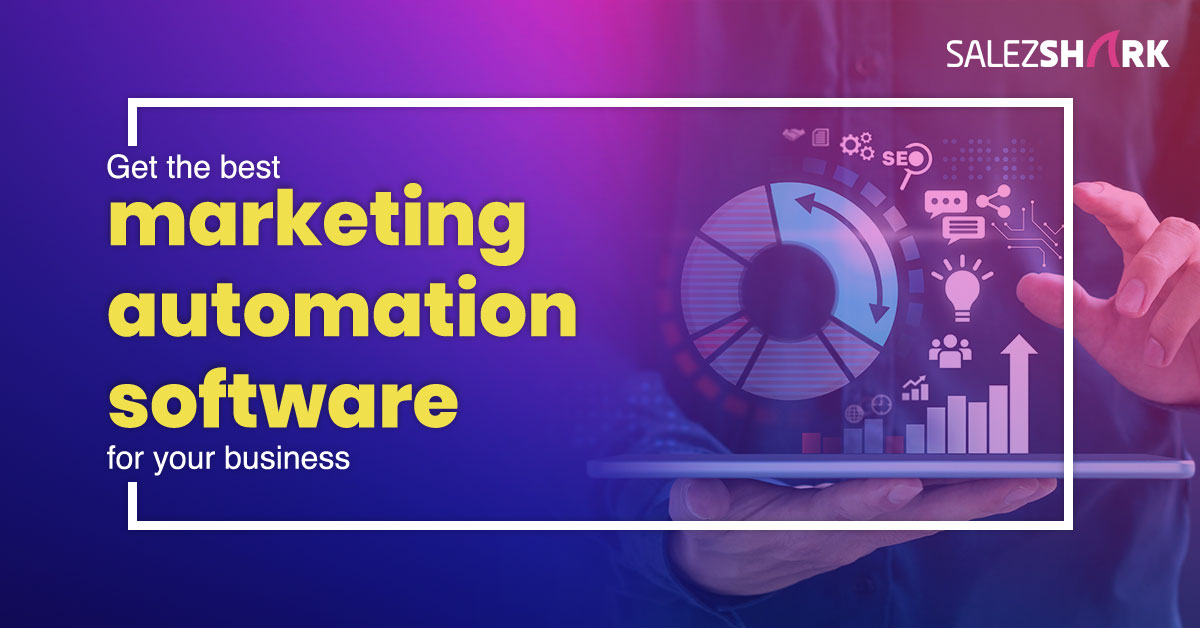 Successful business growth works ideally on a strategy that orients customer needs and experience. Modern buyers look for such businesses that can offer a value-based experience as well as consistent engagement. Have you ever imagined what will happen if you will automate all the repetitive tasks that go into creating and sending successful marketing campaigns? The best marketing automation software works like running your campaigns on autopilot mode.
If you want this kind of experience, then you must pick the right automation product to meet your specific needs and business goals. Remember that modern marketing can not happen on one channel. You must surf across the internet on a bundle of devices simultaneously to connect with a wide variety of audiences. SalezShark marketing automation software comes among the leading automation solutions globally.
What is marketing automation software?
Marketing automation is a series of simple steps that streamline routine business processes using the software known as marketing automation software. 
By automating your work by using well-defined parameters and triggers, you can free up a lot of time for your sales and marketing teams to enable them to focus on necessary business goals. 
Marketing automation software is all about automating your marketing activities and repetitive tasks like social media posting, email marketing, and ad campaigns both for higher efficiency and a more personalized experience for your customers. This marketing automation technology makes your tasks much easier.
Essential marketing processes automated by marketing automation software
The best marketing automation software helps in automating several marketing processes proficiently. There are three main marketing workflows to get automated to stay ahead of your competitors.
Email Automation
Interacting with your customers via email messaging has become quite common but what if you would automate sending your emails including a welcome message, any product update, exciting offers, or setting up a drip campaign to the same set of subscribers.
Email automation allows your concerned team to consume less time sending similar emails to individuals on the repetitive mode and helps them to more focus on primary goals.
Lead nurturing
Lead nurturing is one of the vital tasks while automating certain parts of your customer journey. It involves creating different sales and marketing strategies to convert leads into paying customers. 
These potential customers' interests evolve. So, if you want to create a good experience for your brand, you must adapt to all the changes currently undergoing in the market.
Generating good leads is not enough for your business, nurturing them properly is also necessary. You can identify certain factors that impact buying decisions along with refining your email marketing campaigns.
By integrating marketing automation into SalezShark CRM software, you can finetune your audience research to increase their re-engagement at your platform. 
Reporting & Analytics
Correct and user-influencing marketing campaign reports are very important, but of course incredibly time-consuming. To avoid this hectic situation, you can contact the SalezShark marketing automation platform to help you in generating proper reports at right time using quality customer data.
The more the process gets automated using marketing automation software, the less are the chances of errors and other inconsistencies. Also, the SalezShark marketing automation platform streamlines your sales process and helps you to analyze those marketing activities that can drive the sales pipeline and accelerate your revenue. 
Additionally, it can also automate your keyword research, social media outreach, referrals, customer service tasks, and website audits.
What are the offerings of the right marketing automation tool?
Different marketing automation tools offer specific capabilities and wide functionalities. But there are some essential features to consider before signing up for any marketing automation software for your small business.
Email & Campaign Builder

CRM

Integrations

Cost

Landing Pages & Forms
These all offerings and above factors make SalezShark the right marketing automation platform for small businesses that will provide you with the best marketing automation tools for scaling your business.
How does SalezShark Marketing Automation software help small businesses?
Marketing automation software, especially for small businesses empowers the direct marketing and sales arenas. Let's see what are the benefits of marketing automation software for small businesses:
Better understand your customers
Today, many people migrate online and thus the majority of customers prefer online shopping. Due to this, salespeople have to rely on analyzing their customer's online behavior to catch their prospect's interest in their products and services.
The more you will understand a lead's online behavior like their online activities, how many times they have visited your website, social media mentions, the better you will serve them with the best services.
Marketing automation software helps to simplify the whole marketing process, segment your prospects based on specific criteria. This way you can better create personalized and targeted marketing campaigns. 
Increases customer retention
With marketing automation tools, you can create holistic and comprehensive profiles along with executing personalized campaigns. 
The SalezShark AI-based marketing automation suite can update your customer information in real-time to enable your team to connect with them at the right time via the right channel. It thus increases the customer retention rate in less time. 
Track and measure campaigns
Quality data is key to running successful and relevant marketing campaigns. To appropriate messages at right time to your customers, you must ensure that your data is both accurate and updated.  Marketing automation software lowers down the chances of human errors by gathering collecting and organizing data automatically.
You can measure your campaign performance and lead conversion rates using the SalezShark marketing automation suite. Furthermore, it makes it easy to view past trends and reports of campaigns. 
Let's bring it all together as a final thought
Marketing automation helps to make the communication process much better by bringing sales and marketing teams on the same page by getting rid of inconsistent and duplicate work. The marketing automation platform consists of marketing teams that track the success of your previous campaigns and assess the quality of your leads.
If you want to get started with marketing automation from today onwards, quickly sign up at SalezShark for exciting offers and high-quality services at an affordable price.