In this digital era, the right usage of digital marketing strategies can upscale your business right from the bottom to top, without depending upon large amount of workforce and investment. What if all those email campaigns and social media posts can be automated with the right message at the right time for the right location? Though the existence of marketing activities is there since decades but the idea of automating marketing activities is something many small business owners are still unaware of. Many digital marketers prefer to use marketing automation tool to harness the power of email marketing and social media posting in lesser time with wider reach. Being considered as the buzzword, tech nerds have a soft corner for marketing automation because it is based on the cutting-edge technology that automatically handles tedious tasks in the simpler way.
What is Marketing Automation?
Marketing Automation software assists in automating marketing tasks that is worth of the time and money invested to enhance efficiency and increase revenue. For simple learning, it is a tool that automates your email campaigns and social media marketing to drive more leads and connect to the right target audience at the right time. Marketing Automation is one of the integral parts of Customer Relationship Management (CRM) that showcase real-time analytics and metrics of the integrated marketing approach. Through the effective usage of marketing automation, salespeople can optimize their repetitive tasks, needless to spend hours in execution and check the real-time analytics anytime.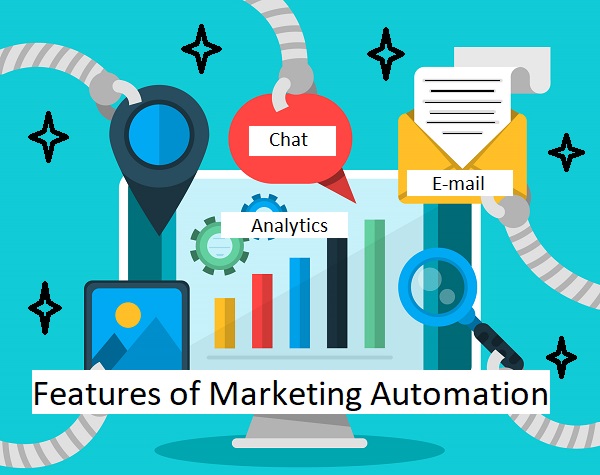 Features of Marketing Automation:
Since there are number of marketing automation tools available in the market, let's discuss some features that would benefit your sales force in the long run.
Managing Tedious Tasks – Finally your wish of having your personal robot is granted that can schedule your tasks, automate your calendar and manage end-to-end marketing activities. With marketing automation tool, a part of best crm software, you can keep a track of your prospective schedules and also make your life a lot easier to keep yourself technologically advanced. Additionally, you can also assign a particular task to any of your team member without the hassle of knocking at the work station.
24/7 Social Media Posting – With busiest work-life schedule, everyone is occupied on their social media timeline to get relief in the form of trending news, memes and witty posts. However, those social media platforms run 24/7, unlike robots humans need rest and that is why tech wizards come up with the easiest solution of AI driven marketing automation tool that run your social media posts in the wee hours and never let you miss any single like or share. With the help of marketing automation, modern marketers can pre-schedule the posts and emails without compromising with the physical obligation of their presence in accomplishing those tasks.    
Generate more leads – With the perspective of reaping own seeds, marketing automation guides salespeople to create and send their own email campaigns so that they do not need to depend on marketing reps for doing the same. Since your company's sales force is directly communicating with the needs and requirement of their prospects, it is wiser for them to optimize and recommend the right product fit to them. With this, they can attract qualified leads and even see the real-time analytics of customer behavior that would show them what is working, and which area needs improvement. With gradual improvement in their performance, your sales people will get the ripen fruit in the form of more number of leads.
Room for Creativity – When you are getting the wages for your work, no business owner will allow you to rest in the office hours. However, when you are automating your tedious tasks, you can utilize those manual hours into another brainstorm session with your team, or perhaps involving your team in the creative thought-process of upcoming campaign so that you need not to stretch at the eleventh hour and lose your creative string. Since marketing is all about creativity and the more you automate your repetitive marketing efforts, the better you can come up with creative ideas and valuable campaigns.