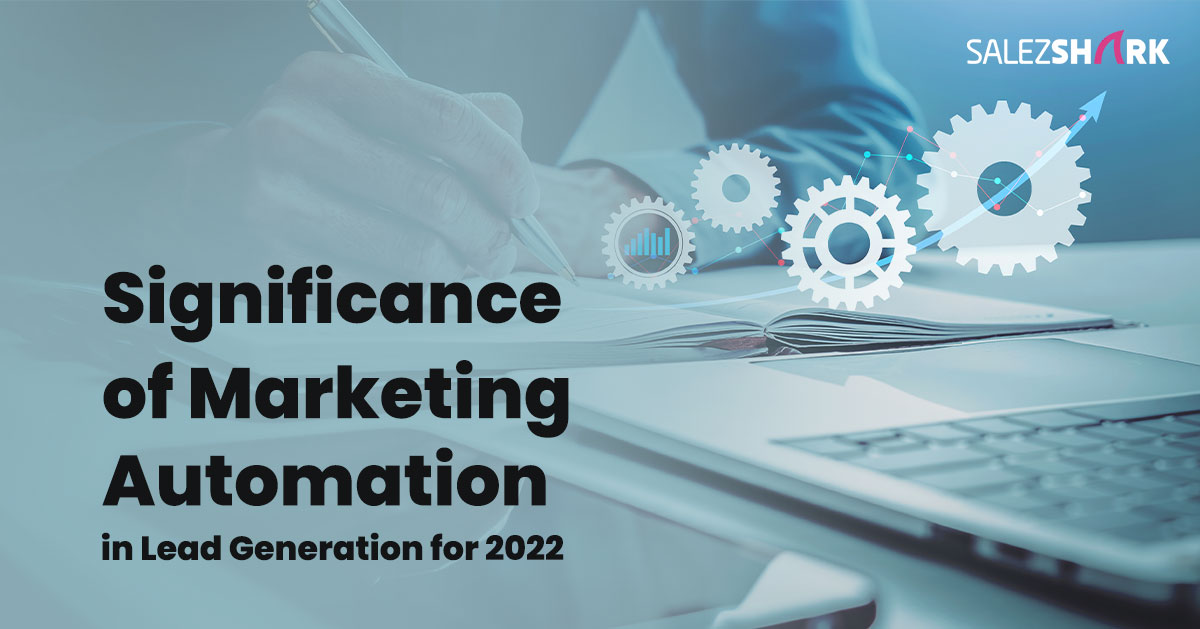 Quality leads play a vital role to multiply conversion rates, but higher lead conversion is only possible in the case of generating quality leads effectively and efficiently. Marketing Automation is the best solution to achieve this. It is not as tricky as businesses think nowadays. In fact, it has become a great way to generate more potential in the right manner, at the right time. You need to strategize marketing techniques that can accomplish your routine tasks automatically instead of manual mode to allow your team to solely focus on lead generation in 2022.
Let's scroll down to know about the leading marketing automation platform worldwide i.e. SalezShark Connect+ and how it boosts your business growth in less time?
Features of SalezShark Connect+ Marketing Automation 
Some essential elements which make SalezShark marketing automation the best tool for small and medium enterprises are mentioned below:
Create Landing Pages
SalezShark Connect+ tools come with various predefined forms and landing pages. You don't have to be a technical expert to use them. An industry expert has already designed these pages for all types of industries. This information can further assist you in providing more customized services that will improve your speed from lead to conversion.
Lead Scoring
With features like lead scoring, you can prioritize the leads to focus more on leads with the highest chances of conversion. This is an essential feature for your marketing team as it provides them with more data and helps them understand the funnel better. This way, they target the right customer at the right time.  
Lead Filtering & Management
SalezShark Connect+ helps you directly synchronize your landing page to your CRM, ensuring that all data is available to your team in real-time without any lag. Hence, they can make changes in their strategy to deliver more results. This will increase their overall efficiency and develop a better understanding.     
Social Media Management
This marketing automation platform helps you to manage all your social media platforms in one place. This way, you can increase your customer reach and provide the right content at the right place. You can also know if your customer has any problems with your services and resolve them in no time. Thus increasing their overall experience.
Verification Of Emails
This is a very significant feature of SalezShark that helps you keep your email list updated and free from unwanted recipients who would not be interested in your service or product. With the help of these features, you make sure that you always pitch your product to the right audience. 
Set Up Triggers
SalezShark marketing automation tool helps you set up various triggers for your marketing campaign. It leads you to send the perfect email to the right audience at the right time, which is very important to increase the conversion. It will help your customer understand that the solutions you provide are perfect for their problems.
Data-Driven Metrics
Our highly sophisticated and AI-enabled data metrics ensure that you get accurate and reliable analysis of your business required during campaign creations. It will help you understand their business in a better way ad can also reduce money wastage. With this, you can utilize your resources in an optimum manner. 
User Management
Manage all your users with just a click of a mouse. Define their role, provide permission or restrictions with just a click. It will also help you to increase the overall safety of your users. Resulting in more conversion and eventually generating more revenue. You can do all these and other tasks without any effort and cost.      
Advantages of SalezShark Marketing automation for a small business
The major challenge that small businesses face is budget. If you hear a digital marketing expert as a small business, it may be an extra burden to you and may or may not be up to your desired result.
This effective automation tool is perfect and designed especially for small and medium enterprises and delivers effective results for B2B and B2C marketing. It has a straightforward and effective interface that requires no technical knowledge.
Improved Marketing Performance
SalezShark marketing automation can schedule email, send target and customized messages, segregate the customer base. You can do all these and other tasks without any effort and cost. As a business owner, automating these complex jobs gives you more time to analyze the analytics and data associated with them. 
Better Alignment Between Sales & Marketing
SalezShark CRM automation tools help you align different departments within your organization like sales and marketing in a better way. By sharing real-time data between them which can be very helpful in efficiently nurturing the leads and resulting in more conversion and sales.
Better Customer Insights
SalezShark Connect+ marketing automation tool provides you with customer insight like purchasing behavior, demographics, sex, and age, which helps you to understand your customer better and pitch them the right product at the right time. 
Optimizing Marketing Campaigns
SalezShark marketing automation software comes with various marketing AI techniques like A/B testing, which helps create more audience-friendly campaigns and more CTAs. It enables you to create a campaign that will generate more quality leads. 
Increase User Engagement
SalezShark marketing automation helps you create content, which improves visitors' engagement and enables you to build a relationship with your audience. Taking into account the unique characteristics of each customer enables you to create more personalized strategies. 
Wrap Up
As a business owner, you should constantly work towards experimenting with various tools to optimize your campaigns. SalezShark marketing automation software helps you generate more quality leads that will be directly proportional to the revenue generated. It also helps you in prioritizing your task and managing your leads. 
Therefore, one can say that SalezShark Connect+ marketing automation is the holy grill for businesses. With data stored and synchronized in your CRM, it empowers your team. It also helps your team resolve the customer's query in the shortest possible time.