No matter how good products and services your brand offers to clients, if your B2B sales team is not effective, you're not likely to achieve your sales targets. So, now the question arises, how can you kick-start a robust and effective B2B sales team? To answer this question here we are with a few simple steps that can help in building a strong and successful B2B sales team.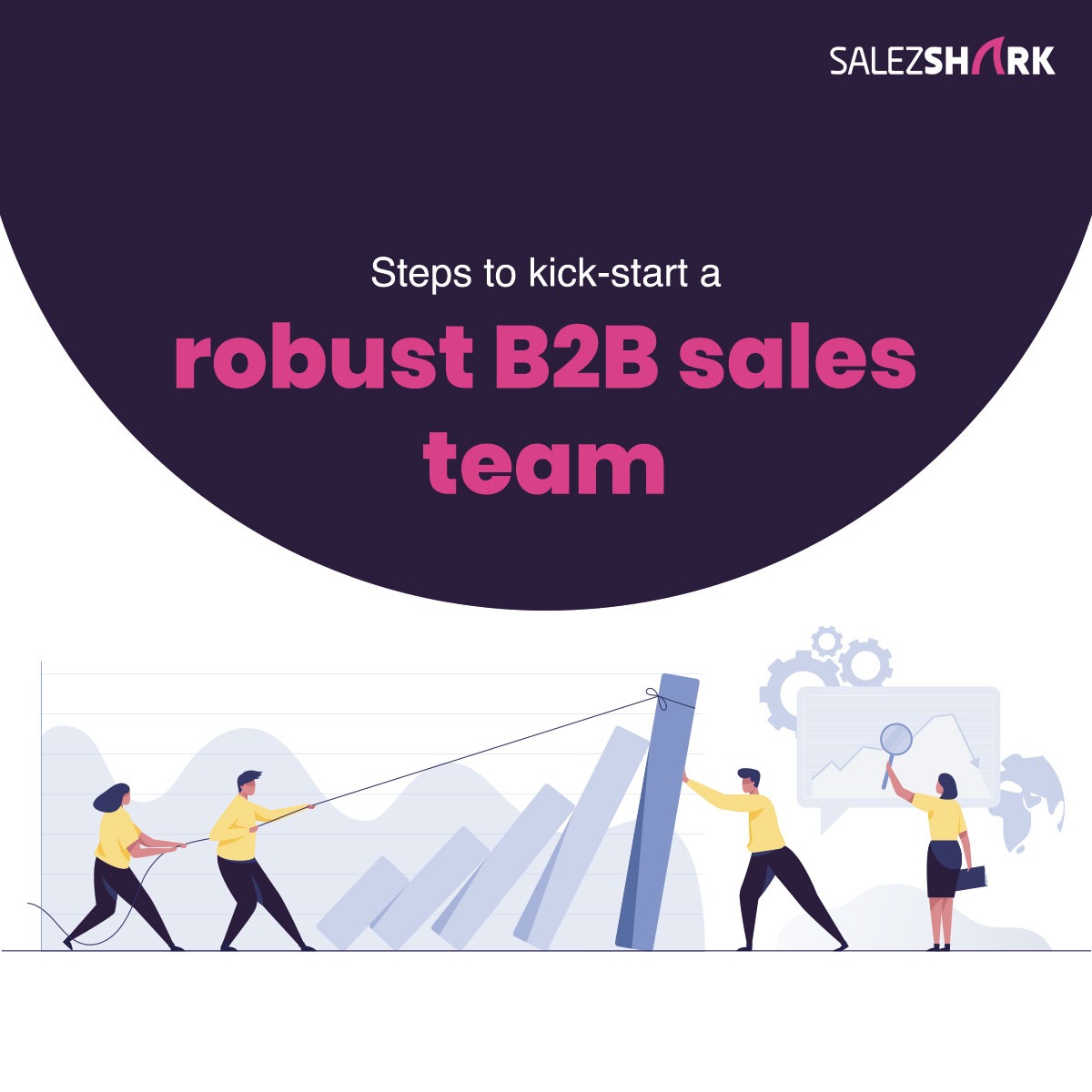 Foster a collaborative sales environment
Most of the successful brands create a collaborative sales culture that helps in building a strong and successful B2B sales team. In the absence of this collaborative sales culture, a disparity of thoughts and vision can be observed among the sales team which leads to failure in achieving desired sales and revenue. Obviously, in any sales team, every sales executive has his individual sales targets to be achieved but there are certain team goals as well which the sales team must achieve together. So here you must encourage the sales team to not only run behind achieving their individual goals but also keep in mind to achieve team goals. Hence, a unified sales approach is highly required to kick-start a robust sales team.
Introduce a client-centric approach
You must encourage your B2B sales team to first understand who their clients are, what clients want, and how your team can help clients with your brands' products and services. By using this client-centric approach your sales team can nurture and grow long-term client relationships. Yes, sometimes applying this approach can be challenging but in the longer run, it helps your sales team to stand out as a winner.
Get flexibility in roles
In most of the sales teams, senior sales managers play the lead role and sales executives play supporting roles. You may find this set-up effective in most cases but sometimes if it's not working then you need to bring flexibility in roles. You must introduce a tag-team approach where your senior sales managers are the ones playing the supporting role, while sales executives lead which can create wonders in developing your prospect through your sales pipeline. In this situation, egos and titles take a back seat and the feeling of trust and unity among the sales team drives the team towards the achievement of sales goals.
Brings transparency to the team by using advanced tools
Bring transparency to your b2b sales team by using advanced software like SalezShark CRM (Customer Relationship Management) software. By using this software you make sure every member of the sales team has access to the vital information of the prospects and existing clients that helps in building a personalized relationship with clients. This software enables your sales team to view their sales objectives, targets, various sales strategies, and overall performance. Hence, it helps your sales team in filling the gaps between the expectations and results which helps in building a strong b2b sales team.                                                                                        
Enhance seamless communication 
By leveraging advanced software like SalezShark CRM software, your sales executives can share any kind of vital information among themselves seamlessly and effortlessly. It helps them to never miss any client appointments or contact details. The blame game generally brings conflict among the sales team that can be also removed by bringing seamless communication in the team through CRM.