Customer relationship management (CRM) software plays a vital role in creating personalized experiences for buyers and users. Primarily this software is used by b2b and b2c organizations to keep track of their sales and marketing teams' performance, store vital customer databases, automate sales & marketing daily workflows, develop reports by using advanced CRM analytics in a few clicks, and so on. However, with the pace of time, CRM (Customer Relationship Management) software is now driven by various advanced technologies like AI (Artificial Intelligence), Machine Learning, and Big Data Analytics that enable businesses to analyze their customers' behavior patterns with little to no effort.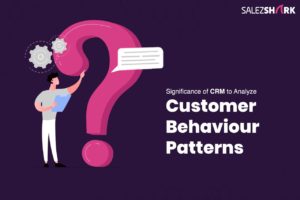 CRM nowadays acts as a perfect solution for any business – small, medium, or large that wants to understand its target audience by knowing their buying behavior and preferences. Here we are with a few ways how advanced CRM helps businesses in analyzing customer behavior patterns:
Customers' Interaction History
CRM helps businesses to understand customers' behavior patterns by storing customers' previous interactions entailing their purchase history and purchase preferences. These interactions also include all sorts of inquiries, referrals, voucher redemptions, and even any complaints registered by them. This customer interaction history helps to analyze customer behavior patterns and based on that businesses can pitch new products and services to customers.
Segmentation
CRM nowadays is created and used by businesses to leverage the power of personalization into their customer relationships. CRMs today are highly advanced that offer a lead scoring feature that automatically moves leads through the pipeline if any sort of customer behavior is triggered like any email or blog opened by a customer, or any customer responded to any sort of email. Hence CRM helps businesses to set certain parameters and behaviors that, when get triggered, will score leads automatically and segment them based on priority.
Social CRM
CRM is getting advanced day-by-day. It is not only limited to store and streamline customer information or fetch customer information from email and phone conversations. Nowadays CRM also leverages the power of social media platforms that empower businesses to understand their customer behavior pattern. This kind of advanced CRM is also known as Social CRM that fetches the customer information including buying preferences and behavior through social media portals like LinkedIn, Instagram, and Facebook that helps businesses in understanding their customer behavior pattern and based on that business can offer far better customer service in a more personalized manner.
Apart from the above ways of empowering businesses to understand customer behavior pattern, there are some CRM analytics also that helps businesses to get connected with customers in a personalized way:
Channel Analytics
One of the useful CRM analytics is Channel Analytics that helps businesses in identifying their customer behavior based on their channel preferences. These analytics helps businesses to know through which channel their customers want to be interacted such as through a website, personal interaction, telephone, chat, etc. Once businesses understand the channel preference of customers it becomes easy to interact and build communication with customers.
Descriptive Analytics
Emotions play a vital role not only in personal relationships but also in b2b and b2c relationships nowadays. Descriptive analytics is all about that, it empowers businesses to understand the emotions of customers by showcasing their needs, expectations, and pain points. Hence it helps businesses to connect with customers emotionally and present products and services as a solution to customers' pain points.
Predictive Analytics
As the name suggests predictive analytics predict what sort of purchases any customer is going to make in the near future. These analytics keep the record of customer buying behavior patterns and based on that these analytics predict what sorts of products customers may buy in the future and what sort of needs and expectations any particular customer will have.