Gone are the days when businesses were simply offering products and services to customers. Nowadays, the dynamics of offering products or services to customers is completely changed. To gain customer loyalty and support, businesses must have a deep understanding of the customer lifecycle, entailing customer buying preferences, and, thereafter, leveraging these insights to establish a stronger relationship with buyers. In a nutshell, businesses must have the 360-degree view of a customer that acts as the foundation to build and nurture a relationship with customers.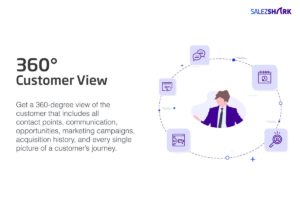 As per Gartner's study, less than 10% of organizations have a 360-degree customer view, and only 5% use this view to grow their business systematically. This level of 360-degree customer view is something that most of the businesses have struggled to achieve. It is essential for sales and marketing teams to have access to a single, accurate, and holistic view of their customers and leads, to understand and reach them effectively. Building a stronger relationship with customers can only be possible if you understand who they are, what they wish to purchase, and how they prefer to interact with the organization. By developing a deep understanding of these aspects of customers, any business can offer a better-customized experience.
Let us look into a few benefits of SalezShark 360-degree Customer View:
Customer Alignment: Building long-lasting relationships with customers is crucial to any business today. However, with the arrival of intelligent Customer Relationship Management (CRM) systems with a 360-degree customer view feature in business, multiple departments can register and share correct, meaningful data or information of a customer. This seamless sharing of customer data showcases professionalism and ensures that all interactions with a prospect or a customer leave less space for errors. It also ensures that each department is aligned with internal and external goals.
Predictive Analysis: By gathering various aspects of the customer journey, an organization can get a better and deep understanding of how customers may act. A 360-degree view of customer records customer's interaction history and maps out an outcome for each event. It helps the business to design or customize the products and services as per customer requirements.
Building Buyer Persona: The more detailed a data collection process is, the more fine-tuned buyer persona planning is possible. A 360-degree view of customer showcases customer's buying preferences, demographic details that play a vital role in discovering trends and user response.
Reduce Costs: A 360-degree view of customers helps businesses to build more intelligent and data-driven campaigns with higher chances of getting successful in reduced costs. With improved visibility into the customer journey, businesses can segment them accordingly. At the end, it does not make sense to invest the same amount of money in customers that make return purchases besides those who have never made any purchase. Thus, a 360-degree view of customers gives businesses the opportunity to deal with low-value customers differently.