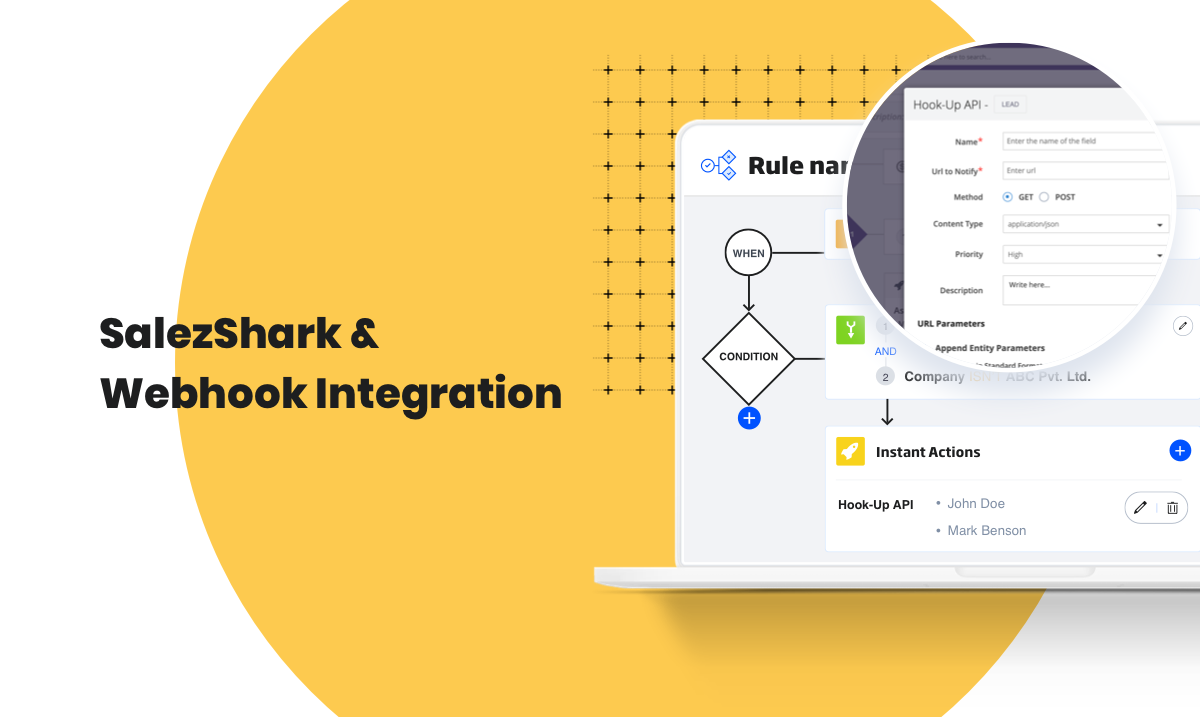 SalezShark Webhook Integration:- Using multiple cloud applications or software as service applications that are different from each other is quite common nowadays for businesses. To use all these applications together you need to integrate them for making the workflow of your business smooth. Many businesses are using e-mail tools with their CRMs to manage their email marketing. Here they need a seamless integration between the e-mail tool and CRM. For example, if any new customer is added into the CRM system, it should be automatically added to the e-mail list too. In the case of cloud applications, they integrate with each other with the help of a webhook. Let's make it simple to understand what a webhook is all about through a real-life example.
Just imagine, you ordered something online and today you are waiting for its home delivery. Now you have two options; either you go out of your home after every 5 minutes to check if a delivery person arrived, or you stay at your home and wait for a delivery person to ring your doorbell. The first option is inconvenient and also time-consuming meanwhile the second option is more preferable to get real-time updates.
Similarly, a webhook is used by any cloud application to provide other applications with real-time updates. A webhook is useful for both providers and consumers, as it sends data to other applications on a real-time basis as it happens. A webhook receives data that initiates from any external system, on a real-time basis. For example, if any lead fills a form on your website and you want it to be sent to any of your chat application then it will be sent instantly. Hence a webhook is helpful in providing instant alerts when something happens in another system and useful for integrating with third-party applications and other external API that support them.
How SalezShark Webhook Integration is Beneficial for You?
Receive and send data to/from any apps using HTTP/webhooks
Get real-time notifications and data synchronization done instantly
Customize the applications & its functionalities based on requirements
SalezShark Email Notifications
An email notification that works as a workflow rule where the selected email is automatically sent to the chosen recipients when the rule is triggered for:
Leads

Accounts

Opportunities

Users

Employees
Let SalezShark CRM software help your business that results in reduced operational costs, better client retention & improved productivity with AI-driven sales automation platform. Contact us to know more about SalezShark and receive CRM advice from our expert consultants.