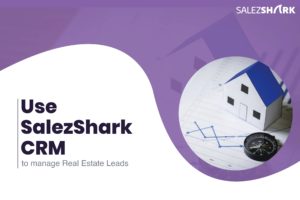 SalezShark CRM is a highly customizable CRM software helping various businesses and industries in building a strong relationship with their customers. Keeping in mind the challenges and issues faced by the real estate industry SalezShark CRM is now integrated with a few of the most eminent real estate portals like Housing.com & MagicBricks, mostly used by property buyers for the house hunt. These portals act as the biggest source of lead generation for real estate companies. So, to simplify the job of SalezShark CRM users, it has integrated these two real estate portals helping CRM users to avoid the hassle of juggling between the CRM and real estate portals to manage the leads. These seamless integrations are very helpful to real estate companies in more than one way, let's look into it how.
Manage leads like never before: The seamless integration of SalezShark CRM with real estate portals like Housing.com & MagicBricks simplifies your lead management process by automating it completely. All the leads from these portals get automatically captured and imported to CRM with the help of these integrations that result in avoiding the hassle of signing in on real estate portals individually. Hence the chances of manual discrepancies become zero and it saves a lot of your productive hours that helps you to instantly start building relationships with leads. It also automatically distributes and assigns the leads to sales executives based on any rule set by you into Real estate CRM.
Create real estate marketing campaigns: To combat the day-to-day rising competition in the real estate industry marketing SalezShark Real Estate CRM comes as a savior. It automates the email marketing process that helps not only in generating quality leads but also makes lead nurturing effective. It helps you to connect with potential property buyers in a personalized way. It helps you to design mass emails with a touch of personalization that results in sending each email to its recipient with his/her first name. These emails directly meet the needs of potential property buyers and result in generating quality leads. Besides this, it also helps you to track your email marketing campaign's performance that includes its open rate, click rate, and bounce rate.
Smart analytics & notifications: By deploying SlezShark Real Estate CRM you can get a complete overview of your leads and sales activities and measure significant metrics like lead sources, sales stage, and other activities to better optimize the sales automation workflow. In addition to this, you can also elevate your sales game with insightful data and accurate analytics that help in driving sales & revenue forecasts. Besides this, it also sends you smart notifications as and when any prospective property buyer expresses interest in any property that helps you to communicate with buyers instantly. Not only this but if any buyer wants to buy property in near future then it also keeps a track of future potential opportunities and reminds you to communicate with prospects as the anticipated purchase date comes closer.
One-stop information database: Another benefit of deploying SalezShark Real Estate CRM software is it empowers you to access and track a huge amount of data while keeping everything organized and easy to use. It keeps your real estate business database centralized and streamlined that helps you to find properties, attract leads, and build seamless communication with prospective property buyers. It helps you to filter and locate any database information in a few clicks by leveraging its advanced search functions. You can set multiple filters that help you to narrow down your search based on any requirement.
Contract & Transaction Management: Last but not least benefit of deploying SalezShark Real Estate CRM software is it enables you to upload multiple contracts, manage deadlines for transactions, and help you and your team members to view the document and transactions associated with any contract.