SalezShark is here again with a new exciting feature that promises to enhance your user experience. It is "Dynamic List View" and as the name suggests it helps you simplify your leads/prospects search option. But what is this feature all about and how it can be helpful to you in enhancing your user experience, let's unfold it in detail.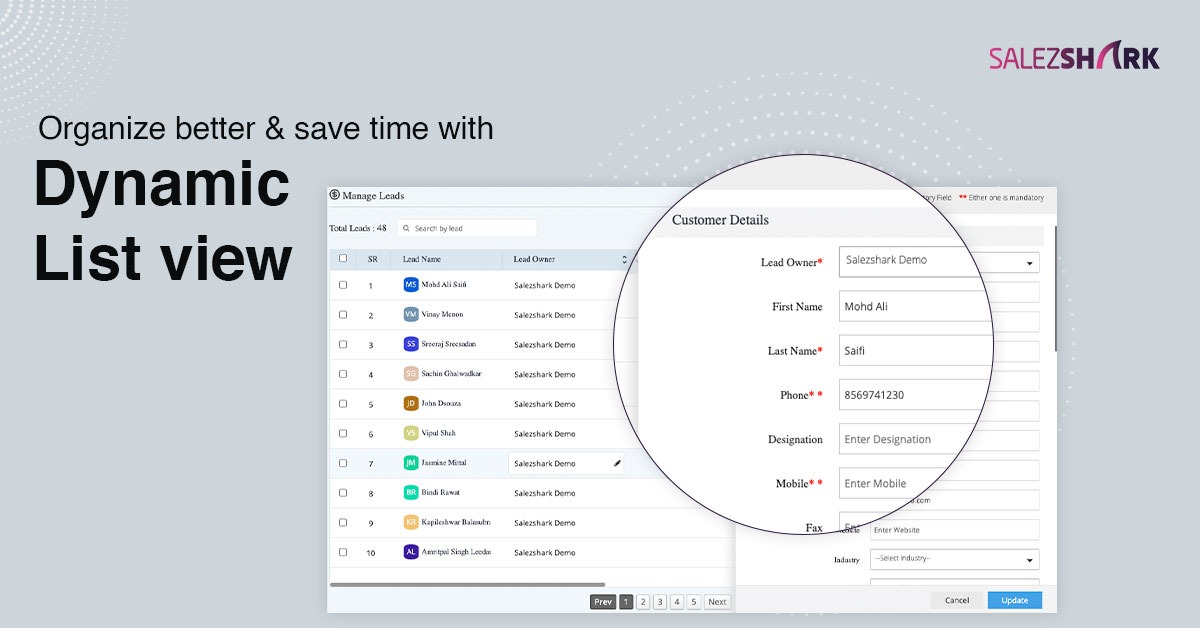 What is a Dynamic ListView?
The Dynamic ListView enables you to build dynamic criteria in line with your specific requirements, or add contacts with varying criteria as per your wish. It helps you to check out your leads' activities at a glance with "smart" dynamic lists that instantly add/remove/display prospects' information based on the criteria you set up. Hence it gives you a bird's eye view of your leads' activities and in a few clicks, you can perform various activities from one unified platform of Dynamic ListView, without going inside each prospects' detail pages separately.
The Dynamic ListView is a useful feature that is helpful to you in more than one way. Let's dig into it:
It simplifies your prospect/lead search by offering you a filter search option that ensures you reach out to the desired lead/prospect faster and quicker.
In the Dynamic ListView, you can organize/hide the column option for a better leads view. Hence you get a bird's eye view and in one glance you can scan all your leads and activities performed on them.
It saves your time while creating and updating any task or activity. On the same page, all sorts of tasks and activities can be created and updated without going into each lead's page separately.
In the Dynamic List View page, a right window slider is available that makes your job easy in updating all fields at the same time in a few clicks.
This feature gives you access to in-line editing to keep your work efficiency consistent. Hence in less time, you can be more productive.
The Dynamic ListView offers a drag and drops functionality that helps you in arranging columns which makes your job easy in sorting leads' activities.
This feature also makes your search simple and quick as you can view data on the basis of ascending or descending order or created date.
Hence by using this new useful feature of SalezShark CRM software you can simplify your lead search and reach out to them in no time. It saves your productive hours by offering you a bird's eye view that helps you to scan all your leads and activities performed on them in no time. No need to go separately into leads' pages, on a single Dynamic List View page all activities related to leads can be created and updated. And above all the drag and drop functionality that gives you a seamless experience in sorting all sorts of leads activities and arranging leads in columns.