2020 certainly has been a year full of challenges for every businessman & working professional. COVID & lockdown impacted all phases of our lives from physical health to finances. During such a tough time you need certain tools and software in your business that helps you combating all odd out and boost your business growth in 2021. SalezShark CRM is one such software that harnesses the power of multiple advanced technologies like Artificial Intelligence, Machine Learning & Big Data Analytics and brings the power of automation into your business that results in creating successful sales stories. This New Year let SalezShark CRM help you accomplish your sales goals. Grab SalezShark New Year offer that can help you grow revenue, win deals, and build impeccable customer relationships.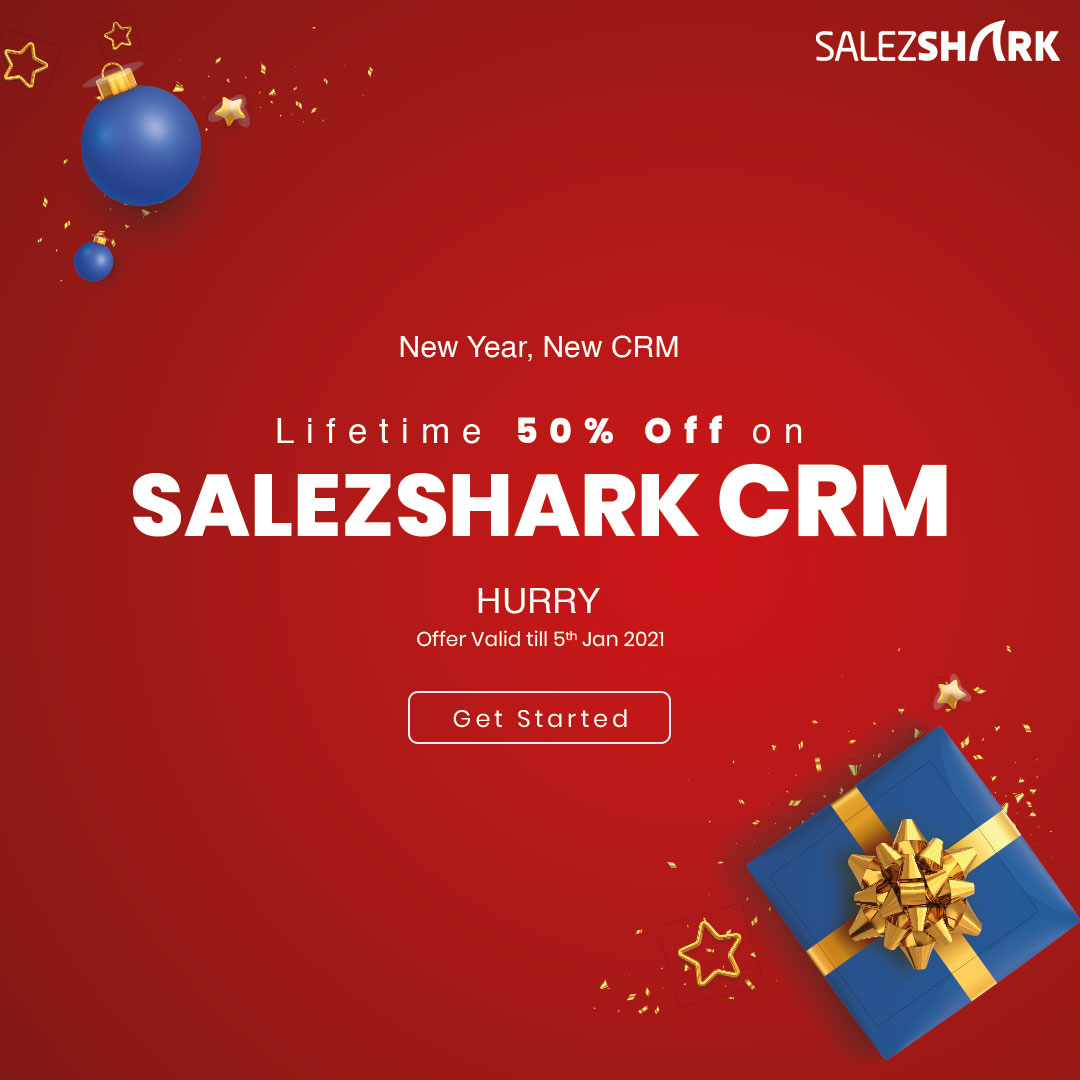 Easy Data Management
Instead of manually collecting & streamlining the data let SalezShark CRM do it for you with its power of automation that captures data from multiple sources and links into your system automatically. Right from capturing leads to the creation of sales pipeline, forecasting sales to sales analytics all can be done under one platform in a few clicks.
Say no to manually dialing multiple calls and sending numerous emails to customers that consume a lot of time and reduce overall productivity. Use SalezShark CRM to dial multiple calls and sending bulk emails directly from the system. The telephony and email integration automatically keep a record of all interactions made with customers via call and email that enhances traceability.
User Friendly
SalezShark CRM is a cloud-based software that is easy to maintain and can be accessed anytime from anywhere and from any device. Critically acclaimed customer relationship management software that has successfully bagged many awards for delivering exceptional user adoption.
Highly Secured & Self-driven Interface
SalezShark CRM promises to deliver you a safe cloud-based environment where all information is saved by you and can be easily edited or removed anytime from anywhere through any digital device of your choice.
End-to-end Support
SalezShark promises to deliver you end-to-end support ensuring smooth onboarding and high end-user adoption by providing multiple live tutorials/training and personalized product demos.
So, choose SalezShark CRM limited-time offer that helps you in creating a strong sales pipeline throughout the year. Rather than doing things manually and leaving room for human errors choose the power of automation and Artificial Intelligence offered by SalezShark CRM that helps you focus more on building personalized relationships with your past, present, and future customers and boost your sales in no time. Make the most out of SalezShark New Year offers like:
Buy 2 user licenses and get 2 user licenses free
Lifetime 50% Off on SalezShark Basic Plan
Limited time offer 10 users at $10/User /month
Grab these New Year offers now to streamline your sales by maintaining customer interactions, sending personalized emails, evaluating sales & marketing analytics, and capturing leads directly into the SalezShark CRM from social media portals like Facebook.